The Network Disaster Recovery team stands at the ready
If a natural or man-made event knocks out AT&T communications infrastructure in a city or region, the Network Disaster Recovery (NDR) team moves fast to restore service. Formed in 1991, the mission of the NDR is to recover AT&T voice and data service network elements to an area affected by a catastrophic event.
Rapid response
The NDR team can be mobilized within hours of an event. It is composed of both full-time and volunteer members from AT&T.
The team can roll out with a fleet of trailers and vehicles (more than 320) installed with infrastructure and support equipment—all the physical components that will carry the restored network traffic. They also use recovery engineering software applications and platforms which allow those components to replicate the settings and services of the failed network infrastructure.
When the trucks arrive at their staging grounds—the team creates, connects, and manages the entire recovery complex and process.
The incident command system
NDR manages disaster events through an incident command system (ICS). They divide the responsibilities of the job into different roles or sectors. Depending on the severity of a situation, it may take a handful of people, dozens, or more. When the NDR sets up for a large hurricane response, for example, it takes approximately 70 people working around the clock to establish the rapid recovery of service at AT&T network sites.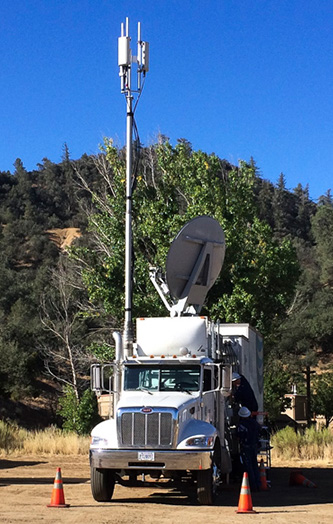 Always preparing
AT&T has invested more than $600 million in its U.S. NDR program and another $15 million internationally. Team members have spent more than 145,000 working hours on field exercises and deployments over the last two decades. AT&T is the first company, nationwide, to receive a United States Department of Homeland Security's (DHS) Private Sector Preparedness Program (PS-Prep) certification.