Next Generation Network solutions optimize network performance
Consider how this new technology approach can improve network efficiency and management
We're always listening to our customers to learn how we can help simplify complex issues facing your businesses. As technology grows more sophisticated, AT&T Business is committed to demystifying solutions and products that can help transform your operations to achieve outstanding business results.
Next Generation Network, or NGN,  is an emerging trend that reflects important progress in the way businesses design and deploy networks. Unfortunately, its complexity may discourage companies from exploring its potential benefits. In our new white paper, "Next Generation Networking Solution Dimensions," we provide a thorough overview of this exciting technology. Divided into 4 installments, this white paper will help you learn how innovations in network solutions can improve your business's performance.
Next Generation Network offers businesses greater reliability and security by incorporating the latest advancements in virtualized network functions. Gartner defines NGN as "the evolution and migration of fixed and mobile network infrastructures from distinct, proprietary networks to converged networks based on IP." By using Software-Defined Wide Area Networks (SD-WAN) and Secure Access Service Edge (SASE) to improve network management and operations, NGN supplies an attractive balance of performance, flexibility, stability, ease of use, and security.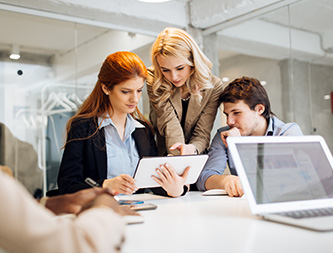 Network Services
Technology is changing rapidly and with that comes higher demands on your network while pushing bandwidth requirements to its limits.
In Part I of our white paper, we cover four key network considerations pertaining to NGN: physical transport, customer-premises hardware, SD-WAN platforms, and Virtual Network Functions (VNFs). Over the course of our discussion, we evaluate the differences between wireless and wireline transport, site-level hardware such as white and black boxes, SD-WAN architectures, and virtual functions and cloud-based applications and platforms. Weighing the impact of these factors will aid your business in deciding whether NGN is the right choice for your goals and will steer you towards the best providers of this advanced technology.
Why AT&T Business?
AT&T Business is ready to assist you in harnessing NGN solutions that help advance your specific business priorities. With so many network configurations available, the right choice depends upon identifying the unique challenges and opportunities facing your business. That's why we invest the time in understanding your goals before recommending an ideal solution.
Read Part I of Next Generation Network Dimensions now or learn more about how AT&T Business can help your business build a tailored network solution, visit att.com/networkservices or call 877-219-3898.
Request info
To get sales help from a Business Solutions specialist, please complete this form.