Overview
What is AT&T Business Wi-Fi?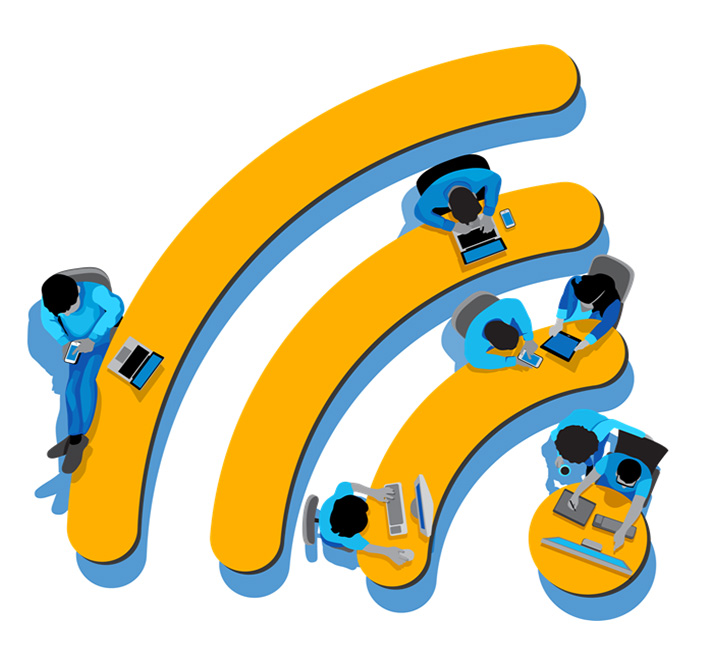 A flexible solution for any size business
AT&T Business Wi-Fi is a Cloud-managed Wi-Fi solution, available in 60 countries. Guests and employees can connect through a single, highly reliable, highly secure solution. Choose from a wide variety of network devices from top equipment vendors, based on your business needs. Manage admins, view alerts, order equipment, customize splash pages, and gain network insights—all from the AT&T Business Wi-Fi online dashboard. No matter your internet provider, you can manage and monitor Wi-Fi from virtually anywhere. In near-real time. For a few—or thousands of—locations.
Read the product brief
Equipment options
Designed virtually for any business Wi-Fi need
Features
Get the most of business Wi-Fi
| Features | Benefits |
| --- | --- |
| Public and private networks | Connect your back office devices and equipment on a private SSID. Your guests will connect on the public network, keeping your data highly secure. |
| Flexible model | Use Business Wi-Fi solutions that work with virtually any internet provider. This scalable Wi-Fi solution allows you to connect a few or thousands of locations, with availability in over 60 countries. |
| Wi-Fi 6 | Achieve greater speeds, higher device densities, and better battery life with Wi-Fi 6 (also known as 802.11ax).  |
| Flexible purchase options | AT&T Business Wi-Fi offers OpEx and CapEx models to suit the financial needs of your business. Whether you want to purchase or lease equipment, we have the right option for you. |
| Industry-leading support | Enjoy a fully managed Wi-Fi service with a robust Day 0, 1, and 2 support model. From site design to professional installation to ongoing care, we have you covered. |
Do I need an AT&T Business Internet connection to use AT&T Business Wi-Fi?
No. AT&T Business Wi-Fi is a carrier agnostic solution, meaning it will work with any internet provider.
How does Business Wi-Fi work?
Choose which equipment option will best suit your needs (Cisco Meraki, Aruba, or Mist). Then decide whether you would like AT&T to professionally install the equipment or you would like to self-install. Once your equipment is up and running, log in to the online portal to start managing your Wi-Fi network.
Does Business Wi-Fi offer Wi-Fi 6?
Yes. No matter which equipment option you choose, all come with Wi-Fi 6 compatible devices.
What kind of support is available with Business Wi-Fi Solutions?
AT&T offers a robust support model with Day 0, 1, and 2 support available. AT&T offers professional services to conduct site surveys, design networks, install equipment, and provide ongoing care and maintenance.
What purchasing options are available for Business Wi-Fi?
AT&T offers flexible purchasing options, allowing you to purchase equipment outright or pay monthly to lease the equipment. CapEx and OpEx purchasing models allow you to choose the financial option that best suits the needs of your business.
Does AT&T provide Wi-Fi for apartment complexes and other multiple dwelling units?
Yes, AT&T has a solution for MDUs in partnership with AT&T Entertainment group that bundles Wi-Fi, Business Internet, and TV.
Talk to an AT&T Business expert
Monday - Friday, 7am - 7pm CT
Request info
To get sales help from a Business Solutions specialist, please complete this form.
Your feedback will help us to improve AT&T Business so you continue to have a great experience when visiting us!
This survey is conducted by an independent company ForeSee for AT&T.