How to secure your business network
This post was sponsored by AT&T Business, but the opinions are my own and don't necessarily represent AT&T Business's positions or strategies.

Business and consumer customers have more power than ever to choose who they'd like to provide their products and services. And customers are demanding more. More innovation. Better communication through more channels. Improved responsiveness. And in some cases, more personalization. This has created an urgency to deliver transformational experiences to customers, challenging businesses everywhere.
In almost every case, designing and delivering new digital products and services has become a priority. To meet this priority, companies must also make sure they have a modernized network—one that's built on fiber connectivity. This enables digital transformation. Also, they must improve business agility, enhance how employees collaborate, and adopt new technologies more efficiently.
Executives and managers are aware that this activity can create gaps in security. They're also concerned about how not addressing customer concerns correctly might restrict required network operational and security enhancements.
Why is network security important today?
Often referred to as digital transformation, one of the most common and consequential changes is the broadening and accelerating use of software-defined wide area networking (SD-WAN). This technology moves digital resources closer to where they're used. This enhances business agility while empowering the delivery of new digital products and services. The approach also elevates network traffic management. Moving from hardware and on-premises to next-generation cloud software enhances agility, control, and visibility. SD-WAN can also be the key securing your business network in a way that is also more agile and cost-effective.
SD-WAN provides highly secure, dynamic, application-aware network traffic management. It uses a centralized control function with user-defined application and routing policies. This level of control allows for optimal delivery paths across any combination of network transport types. It also provides flexible deployment options and improved total cost of ownership.
Concerns driven by the challenges of digital transformation can change how organizations should address cyber risk. Enterprise network changes often disrupt traditional security processes and controls, aggravating existing fears and increasing business risks.
Common network security threats
Areas of concern for network security include:
Not addressing software vulnerabilities across your network. There was a 20% increase in software vulnerabilities in 2021. These include out-of-bounds write, out-of-bounds read, and cross-site scripting.1
Malevolent intrusions through unsecured networking components, especially network routers.
A complacent approach to network security by those not tasked with protecting the network, which can lead to the atrophy of employee cyber defense training programs. Today this includes safeguarding devices used in hybrid work. In the first six months of 2021 alone, there were 1.5 billion attacks on smart devices.2
Inadequate information (on how to protect a business against the common threats to network security) leads to ineffective remediation (of operational symptoms associated with vulnerable business networks).
A reliance on dated operational procedures and assumptions. This is due to a lack of focus on the continuously changing and evolving threat landscape.
Required expertise that typically exceeds the level of available resources.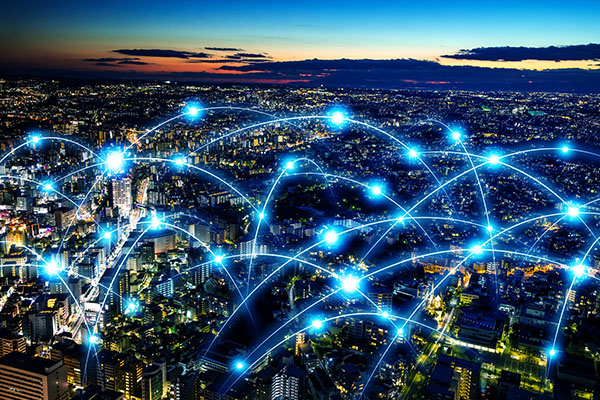 The ROI of network modernization
Network modernization can produce strong ROI for your business, but you need the right strategy and technology to exceed your digital transformation goals.
Securing your business network
Network Modernization services from AT&T Business Cybersecurity directly support these digital transformation challenges. Properly scoped and deployed, unified network security services start detecting threats on day one. They also drive operational efficiency with one unified platform for threat detection, incident response, and compliance management.
These services provide ready access to operational assistance in implementing security and cyber defense best practices across your business network. AlienApps integration orchestrates and automates functionality between their built-in security controls and existing tools currently used across your network. This capability also enhances the identification of potential distributed denial-of-service (DDoS) threats and advance persistent threat (APT) activity. As such, it enables proactive responses before data or business operations are compromised.
A multi-layered approach weaves security strategy, governance, and threat management into a fabric of dynamic edge intelligence. This helps protect every device, network connection, and application. What's more, this approach enables effective collaboration with world-class expertise. Through this collaboration you can identify and prioritize cybersecurity threats to your business network, eliminating organizational security complacency.
By coupling network visibility and continuous monitoring with an active cyber threat prioritization process, Unified Security Management from AT&T Business provides:
Cyber risk advisory to help you get a handle on current cyber risk posture and prioritize launching needed security improvements
Cyber operations services that architect, implement, manage, and advance your company's cybersecurity capabilities and operations
Cybersecurity as a service for day-to-day resilience through an expert-led, proactive, pragmatic, and strategic methodology. Such methodology considers risk, security, and the organization's operational needs.
Customer stories: securing critical network data
An example of such an approach's value is NHS Management, which "provides administrative and consulting services for individual health care facilities and companies across the southeast." The company uses AT&T Managed Threat Detection and Response in 50 nursing homes to help protect networks and confidential patient data. Quality of care is their number one priority.

Each facility is committed to providing patients and residents with an enriching environment. Such an environment helps keep them involved in the community and assists with daily living activities. Facilities served by NHS provide skilled nursing and rehabilitation. This includes physical, speech, and occupational therapy, along with dietary, recreational, pharmacy, and environmental support.
The lean NHS IT staff wanted to create a highly secure and consistent network environment that prevented unwanted access to confidential patient data. NHS enhanced security and reduced risk by leveraging round-the-clock access to cybersecurity experts who prioritize and manage network security threats. AT&T Network Security services coordinated threat detection, incident response, and threat management to help protect NHS against pervasive, potentially destructive cyberattacks.
A second example is Schwan's Home Delivery, which needed to modernize its device technology and improve connectivity to deliver a more impactful customer experience. The family-owned company in Minnesota has almost 4,000 dedicated employees and more than 300 local neighborhood depots nationwide. In providing food delivery services to their 1.6 million yearly customers, the company also wanted to be future-ready for tomorrow's innovative, new capabilities. Using smartphones with highly reliable AT&T 5G connectivity to equip route service representatives dramatically reduced the time it took customers to place orders.
AT&T owns and operates the most extensive network in North America. Its heritage of secure connectivity is unrivaled. In addition to having expertise in threat intelligence and network security, AT&T Business collaborates with best-of-breed providers to help businesses safeguard digital assets and innovate confidently.
Learn more about how AT&T Cybersecurity can help you digitally transform your business through a secure network or contact your AT&T Business representative.