Limited time offer
Installation + 1 month waived
For new customers when you buy online today. See offer details
Get Dedicated Internet
Select a speed to get started
Need faster
dedicated internet?
---
Speeds up to 1Tbps, 99.95% service uptime, 24x7 monitoring and technical support. Our Business Solution Experts are standing by to quickly assist you with your order.
Contact us at
844.939.3775
Benefits
Advantages of Dedicated Internet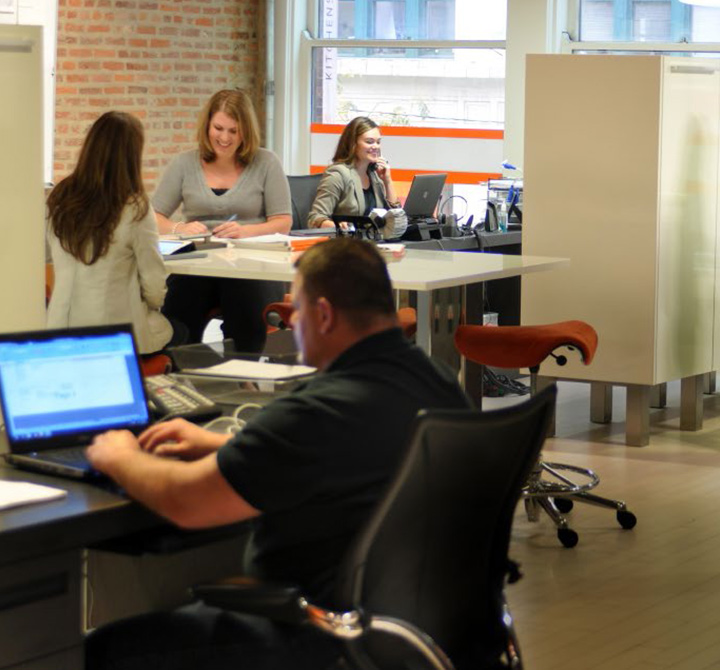 "Our people are finally able to work at a speed that works for them, on a network that's able to handle all their files."
- Elanor Leichenko, Dandamundi's Inc.
Read the customer story
Resources
Learn more about Dedicated Internet
Frequently Asked Questions
What is AT&T Dedicated Internet?
AT&T Dedicated Internet is our premier internet service that is ideal for virtually all businesses
A dedicated connection that's used only by your business
Highly secure and helps you stay connected to your partners, customers, and employees
Proactively monitored and supported 24/7 by an expert AT&T team
What is the difference between broadband internet and AT&T Dedicated Internet?
Broadband internet uses a shared connection allowing multiple customers to share internet bandwidth in the network. AT&T Dedicated Internet is a high speed, highly secure, always symmetrial (equal upload and download speeds) internet service offering with strong Service Level Agreements (SLAs) supported by 24/7/365 active monitoring. Even during peak usage times, AT&T Dedicated Internet delivers the same outstanding experience virtually all the time.
What is AT&T Dedicated Internet used for?
AT&T Dedicated Internet is perfect for businesses that do lots of uploading and downloading. You get upload and download speeds that are equally fast. 
You can expect top performance for:
High-definition video conferencing
Phone calls over the internet (VoIP)
Crucial business activities that depend on fast, highly reliable internet service
What speeds are available with AT&T Dedicated Internet?
AT&T Dedicated Internet offers a wide range of speeds, from 10Mbps to 1Tbps. You choose the speed that's right for your business.
Symmetric speed means that download and upload speeds are the same, unlike asymmetric, where traditionally download speeds are faster than upload speeds. Symmetric speeds are crucial for applications that send and receive large volumes of data such as high-definition video conferencing, multiple broadcasts or conferences which run simultaneously, file hosting and uploads, and large data set transmission between business locations.
Where is AT&T Dedicated Internet available?
AT&T Dedicated Internet is broadly available. You'll find it:
Puerto Rico
U.S. Virgin Islands
In 46 countries and the U.S.
What are the security benefits of AT&T Dedicated Internet?
Dedicated Internet access provides a private, one-to-one connection between the customer and AT&T; this connection is not shared by other customers. It provides private transfer of information internally and via cloud applications, helping protect customer's data.
What security options are available for AT&T Dedicated Internet?
AT&T Dedicated Internet offers a wide range of optional security services to help protect your company's sensitive data from cyberattacks with:
Protection from distributed denial of service (DDoS) attacks
Managed firewall
Cloud-based security
and more security services
How is AT&T Dedicated Internet activated?
AT&T Dedicated Internet can be easily installed to work with your company's existing network.
Prompt installation to help you meet your business needs.
How is AT&T Dedicated Internet monitored?
24/7 monitoring and tech support help resolve problems proactively.
AT&T Fiber
Fast Internet access with the features you need to stay connected. With AT&T Fiber you get the right-sized solutions for your Small Business.
AlienVault® USM Anywhere™
Detect and investigate intrusions, identify and prioritize vulnerabilities, and monitor cloud and on-premises environments from one tool.
Request info
To get sales help from a Business Solutions specialist, please complete this form.
Your feedback will help us to improve AT&T Business so you continue to have a great experience when visiting us!
This survey is conducted by an independent company ForeSee for AT&T.