How to perform a successful network upgrade
If your network is outdated, it might be incredibly obvious. Web pages take forever to load. Employees working from home get tossed off the network. Maybe you've been the victim of a ransomware attack. Emergencies at your company are commonplace, and you're constantly pulling executives into fire drills.
But what if your network seems to be working just fine? Do you really need a network upgrade? Why would you want to "fix something that ain't broke"?
We hear these kinds of comments from our customers all the time. Here's the short list of concerns:
Cost and complexity of a network upgrade
Time required and potential disruption to business
Security and compliance when services shift to the cloud
Shortage of qualified people to maintain IT infrastructure
Why go through all this hassle if your network is working?
Is it time for a network upgrade?
"I think we need to define what 'working' means," said Bob Gamiel, AVP, AT&T Consulting & Professional Services. "A functional network is different than a network that's anticipatory, that's resilient, that's adaptive, that's agile." In short, the modern network needs muscle to support emerging tech trends. The list includes software-defined networking (SD-WAN), 5G, Wi-Fi 6, artificial intelligence (AI), machine learning, augmented reality, virtual reality, and cloud computing out to the edge.
"These emerging technology trends are driving a confluence the likes of which we haven't seen, I think, in all of our lives," said Mike Leff, VP, Integrated Solutions & Consulting.
Outdated networks can toss up many other red flags.
Your network may appear to be functioning, but if traffic is weaving back and forth through a traditional data center, employees and partners could perceive that your network has too much latency. What happens under extreme stress? "A great example in the healthcare industry is annual enrollment," Gamiel said. "How will you know if everyone signs up for health insurance at about the same time that you can handle 100,000 concurrent calls?"
Perhaps it was during the global pandemic that you realized your network wasn't pulling its weight. "That was a huge forcing function that required companies to recognize that their existing networks and the way they were running their business were probably not going to be good enough to deal with all the macro issues that occurred during the global pandemic," Leff said. "There was a recognition that their existing networks weren't agile, flexible, or resilient enough to meet the demands of the new world."
Even AT&T had to grapple with the massive impact of the pandemic. "Imagine 80% of your workforce is working from home, and they're all trying to get into a secure tunnel through traditional virtual private network (VPN) concentrators," Gamiel said. "AT&T itself realized we have to rethink how we're doing global access and rethink our VPN architecture to a Zero Trust Network Access model ."
"AT&T is not immune from these same market forces, and we've gone through our own modernization, as well," Gamiel said.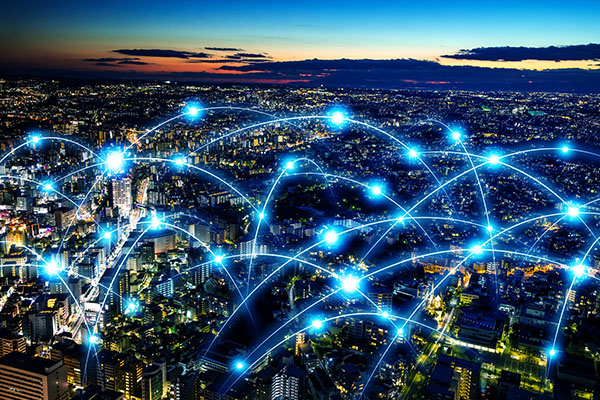 The ROI of Network Modernization
Network modernization can produce strong ROI for your business. What's your strategy?
Define the network problems you need to solve
When it's time for a network upgrade, it's not enough to layer more technology on top of what you already have. "We can't just put adrenaline into a patient that's in the E.R.," Gamiel said. First, you have to diagnose what's wrong with the patient.
"We have to fix the core issues that are preventing you from getting to an agile network," Gamiel said. "It's kind of a holistic treatment of what do we need to do to rebuild, re-architect, and rethink things. I think part of this journey to network modernization does involve some disruptive thinking to traditional approaches. We have to stop throwing money at it the way we've been doing for the past couple of decades and literally rethink how we're architecting networks."
Which of these problems do you need to solve?
My business needs to expand, but my legacy tech can't support it
My business uses copper lines, but carriers are sunsetting them across the U.S. and around the world and replacing them with fiber
My legacy equipment is nearing discontinuation
My legacy equipment is getting old and it's hard to find replacement parts
My legacy equipment doesn't support security and compliance
My business has a shortage of qualified people to manage my network
Network traffic is surging, but it's hard to quickly secure additional hardware
My competition has the edge because my network cannot support modern tech trends such as artificial intelligence, machine learning, augmented reality, and virtual reality
Many of these problems can be fixed with a thoughtful network upgrade that will allow you to start moving at the speed of business. "Part of this journey to network modernization does involve some disruptive thinking to traditional approaches," Gamiel said.
"It's the old edict that if you don't disrupt yourself, there's a high likelihood that somebody else will disrupt you," Leff said.
Fortunately, disruption can pay off. Modernizing your network can strengthen the bottom line.
Instead of using capital expenditure (CapEx) to pay for legacy equipment and tying up dollars over multiple years, the shift to a cloud-based software as a service model enables the business to also shift some of their budget to an operational expenditure (OpEx) model. Leff explains:
"Every business is faced with how to efficiently allocate capital; because anytime you allocate capital, there is significant effort and focus required to drive returns on that invested capital," Leff said. "I think there's little debate about some of the big advantages with cost savings when you're moving to the cloud. One of them is when you are able to move from a capital-intensive model to an operational, expense model, which fundamentally changes how services are delivered and how services are consumed. You move to a pay-as-you-go model. You're able to dramatically reduce CapEx. It takes a lot of pressure off of driving returns on that capital, and it's much easier to budget, allocate the operational expense side, and scale."
It's the old edict that if you don't disrupt yourself, there's a high likelihood that somebody else will disrupt you.
Share this quote
Plan your network infrastructure for the future
Your future-ready network needs to embrace both fiber and the cloud. Why? It's what your competitors are doing.
In 2027, cloud will be the pervasive style of computing, according to Gartner.1 Cloud services are at the center of recent and emerging technology, including AI, Internet of Things (IoT) services, next-generation user interfaces, edge computing, and real-time situational awareness.1 These services rely on a reliable secure network to enable applications and other technology to connect. As a result, cloud connectivity and the network that supports it are  essential to driving business innovation.
So, what does this mean for legacy networks? Simply put, copper cable is actually being phased out. It can't provide the foundation that cloud connectivity and other new technology needs, which creates a forcing function to move to fiber. Carriers are sunsetting copper lines across the United States and around the world at an increasing rate, according to Gartner.2 In the U.S., carriers can retire copper facilities and replace them with fiber with only 180 days' notice to the Federal Communications Commission (FCC).2
The good news is that migrating from copper to fiber will also unlock business opportunities. Fiber internet has many advantages over copper cable, including speed, symmetry, and capacity. Higher speed means your business can move data faster, and therefore process transactions more quickly, for example. Fiber optic cable can also send higher volumes of information over longer distances than copper cable. That means it can power your data-hungry devices such as IoT sensors. It's a game changer for manufacturing, too, where low latency is critical. Learn more about the benefits of fiber to your business.
Finding the right expertise for a successful network upgrade
Don't know where to start? Perhaps you don't understand the cost of a network upgrade. Maybe you want to increase tech spend as your business grows, but you don't know where or how to invest. Maybe you don't know how to accurately assess where the business is now or how to create a roadmap for migration into the future.
Our technology experts can help your business make a plan. At AT&T Integrated Solutions & Consulting (IS&C), we have a team of consultants who can fuel your digital transformation.
The IS&C team's mission is to help accelerate time-to-value and de-risk digital transformation for you. We can do this around the world, with regional offices across the U.S., EMEA, and APAC. We have teams locally to implement what you need, with global program management and governance. We lead with our global network, SD-WAN, 5G, IoT, voice transformation, and cybersecurity—all of which drives connections.
"One of the unique aspects of AT&T Consulting  business is that it's purpose-built around our core global network assets," Leff said. "I think there are very few consulting companies out there that have that kind of deep, rich subject matter expertise and capability that's really all about driving network transformation and modernization."
"Beyond the technology, the consulting teams take a business-led approach rather than leading with technology," Leff said. "It's putting yourself in the place of your customer, thinking about how we help our customers think about leveraging technology to drive return on investment and reduce total cost of ownership."
When you work with us, you have a single company managing multiple vendors, solutions, and architectures on your behalf. With dedicated team members, you'll always know who to call when you need help. Our experienced professionals will keep risks to a minimum while moving with speed and efficiency.
"I think partnering is really an important model that our customers want and need to adopt," Gamiel said. "They just need to find a partner they can trust, and hopefully IS&C is that partner."
So, what's the first step? Contact your account manager.
"We offer virtual briefings," Gamiel said. "It's a simple call with your account executive. In that, we'd love to hear the challenges your business is facing. We can share best practices - experiences we believe are relevant, and how we have served others in your industry."
IS&C recently worked with a large global investment bank to help digitally transform their branches. "They realized they had to disrupt the old way of execution because they couldn't move at the speed of business, and they recognized that they didn't have the talent set to execute 80% of what they needed to do," Gamiel said. IS&C helped them modernize with SD-WAN, digital signage, automation, and more.
"In the middle of this, the customer is acquiring another bank that they have to integrate into this whole infrastructure," Gamiel said. "In the customer's own words, they said if they had used the traditional capital-intensive method of 'let's just grab every contractor we can and magically try to make it come together,' with all the legacy mechanisms for program management, governance, and capital, it never would have gotten done."
See how ultra-fast, reliable fiber and 5G connectivity protected by built-in security give you a new level of confidence in the possibilities of your network. Let our experts work with you to solve your challenges and accelerate outcomes. Your business deserves the AT&T Business difference—a new standard for networking.

Learn more about AT&T Business networking solutions or contact your AT&T Business representative to take your next step into network modernization.

1David Smith and Dennis Smith, "The Future of Cloud Computing in 2027: From Technology to Business Innovation," Gartner, Accessed March 21, 2023, https://www.gartner.com/en/doc/768816-the-future-of-cloud-computing-in-2027-from-technology-to-business-innovation
2Lisa Pierce, "Quick Answer: My Legacy Telecom Service Is Being Shut Down, So What Should I Do?" Gartner, December 28, 2022, https://www.gartner.com/document/4022567?ref=AnalystProfile/.