AT&T IoT Asset Management Solutions for high-value assets
Monitor location and movement of your high-value shipments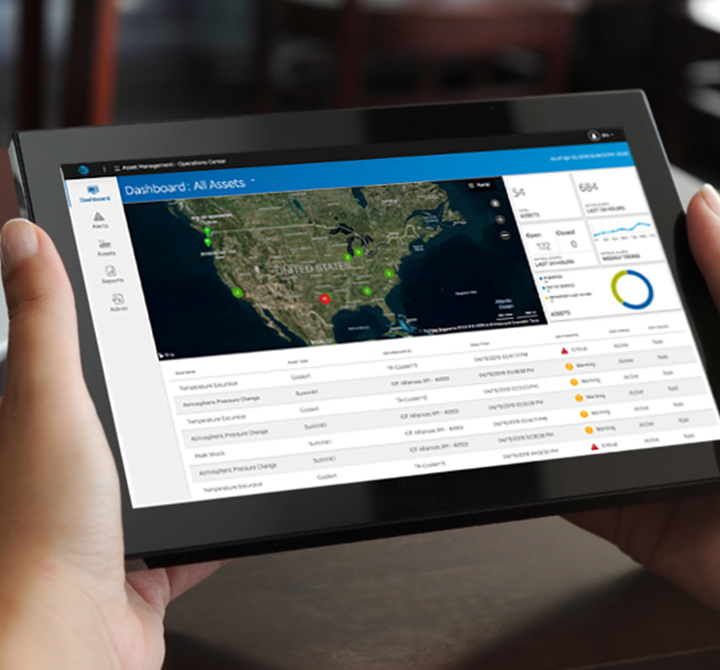 AT&T Asset Management - Operations Center (AMOC)
Enabled with IoT tracking allows you to monitor location and movement of your high value shipments. AMOC also allows you to manage data from a variety of other sensors, such as light sensors alerting you when a shipment has been opened and motion sensors indicating if delicate shipments have been disturbed.
You can also establish geofencing to determine if your high-value assets are outside of established boundaries. Simply attach an asset tracker or sensor to your shipment to manage and monitor your connected assets via AT&T Asset Management – Operations Center.
High-value asset tracking scenarios
No matter what type of high-value shipments you're tracking, we can help
I sometimes need to track high-value shipments that are outside of GPS reach. Is there a device that can help?
Yes, we have devices that support both GPS and Wi-Fi for determining location.
Is there a way to tell if my package has been opened during transport?
Yes, we have devices that can detect light. These devices can help alert you that a package has been opened.
Are your devices reusable?
In most cases, our devices are reusable. Ability to reuse may vary by device, lifetime messages, and battery life.
Request info
To get sales help from a Business Solutions specialist, please complete this form.
Your feedback will help us to improve AT&T Business so you continue to have a great experience when visiting us!
This survey is conducted by an independent company ForeSee for AT&T.