Overview
Your supply chain in your command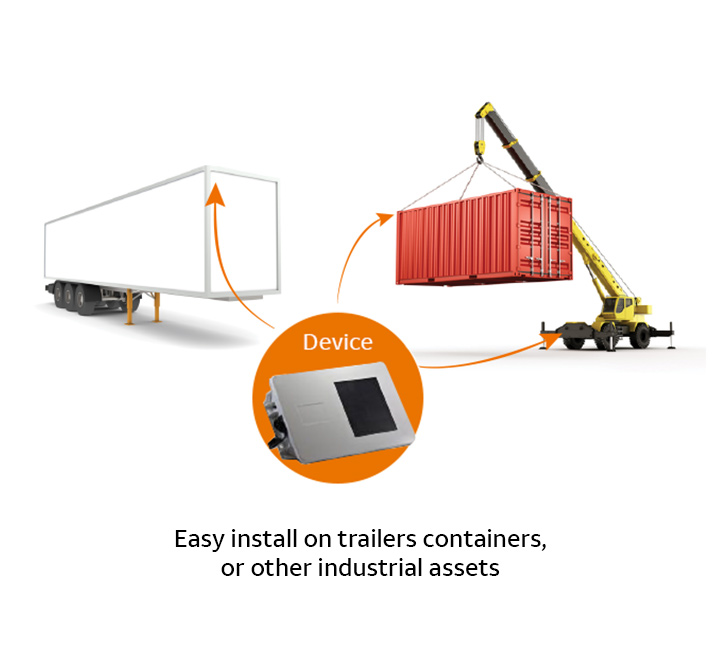 Gather and analyze data for valuable shipment insight
Monitoring devices attached to your containers or trailers gather data from an array of sensors that track the condition of the container and contents over the duration of its trip. The collected data is sent to the cloud for viewing from an application that provides alerts and notifications, customizable to support the needs of your business.
View product brief
Features
Realize the benefits your containers and equipment can bring
Device options
The right device can provide robust data about your assets
Device options

Details

Energy harvesting LTE device with global 2G/3G fallback

LTE/HSPA+ Category 4, GPRS Class A, GPS
3-axis accelerometer and motion detector
8 pin bayonet connector with optional 4 configurable I/O.
Optional Bluetooth®, ZigBee® and I/O configuration
IP67 rated -40° to 158° F; -40° to 70° C
With a fully sealed, protective case the AMSC device can be deployed in marine and desert environments
Configurable, periodic reporting to extend battery charge
How long does the device last if it has no access to external power?
Assuming normal operating environments and adequate sunlight, the device is designed with a solar panel so it can last up to 10 years with no external power.
How often does the device report to the backend application?
The reporting frequency can be as often as every 10 minutes; assuming adequate sunlight to replenish the battery. The device can be configured to change reporting based on movement and events.
Can the device detect G-force impacts?
Yes, the device can detect G-force impacts and timestamps them along with the location of the event.
Does the support variable reporting rules?
Yes the device is very flexible and a set of rules can be created to support most enterprise reporting requirements.
Resources
Discover how you can integrate our solutions into your business
Talk to an AT&T Business expert
Monday - Friday, 7am - 7pm CT
Request info
To get sales help from a Business Solutions specialist, please complete this form.
Your feedback will help us to improve AT&T Business so you continue to have a great experience when visiting us!
This survey is conducted by an independent company ForeSee for AT&T.