The leader's guide: How to make hybrid work successful
This post was sponsored by AT&T Business, but the opinions are my own and don't necessarily represent positions or strategies of AT&T Business.
'Knowing how to make hybrid work successful is no longer an optional skill. Retaining talent and increasing productivity starts with the right technology across the 3 interlinked pillars of connectivity, voice and collaboration, and cybersecurity, and it is underpinned for success by holistic investment in culture, process, change management and skills'
What is a hybrid work culture and how is this evolving?
On average, we each spend about 90,000 hours of our lifetime at work. That's a lot of time! So, ensuring the ways we work afford optimal results across personal, team, and organizational perspectives is absolutely a shared value investment. Hybrid working has established benefits for both the organization and its employees. These include improved flexibility and agility to not only navigate but thrive in a rapidly changing global environment—alongside enhanced motivation, productivity, creativity, and satisfaction to name just a few! (CIPD 2022).
But how aligned and connected are your teams to your company culture today? And what effect does any disconnect have? As organizations of all sizes increasingly reflect on the future of hybrid work, a new study by Gartner brings timely and illuminating insights, finding that just 24% of remote or hybrid knowledge workers feel connected to their company's culture1. And the impact? How connected people felt to the culture has a direct impact on their propensity to churn and move on from their current organization. It's that significant.
This is compounded when we consider hybrid work from a leadership lens—according to research by Harvard, some 40% of leaders reported being unprepared to manage remote employees. This is especially relevant at middle management level which although playing a pivotal role in embodying, enacting and executing change, typically feels ever more overworked, underappreciated, and close to burnout with blurred work-life balance boundaries2. And perhaps most concerningly of all, they are also communicating less and hesitant to seek help. Equally, employee and freelancer priorities are changing too, with a recent McKinsey study showing that flexibility, well-being and work-life balance are now very much top of mind3.
So, while hybrid and remote work arrangements are set to stay, notably an increase in high-functioning collaborative spaces and helping foster the many benefits already discussed—it is also clear that there are areas to work on to optimize success, and equally that this trajectory is still evolving too4. The heightening energy crisis is one example. Especially in Europe, this is poised to have an impact on working from home, at least this winter. Putting this into context, UK household energy bills have risen by 80% in October 2022 alone—and that on top of a 54% increase earlier this year. This has also been linked to growing work trends such as "quiet quitting" and the Great Resignation (Theta Global Advisors).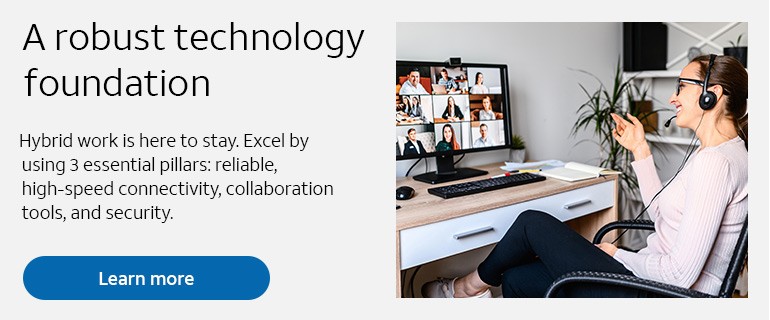 Successful hybrid work cultures and best practices
The role of 'place' emerges in both research and practice as very important for hybrid workers who regularly work across a range of spaces (office, home, third space). In cultivating the cultural pillars of trust, belonging, understanding, and empowerment—indeed given the growing gaps around recruiting and retaining top talent in many verticals—what an organization can foster through its hybrid culture can be a differentiator for employee onboarding and employee churn.
Let's now explore some best practice advice, including the role of technology to enhance  connectivity, voice and collaboration, and cybersecurity, to empower a successful hybrid work culture that works for employee and employer alike.
1 - Separate culture from location
Both recognizing positive behaviors and actions and addressing negative behaviors and actions is a core component of any organizational culture. People signals and cues can vary by location and connectivity medium. However, establishing the central practices of cultural development can be accomplished in many formats and absolutely beyond face-to-face, especially with the rise of Extended Reality and Metaverse technologies. These afford a whole new level of immersion for collaboration, creative ideation, and dedicated training. For example, they can help build empathy, which can be particularly beneficial in establishing trust and shared understanding.
Change can be supported by additional data insights too. Good examples are the use of artificial intelligence (AI), machine learning (ML), and spatial sensor technologies to analyze what behaviors are taking place within a specific space, then taking and applying the learning lessons from that.
It's very important to 'take the pulse' of your organization with regular surveys and listen to what current (and potential) employees are actually looking for in their employment 'hierarchy of needs.' This is key to the success of hybrid work. A recent example from a hackathon I judged brought this center stage with the hybridity of work extending to employees being able to volunteer in a third space (hackathon venue) applying their existing skills to support Gen Z participants—and developing new ones along the way5. This expanded to new understanding too, notably that such events can be an incredible opportunity to reach out to new talent who can demonstrate a multitude of skills and mindset across the experience itself. And further, they appear to be especially eager to apply to an organization based on shared values—notably sustainability and inclusion commitments—and showcasing what they can do, for example in a video upload, then applying for a specific advertised role itself. Fascinating food for thought!
2 - Embed cybersecurity by design
An increasingly critical component of hybrid work is fostering a culture of shared responsibility for cybersecurity. This encompasses the awareness, attitudes, knowledge, and behaviors of employees and stakeholder partners towards the threat landscape, risk levels, and information technologies. Security concerns are well founded with ransomware remaining a leading cyber risk, especially in today's growing 'deep fake' era. By Q2 of 2021, a new record was set every month for new ransomware attacks. This was an increase of 151% year-over-year.
Additional risks range from exploits via software as a service (SaaS) platforms, Log4j, DoS DDoS and MitM attacks, to internet of things (IoT), bring your own device (BYOD), BEC and supply chain vulnerabilities, device hacking and misconfiguration, remote code execution, growing east-west traffic risks within data centers, Cloud Washing and bad actor collaboration… to name just a few6! This even extends to the reinvention of older attacks, notably the highly destructive malware delivery mechanism 'Emotet' which has successfully leveraged various techniques to maximize its infection rate and damage impact7. Emotet has also variously reimagined itself too—making it the chameleon of the security world!
And this strategic imperative rises further still when we consider the multiple and diverse vectors of change including a global shortage of security professionals, geopolitical uncertainty and nation state risks, heightening levels of consumer and citizen distrust, expanded Environmental, Social, and Governance (ESG) requirements, the convergence of multiple technologies, IT and OT which creates opportunities but also expands the threat surface, and the spread of Everything-As-A-Service models. Indeed, new research by Equinix finds that by 2025, 90% of F500 companies will become Digital Providers, both selling and consuming digital services8. And as more organizations transition to hybrid cloud and edge computing, the need to move beyond legacy siloes to Next-Gen integrated security moves center stage. Supporting this, a superb resource on Security at the Edge is available here.
So how to negate the risk? A strong cybersecurity culture starts with having the right foundations in place—building awareness and fostering best practice cyber hygiene habits to become part of everyday hybrid life, whatever your specific role. As an example, ensuring employees who are non-tech-facing in their primary work activities still have equal access to data literacy training alongside specific cybersecurity awareness training—and on a regular basis—is a great starting point to build familiarity, understanding and ultimately the confidence to 'speak up'.
It can also break down language barriers and potential ambiguities such as what developments including Zero Trust Security which operates under the least-privilege principle really means9— and how this can be best applied tailored to organizations of any size. In particular, highlighting the absolute link between technology solutions, culture, education, and mindset is key:
'You do not flip a switch, download an app or take a pill to 'become' zero trust, it is not something you can simply install or buy and be once and done—it's an ongoing every-day and shared responsibility journey - not a destination' Prof Sally Eaves, Luxembourg Parliament Keynote

And there is good news! Up to 98% of cybersecurity threats can be negated through the embedding of strong cyber hygiene practices. Putting this into context, recent research by Microsoft revealed that across a study reviewing just 45 days of threat signals, a staggering 20 million devices were actually using the default password 'admin'. Approaches to consider right now can range from ensuring the application of 2 Factor Authentication (2FA), virtual private networks (VPNs), and encrypted USBs, to including immersive cyber response rehearsals as part of training and using dedicated internet, which can bring greater security than using shared. And beyond this, technology and service convergence is also allowing greater visibility, integration, performance and management with advances such as AT&T Secure Access Service Edge (SASE) bringing together the leading managed software-defined wide-area network (SD-WAN) services, cybersecurity capabilities, and the power of 5G.
And as to how to get started? Understanding exactly where you are now is the foundation to enable change – as one example the Zero Trust Readiness Assessment by AT&T is an excellent approach to evaluate the current state of any information security program and its maturity in attaining Zero Trust. Indeed, such a continual consistent commitment to embedding Zero Trust will ultimately help earn you customer trust – probably the most critical currency of our time!
3 - Create a sense of belonging and embrace 'intentional togetherness' supported by voice and collaboration tools
Psychological safety is a critical catalyst for team effectiveness10. Creating a sense of belonging in a hybrid workplace can indeed be challenging. Intentional togetherness is much easier for one team, than say for 'teams of teams' operating in different places and time zones. Supported by feeling a 'sense of place', something that is developed through all five of our senses, creating belonging is about purpose, potential, and personalization and this can include fostering microcultures alongside corporate culture too. With the right guidance and direction this can be complementary rather than a potential source of norms and behavioral friction.
And as highlighted in the Gartner research, the medium matters! Be intentional about how time, place and space is used. For example, with face-to-face time, team bonding, new strategy development, new client introductions, or new team formation sessions are an excellent fit. Additionally, leadership by organizations such as AT&T and their advances in VoIP services and VoIP adapter namely Phone For Business, Microsoft Team VoIP with Cloud Voice, Mobile Remote Access and UCaaS solutions such as AT&T Office@Hand offer a whole portfolio of trusted services and support to reduce complexity, tailor fit, control costs, and enable the seamless collaboration from anywhere that organizations of all sizes and industry verticals absolutely necessitate. Additionally and linking into the cybersecurity by design imperative just discussed, given the ever increasing scale, scope, and sophistication of these threats, the embedding of network security products is key too—enabling time to be optimized on the quality and impact of the collaboration itself!
4 - Network and connectivity—The bridge to successful hybrid work
Connectivity and fiber are imperative to optimizing hybrid work and moreover, the iteration of ways of working that are yet to be re-imagined! Legacy solutions such as copper simply cannot provide for the performance, experience, consistency, and reliability needs required to work from anywhere effectively (office, home, third space)—and make the very most of emergent immersive technology developments in areas such as augmented reality (AR), virtual reality (VR), extended reality (XR), and the Metaverse. Demands around bandwidth, speed, latency, and experience have all accelerated with research by AT&T finding that data consumption in the US alone is poised to increase an eye-watering 5 times during the period 2021 to 2025. And wireless also depends on fiber! Any smartphone connection is only as seamless and expedient as the link from a cell tower, or another antenna back to the internet.
So from family members streaming different shows or gaming at 8K at the same home, to the advancing cloud and edge connectivity and decentralized collaboration needs affecting entrepreneurs, SME's and enterprises alike, and right through to public safety communications such as FirstNet, the time is now to utilize the experience, multi-gig speed and fast up-and downlink benefits that fiber affords. And with rising consumer interest in paying more for 5G use cases as highlighted in the recent Salesforce Trends in Communications report, the likely surging traffic levels over 5G will also mean surging traffic levels coming across to fiber too11!
And finally, lets also shine a light on the often 'invisible' technology doing critical work to bring to life all the end-user benefits described, and helping to negate potential points of friction before they even occur. Enhancing visibility into network operations is absolutely vital to achieve exactly this, maintaining the quality and uptime of connectivity, reducing workloads, stress and tool sprawl for operation teams, and ultimately securing business continuity too12.
Supporting this, active intelligence of your entire technology estate is critical, which can range from proactive monitoring in areas such as cybersecurity, through to the use of video which has had a significant impact on how businesses look at networks, from identification of end points through to product anomalies, and improving inventory management. This is exemplified by the rise of collaboration in this area, for example AT&T and IBM working together to bring AI and ML to network insights to improve IT, OT, IoT, and 5G network visibility, as encapsulated in the Innovation Lab development.
5 - Actualize 'better meeting' etiquette and move beyond measuring productivity to measuring engagement and sentiment
Linking to point 3, remove any unnecessary or duplicate meetings! And for the remainder, ensure these are super effective. For example, scheduling a meeting to end five mins before the hour can give 'a buffer' few extra back minutes to all involved—it might be the only window for a wellbeing break in a back-to-back diary and will be greatly appreciated by all. Additionally, take time to experiment on what works best. This could include arranging asynchronous meetings where employees work on something but in different time zones, contributing to co-creativity and alignment. This works really well to foster inclusion too as recently discussed by Chris Mach, Director of Workplace Strategy and Planning at AT&T, indeed technology can help ensure meeting participant equity and overcome issues of proximity bias in real-time collaborations13.
Further, when exploring the success of meetings, projects, and hybrid work arrangements more broadly, productivity measurement is often a first point of call—but this can be complex and sometimes only reflect 'part of the story' especially around roles such as the knowledge worker. Instead, exploring engagement levels and sentiment over time can offer more representative indicators of how effective, motivated and aligned your teams actually are. Be prepared to explore new avenues in measuring what success looks like!
6 - Support leaders with the skills to micro-understand not micro-manage
Training in how to manage less physically attached workers and how to create belonging at a physical distance matters (Gallup 2022). This involves developing the capability to identify and respond to virtual cues, which can be fostered through dedicated coaching notably around STEAM centric skills which embrace empathy, emotional intelligence and proactive communication for team connection. Indeed investment in the 'enduring capabilities' which enable people to learn, apply, and adapt is critical to be ambidextrous to change and more confident in managing it effectively14. In combination, this can better allow connection with emotional proximity, not physical proximity. As an example, manager integration into your team's workflow can enable agile and co-creative problem solving. Additionally, encouraging leaders and especially those in middle management roles to share the value and contribution people are making enables a move from 'being seen' to 'feeling seen'. This is management by enablement, not enforcement.
7 - Create an adaptable hybrid work policy
According to the AT&T 2022 Future of Work Study, some 72% of businesses lack a clear hybrid work strategy. As the future of work continues to evolve at pace around the world, the development of hybrid work policy and its regular review is not a nice to have, it's an organizational imperative. This is especially so given the acceleration of change in user behaviors and expectations, alongside all too common 'unprecedented events' from covid, to the war in Ukraine, and most recently the energy and cost of living crisis. Equally, it means that 'pause for thought' is embedded in policy by design and can create another form of space—that of reflection, which can surface new needs and also new opportunities, particularly given the rate of advance in connectivity and communication technologies.
Final thoughts on how to make hybrid work successful
As we consider the future of work, especially hybrid work, it is clear that the time is now to reflect on where you are, where you want to be, and what your employees and future employees are looking for—and then to consistently review and adapt accordingly. Ask yourself:
Has your company culture been curated through osmosis in a physical space, or instead via cultural intentionality?
Which of the approaches and suggestions across the three interlinked pillars of connectivity, voice and collaboration, and cybersecurity outlined above might best support the hybrid teams in your organization, starting today?
The time is now to move beyond diffusing culture through 'the office' to diffusing it through work and related activities itself—culture must be front and center in everything people do. For when connectivity, collaboration, creativity, and connection combine, we can do so much more. As Maya Angelou said: "You might forget what they did, you might forget what they said, but you'll never forget how they made you feel."
To learn about how AT&T Business can help you be successful in the future of work, download the AT&T 2022 Future of Work Study or reach out to your representative.
1Gartner Says HR Leaders Are Struggling to Adapt Current Organizational Culture to Support a Hybrid Workforce, Gartner, May 17, 2022, https://www.gartner.com/en/newsroom/press-releases/2022-05-17-gartner-says-hr-leaders-are-struggling-to-adapt-current-organizational-culture-to-support-a-hybrid-workforce.
2Sally Eaves, The Frozen (Middle) Manager Surfacing Invisible Barriers to Change from
People to Technology, March, 14, 2022, https://www.linkedin.com/pulse/frozen-middle-manager-surfacing-invisible-barriers-change-sally-eaves/.
3Andrea Alexander, Aaron De Smet, Meredith Langstaff, and Dan Ravid,
What Employees are Saying About the Future of Remote Work, McKinsey, April 1,
2021, https://www.mckinsey.com/capabilities/people-and-organizational-performance/our-insights/what-employees-are-saying-about-the-future-of-remote-work.
4Sally Eaves, Reimagining 'The Office' and City Business Districts: The Rise of the Collaboratory, April 8, 2022. https://www.linkedin.com/pulse/reimagining-office-city-business-districts-rise-sally-eaves/.
5Sally Eaves, Reflections on HackZurich 2022 with Swiss Re. September 30, 2022, https://www.linkedin.com/pulse/reflections-hackzurich-2022-swiss-re-sally-eaves/.
6BEC Attacks Spike, Report Finds, October 3, 2022, https://www.scmagazine.com/brief/email-security/bec-attacks-spike-report-finds
7Sally Eaves, Emotet – The Chameleon of Cybersecurity Risks, Accessed November 15, 2022, https://podcasts.apple.com/gb/podcast/emotet-the-chameleon-of-cybersecurity-risks/id1562152429?i=1000583344523
8GXI Report, Equinix, November 15, 2022, https://www.equinix.com/gxi-report.
9Sally Eaves, Reimagining Zero Trust, LinkedIn, January 25, 2022, https://www.linkedin.com/pulse/reimagining-zero-trust-its-continual-practice-product-sally-eaves/
10Amy C. Edmonson and Mark Mortensen, What Psychological Safety Looks Like in a Hybrid Workplace, Harvard Business Review, April 19, 2021, https://hbr.org/2021/04/what-psychological-safety-looks-like-in-a-hybrid-workplace.
11Trends in the Communications Industry, Salesforce, Accessed November 15, 2022, https://www.salesforce.com/resources/articles/trends-in-communications/.
12Too Many Tools in the Security Box and What to Do About It, CIO.com, May 23, 2022, https://www.cio.com/article/350333/too-many-tools-in-the-security-box-and-what-to-do-about-it.html.
13Betting on a Hybrid Workplace Future, LiquidSpace, Accessed November 2, 2022, https://blog.liquidspace.com/perspectives/chrismach.
14Building the Future-Ready Workforce: Unleash the Potential of Your Organization and People, Deloitte, Accessed Nov 29, 2022, https://www2.deloitte.com/content/dam/Deloitte/ca/Documents/consulting/ca-future-ready-workforce-en-aoda.pdf.