The ROI of network modernization
This post was sponsored by AT&T Business, but the opinions are my own and don't necessarily represent positions or strategies of AT&T Business.
Network modernization is the backbone behind successful digital transformation. It delivers the opportunity to optimize, integrate, scale, sustain, and secure to benefit Communication Service Providers (CSPs), enterprises, and consumers alike. It supports much-needed business outcomes. These include everything from enhanced performance and operational efficiency to enabling a differentiated customer experience. Businesses are also able to realize a reduction in energy consumption. All of this is the embodiment of advancing scalable and shared value innovation!
So in this context, let's make the 'invisible visible' and unpack the challenges and opportunities around network modernization. Along the way, we'll highlight the support available to help you accelerate your journey –notably across technology, architecture, and collaborative ecosystem perspectives.
What is network modernization and why is it important?
Beyond ensuring that your network can handle its current demands, network modernization also serves to address multiple common points of friction. For example: the challenges of legacy networks and legacy/copper lines. These often suffer from lack of standardization, silo-ed and aging network knowledge and components, fewer updates, compromised network security and understandably—ever-escalating costs of maintenance too.
Additionally, network modernization is necessary to keep up with the always-on, anywhere-and-everywhere connectivity that business needs and customer's demand. With the advance and integration of emerging technologies, cloud connectivity, voice, and beyond, reports show that our bandwidth requirements are growing some 30% each year (Accenture). However, legacy infrastructure simply cannot provide for the bandwidth, speed, and low latency needs that are now imperative to deliver on these demands.
No wonder perhaps then to learn that AT&T expanded its fiber network by some 60,000 miles in 2022, enabling a 23% increase in data traffic on a daily average as compared to the previous year.1 Put simply, leaving network pain points unaddressed can lead to reduced agility to change, increased risk and costs, inferior capacity to innovate and ultimately negation of trust.
The question becomes: is your network able to keep up? Did you delay modernization during COVID pressures? Is your business pausing because of concerns about a global recession? Maybe instead pause now to reflect on the potential cost (in all its forms) of network stagnation.
Putting this into context, network modernization affords a more proactive approach with embedded active intelligence, which enables for continuous visibility into your business so you can make agile, responsive, and informed decisions as needed.2  It's also 'designed ready' for the unknown demands that might surface in the future. This makes increased agility, flexibility, sustainability, and scalability some of the leading benefits of a network modernization investment. This is a focus that's reinforced when we consider the many vectors of change and indeed 'poly-crisis.' This is described by World Economic Forum as a cluster of related global risks with compounding effects, such that the overall impact exceeds the sum of each part, impacting across business and society today.3
Within this, we are seeing a dynamic and convergent need to manage changing expectations and behaviors. This is especially true around experience, choice, and purpose—alongside managing costs, negating skills gaps, reducing energy consumption and ultimately modernizing and setting a strategic direction for a more distributed network.
Network modernization is necessary to keep up with the always-on, anywhere-and-everywhere connectivity that business needs and customers demand.
How to address modernization challenges across your network?
Interest in Network Modernization is well established. In the 2020 ESG Global Report, 57% of respondents said they are either beginning or have already begun network modernization.4 More recent research reveals an intent-actualization gap—so while 86% of network operators or administrators surveyed planned to modernize their network, only 5% had fully done so.5
So what's holding organizations back?
A recurring response among my guests on the Tomorrow's Tech Today podcast is the combined and often accelerating challenge of complexity. This is especially true with corporate networks increasingly becoming decentralised—alongside cost, time, and talent gaps. Regards both internal and external resource challenges, recent research identified particular gaps around network engineering, network architecture, project management, and security architecture.

What kind of architecture is needed for network modernization?
Open, flexible, and programmatically driven! These characteristics are imperative for a modern network today, which is also agile to the future, and able to provide access to applications and services with seamless connectivity. For context, if applications are built on a microservice architecture and within container environments, this means the application can be separated into multiple smaller parts to enable application updates and new functionality releases iteratively—and at a much faster rate!
Now let's explore how networks and security are converging across technological and organizational points of view. 
The role of cloud and SD-WAN in network modernization
According to Gartner, by 2025, over half of enterprise IT spending within key market segments will move towards cloud-based solutions.6 This smart and more consumption-based IT model affords many benefits. These include reduced development and deployment times, which results in improvements to agility, flexibility, integration and consumption rates. It also helps organizations of any size to embrace hybrid working and be empowered with the choice and interoperability to take advantage of resources offered by various cloud and software as a service (SaaS) providers.
Successful cloud deployments all require the balancing of cost, latency, performance, and resilience considerations. However, traditional wide area network (WAN) infrastructure is not optimally designed for accessing applications in the cloud and accelerating demands for bandwidth and optimization. So how can this aspect be better supported?
Software Defined Networking (SDN) allows administrators to manage and control the network dynamically, virtualizing network functions (router, firewall, load balancer), and allowing specialized hardware to be replaced with software applications that run on a universal device. A flexible network functions virtualization solution can enable businesses to deploy multiple network functions in the cloud or on a single device—all while replacing purpose-built hardware for each application.
Supporting this further, software-defined wide area network (SD-WAN) is revolutionizing the business WAN space with its ability to elevate network traffic management away from hardware and on-premises and instead, brings virtualization to the cloud and to the edge. Recent Frost & Sullivan research has identified this trajectory is increasingly critical.
The key SD-WAN advantages include cost savings, agility and flexibility, improved application performance, faster time-to-market, and enhanced visibility and control. This includes superior resilience for branch offices, alongside optimized remote access to cloud applications too.
Also, advances in SDN-enabled security are allowing more intelligent and incremental responses to cybersecurity threats that continue to escalate in scale, scope, and sophistication. For example, SDN-enabled security can selectively block malicious traffic while still allowing normal traffic flows to continue. This is especially essential when we consider the sensitivity of data in mobile communications where location and current session information is prerequisite to establish and maintain connectivity.
And while your digital and network requirements will always continue to evolve, SD-WAN can work with your existing infrastructure and technologies to adapt with these needs. This could range from deploying Big Data Analytics, through to integrating the internet of things (IoT) and enabling automation with artificial intelligence (AI). No wonder the managed SD-WAN market opportunity is now poised to exceed $6.5 billion in 2023!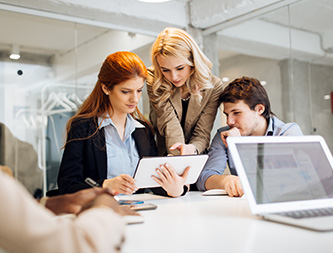 Network Services
Technology is changing rapidly and with that comes higher demands on your network while pushing bandwidth requirements to its limits.
How can you accelerate the modernization journey?
Supporting your network modernization goes beyond focusing on the technology. It includes more holistic considerations that support its very actualization across people, skills, and culture, as well as change, policy, and process management perspectives.
As a starting point, developing a high-level framework to support 'thinking through' your network modernization is recommended. This will compromise activities such as conducting a network assessment to ascertain your 'as now' state. It includes identifying legacy systems, duplicate applications, outdated hardware, bottlenecks, patch delays… the list goes on! But this is the essential foundation to understand the scope of the initiative in hand, and to then create a roadmap to modernization with clearly defined and articulated goals, prioritization, accountabilities, and milestone steps towards actualization. This approach is key to ensure that modernization efforts are aligned with overall business goals and objectives.
There's more. Organizations can draw on the facilitation, expertise, and trusted partnership of managed service provision arrangements. This ranges from support for a specifically identified technology or training provision to service management covering the entire range of end-to-end system integration for virtualized Radio Access Network (vRAN), Open Radio Access Network (ORAN), Private 5G networks, and edge/multi-access edge computing deployments.
The AT&T Business comprehensive network transformation services improve performance, lower costs, and transform operations. In addition—and a noted trend from MWC Barcelona 2023—is the power of the ecosystem to advance change, whether that is advancing ORAN standards or coming together to negate security threats or catalyze new service innovations! The recent news of AT&T collaborating with cloud vendor Microsoft Azure is an excellent recent example.7
Getting the right technology to modernize your network
We have seen that the application of network functions virtualization (NFV) and software-defined networking (SDN) together with supporting virtual network devices such as SD-WAN, can significantly reduce the time, cost, and wasted consumption around network modernization through the dynamic provisioning and management of network resources. Additionally, the use of automation tools can help both reduce human resource workloads and network management time and costs.
Network orchestration is a great case in point, with the benefits achieved by centrally automating network provisioning, configuration, and management. Finally, the use of AI and machine learning (ML)- driven solutions can afford real-time active intelligence and recommendations to optimize network performance—enabling continual innovation by design to optimize your modernization results and its sustained progress.
The AT&T award-winning secure business networking services can help support these needs, with products and solutions right across fiber, dedicated internet, Ethernet, Wi-Fi, SD-WAN, enterprise networking, and Professional Services. All these services are supported by three pillars:
Enabling network simplicity
Facilitating an exchange of industry expertise
Embracing collaborative consultancy.
Network modernization can produce strong ROI for your business, but you need the right strategy and technology to exceed your digital transformation goals. Aim for a modern network embedded from the core to the edge, supported by the future-ready connectivity that flows across fiber and 5G.
The future of the network is agile, secure, collaborative and hybrid. Looking ahead, I believe the future of the network will be increasingly sustainable and measurable too with these considerations based in across network, architecture, and processor level—in this way, ROI on network modernization will expand to be ROSIE–Return on Social Impact Evaluated. Truly a shared value proposition for all!
Learn more about AT&T Business networking services or contact your AT&T Business representative.
About the author
Prof. Sally Eaves is a highly experienced chief technology officer, professor in advanced technologies, and a Global Strategic Advisor on digital transformation specializing in the application of emergent technologies, notably AI, 5G, Cloud, Cyber Security, and IoT disciplines, for business and IT transformation, alongside social impact at scale, especially from sustainability and DEI perspectives.
An international keynote speaker and author, Sally was an inaugural recipient of the Frontier Technology and Social Impact award, presented at the United Nations, and has been described as the "torchbearer for ethical tech," founding Aspirational Futures to enhance inclusion, diversity, equity, and belonging in the technology space and beyond. Sally is also the chair for the Global Cyber Trust at GFCYBER.
1 "AT&T (T) Aims to Enhance Nationwide 5G and Fiber Connectivity," barchart, March 23, 2023, https://www.barchart.com/story/news/15349506/att-t-aims-to-enhance-nationwide-5g-and-fiber-connectivity
2 Sally Eaves, "Right Here, Right Now," Qlik, Accessed March 23, 2023, https://www.qlik.com/us/active-intelligence/magazine/issue-2/right-here-right-now
3 "We're on the brink of a 'poly crisis' – how worried should we be?," World Economic Forum, Jan 13, 2023, https://www.weforum.org/agenda/2023/01/polycrisis-global-risks-report-cost-of-living/

4 "ESG Research Report: 2020 Technology Spending Intentions Survey," Enterprise Strategy Group, February 18, 2020,
5 "Asperitas survey: Only 5% of companies claim to have a modern IT network," GlobalNewswire, Feb 09, 2023, https://www.globenewswire.com/news-release/2023/02/09/2604918/0/en/Asperitas-survey-Only-5-of-companies-claim-to-have-a-modern-IT-network.html
6 "Gartner Says More Than Half of Enterprise IT Spending in Key Market Segments Will Shift to the Cloud by 2025," Gartner, Feb 9, 2022, https://www.gartner.com/en/newsroom/press-releases/2022-02-09-gartner-says-more-than-half-of-enterprise-it-spending

7 Shawn Hakl, "Improving the cloud for telcos: Updates of Microsoft's acquisition of AT&T's Network Cloud," Azure, Jan 4, 2022, https://azure.microsoft.com/en-us/blog/improving-the-cloud-for-telcos-updates-of-microsoft-s-acquisition-of-att-s-network-cloud/