Transforming into a future-ready workplace
This post was sponsored by AT&T Business, but the opinions are my own and don't necessarily represent positions or strategies of AT&T Business.
Are you prepared for the next unexpected disruption? The future-ready workplace doesn't build itself: your technology investment must lead the way, underpinned by a focus on your people too – especially with employee agency at a record high. 
The future of work is a projection of how work, workers, and the workplace will evolve in the years ahead. During the last ten years, we have seen much digital change outside of work—with technology fast becoming embedded everywhere, impacting our behaviors and expectations, from the way we shop and socialize, to how we learn, automate our homes, monitor our health, and even drive.
Accelerated by the digital transformation advances that were catalyzed by the pandemic, this digital-first approach has rapidly impacted our work lives too. Changes in skill requirements, the need to reskill more than a billion people by 2030 (according to the World Economic Forum), and the rise of the Work from Home culture (WFH), have given way to WFA—Work from Anywhere.
Indeed, it has inspired a 'great reflection' around the very nature of work itself and what a workplace actually constitutes – is this a physical, virtual or hybrid space, or rather a sense of shared culture, values, and belonging – or a combination thereof? Let's explore the trends, tools, technology, and tips that can equip you, your team, and your organization to become future-ready today. 
What is a future-ready workplace?
We have moved far beyond the Taylorist Office of 1900, which focused on efficiency and organization, with a production line style, to what I describe as Workplace 4.0: The Collaboratory. I see this as a balanced, collaborative, interactive, and social hub with dedicated quiet spaces. It's empowered by a focus on the four pillars of technology, sustainability, learning, and wellbeing, with hybrid flexibility around ways of working across digital and physical space.
A future-ready workplace is one able to embrace and integrate the elements of the Collaboratory.  This is combined with the continual listening and future-scanning activity that can readily identify the most important technologies to help employees work smarter, more productively, and with higher satisfaction than ever before. Reflecting on what we have learned through the 'biggest global work experiment of all time' provides a core foundation to unpack the key ingredients for success. 
Firstly, employees want choice – and they increasingly expect it! Research by CIEL HR Services found that 67 percent of participants were even ready to leave their jobs if denied a WFH option. And when an employee's location preference doesn't match their current work location, burnout rises while engagement drops1.

Secondly, employees have increasing agency. As described by the Washington Post, we are living in the 'most unusual job market in living memory' catalyzed by soaring demand for workers 'post Covid' juxtaposed with the 'Great Resignation' with record numbers retiring or leaving roles, especially women for whom the pandemic had a disproportionately negative impact2. This is heightened further by the increasing skills gaps across multiple verticals, especially within the tech industry. Taken in combination, employee and even freelancer agency have never been higher, affording greater influence on affecting workplace change. 
Thirdly, not all work relationships are human. The workplace of the future, and already coming into actualization today, also includes machine-machine and machine-people relationships. Machine interactions can range from drones performing safety inspections to chatbots engaging with customers and fielding inquiries, to conversational artificial intelligence (AI) providing the conduit for employees to feel comfortable discussing their mental health, right through to the cognitive systems that evaluate and extract insights from ever-growing volumes of big data. 
Enabling success – Initial steps to building a future-ready workplace
With an illuminating '87% of workers asserting their workplace needs to change substantially after COVID' (Morgan Lovell) the time is now to take concrete and transparent steps forward. Especially when we consider that some 72 percent of businesses lack a clear hybrid work strategy according to the AT&T 2022 Future of Work Study.
Factors to consider include clarity of vision and strategy, active listening to all voices in your organization, building culture and belonging remotely, enabling flexibility around work patterns including location, sustained investment to embed safety, wellbeing, education, and circular economy features by design – and underpinning this, is the key role of technology to enable this change. However, as the research insights already shared highlight, there remains an intention-action gap in terms of ensuring the components of a future-ready workplace are actualized, directly affecting employees' capacity to thrive.  Let's now deep-dive into the how!
Redesigning a hybrid workforce
It's not about the place, purpose, potential, and personalization—a "typical" employee experience no longer exists. This necessitates reimagining work itself and the ways in which we prepare and support workers to be successful. What unleashes a person's potential, enabling them to be healthy and productive, regardless of where they work? It is clear that having access to the right resources tailored to needs is imperative and can enable people to be productive in any environment. 
Having these resources at both the individual and organizational level can recreate and even reimagine social connectivity, nurture an employee's wellness and productivity, and negate stressors such as burnout, fatigue, and frustration, which are currently being experienced by one in three workers today (Accenture 2021). Key resource dimensions include affording autonomy, active listening from leadership, fostering a culture that supports positive mental health, provision of health policies, opportunities to upskill and reskill, including data literacy in non-tech-facing roles, and investing in a strong digital vision with the digital tools required to drive employee innovation, collaboration, and mobility.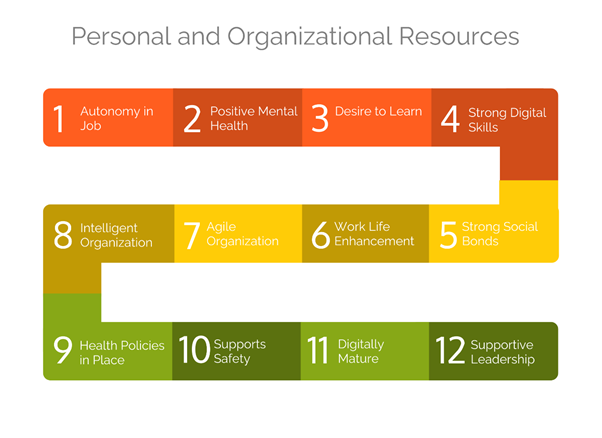 Attention to workplace learning is especially important—and not just a focus on specific skills but more critically on the 'enduring capabilities' which enable workers to learn, apply, and adapt them, and develop ambidexterity to change3. This approach embodies the ethos of STEAM learning which equally values technology discipline skills with those of empathy, emotional intelligence, problem-solving, and creativity. It is clear that to scaffold a future-ready workplace, the future of learning must be experiential, work-integrated, blended, holistic, and lifelong. 
Providing better support for managers to be effective in their roles across WIO, WFH, and hybrid environments is a case in point. Research reflects that middle management has been especially squeezed by both heightened and changing role demands and in so doing accumulating significant levels of stress, anxiety, and burnout. And dealing with this is key—productive workers report as much or more stress, anxiety, and burnout as others—but are able to cope and indeed thrive with the right resource provision. It is this support that is the differentiator. 
Training in how to manage less physically attached workers and how to create belonging at a physical distance matter (Gallup 2022) and technology can also play a key role. Extended Reality (XR) is one example, with the physical and digital worlds now bridged, starting with augmented and virtual reality. And as immersive technologies become more intuitive and natural—moving from being screen-based to voice or gesture-based—this interactive content has the power to transform not just enterprise and consumer interactions and experiences, but also education and training. It can also help to close data literacy gaps within organizations, and beyond this, support community outreach to help bridge the digital divide—tech for good and shared value personified! 
With the lines of distinction between personal and professional life increasingly blurred, technology can aid employees in balancing both. And at the heart of this, in today's evolving 'collaboratory' environment, technology can help provide a different way of connecting with your teams, your customers, and importantly also with yourself. Unified communications and collaboration tools that work seamlessly from anywhere afford a critical integrative role here, alongside protecting corporate and customer data in the process. 
AT&T Office@Hand is a great example, empowering employees wherever they reside in a "work from wherever you work" landscape.  A cloud-based flexible UCaaS offering that runs over any public Internet connection, it provides voice, fax, text messaging, audio, and video conferencing as a hosted voice and collaboration solution. This reduces complexity, improves productivity, and increases connectivity across employees and customers alike, whether in the office, at home, or on the move. Indeed, the unification of communication tools is key to giving employees a single environment for managing and integrating all their communications and is perfect for the growing business, ready to scale as you do. 
Another solution, this time a VoIP adapter, is the cloud-based AT&T Phone for Business – Advanced which converts traditional analog landline signals, analog phones, and specialty lines to Internet Protocol (IP), delivering Voice over IP (VoIP) internet connections. This means that voice, alarms, point-of-sale terminals and more can all benefit from the cloud, and complexity and communication costs are reduced too.
Additionally, organizations can literally give their teams a voice by enriching their existing collaboration environments, notably Microsoft Teams which now has 270 million users, up from 145 million in 2021. AT&T Cloud Voice allows you to manage business calls right from your Teams environment. And when it comes to supporting remote workers on the move, a range of support is available to enable one-click connectivity, embedded security, seamlessness of use, and increased productivity including NetMotion, AccessMyLAN, and Private Mobile Connection.

And from a technology sustainability lens, these resources are recommended—the future of the workplace must also embed green considerations across the product lifecycle by design. 
Final thoughts—Successful future-ready workplaces
I envisage the new 'collaboratory' workplace will be modular, agile, hybrid, and multi-locational—facilitating collaboration, productivity, and wellbeing. Work can no longer be considered on simple transactional relationship lines, or as onsite or offsite, and leaders today must be equipped to manage the complexity and differences, including the rise in employee agency. Technology accelerants, especially collaboration and unification tools, can support change in the way that businesses conduct work and support their employees – wherever they may be. These include VoIP services, UCaaS solutions, VoIP adapters, Microsoft Team VoIP, and Remote Mobile Access. This is all underpinned by investment in culture and learning resources too. When it comes to the future of the workplace, it is not about the place – it is all about purpose, potential, and personalization.

Learn more about how AT&T Business can help you determine the best collaboration strategy and solutions for your business or reach out to your representative.
1Ben Wigert and Sangeeta Agrawal, Returning to the Office: The Current, Preferred and Future State of Remote Work, Gallup, August, 31, 2022, https://www.gallup.com/workplace/397751/returning-office-current-preferred-future-state-remote-work.aspx.
2Alyssa Fowers and Andrew Van Dam, The Most Unusual Job Market in American History, Explained, The Washington Post, December 29, 2021, https://www.washingtonpost.com/business/2021/12/29/job-market-2021/.
3Building the Future-Ready Workforce: Unleash the Potential of Your Organization and People, Deloitte, Accessed Nov 29, 2022 29, 2022  https://www2.deloitte.com/content/dam/Deloitte/ca/Documents/consulting/ca-future-ready-workforce-en-aoda.pdf.
AT&T Business Insights Blog