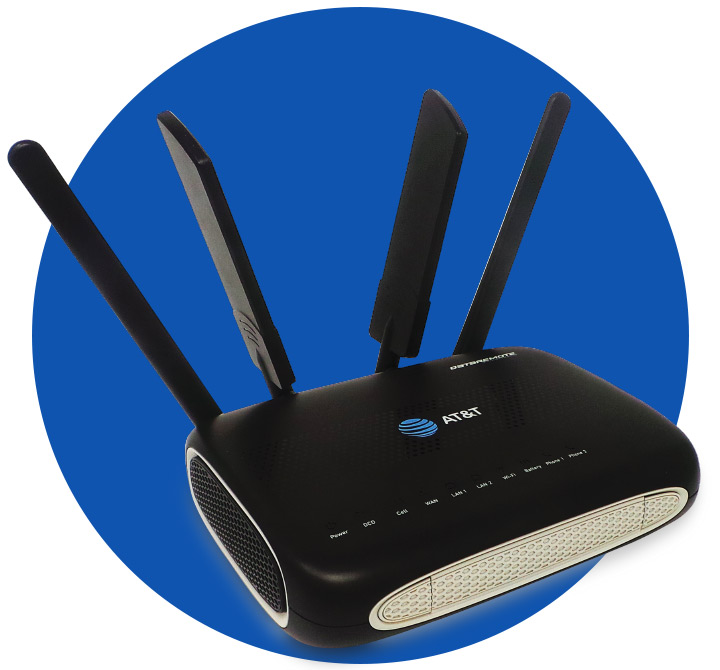 What is AT&T Phone for Business - Advanced?
AT&T Phone for Business – Advanced is a cloud-based solution that converts traditional analog landline signals to Internet Protocol (IP), delivering Voice over IP (VoIP) internet connections.  The solution supports basic voice and specialty data lines such FAX, alarm lines, elevators, point-of-sale terminals, and more. Instead of having multiple dedicated lines that are connected to a traditional telephone network, your analog voice and specialty data lines are connected into a device, which converts the analog signal to a digital one.
Learn how AT&T Phones for Business – Advanced can convert your analog phone and specialty data lines to the cloud.
Watch now
Enjoy these business benefits
A cloud-based replacement for Plain Old Telephone Service (POTS)
Utilize your existing investment

Bring your analog equipment to the cloud and connect in a highly secure environment

Scale easily

Add lines and equipment as your business needs grow

Reduce costs

Consolidate from many to one service provider to help reduce expenses and simplify management

Work more productively

Eliminate downtime associated with hard-to-service POTS lines

Get peace of mind

Stay up and running with a 12-hour internal battery and access to a wireless network

Installs easily

Get started quickly with professional installation
Consolidate your analog voice and specialty lines
Explore features for Phone for Business - Advanced
| Features | Details |
| --- | --- |
| Supports specialty data lines | Connects security and fire alarms, elevators, emergency boxes, faxes |
| Wireless capable | Automatic LTE failover |
| Internal battery | 12-hour battery backup |
| Long distance calling | Unlimited domestic local/long distance calling including calls to Canada and Puerto Rico |
| Phone features | Basic calling features including auto attendant, voicemail, music on hold, call forward and handling, and more  |
What are the Phone for Business – Advanced product components?
Hosted voice using your analog equipment and an internet connection
Equipment with 12-hour battery with optional LTE failover
Professional installation
24x7x365 monitoring
Is there a Device Warranty?
Each Phone for Business - Advanced device comes with a 1-year warranty.
Do I have to use AT&T Internet access?
AT&T Phone for Business – Advanced uses your existing public internet connectivity, either wireless or wireline. You are not required to use AT&T internet.
Does the solution meet the requirements for fire alarms and elevator phones?
AT&T Phone for Business – Advanced meets or exceeds the Managed Facility Voice Network (MFVN) definitions.  There is peace of mind with remote monitoring of connections, hardware, performance, and service continuity with up to 12 hours internal standby battery for use during local power outages. Optional LTE back up with automatic failover is also available.  The device is listed as UL 60950-1 and designated for use as telecommunication terminal equipment and telecommunication network with a specific reference to fire detection systems approved for use with the standard. It conforms to ANSI and IEEE C2-2012.
Can I use my current analog phones?
Yes, you can use your existing analog phones, which will connect into the AT&T Phone for Business – Advanced device.
Where is the service available?
The service is available in all 50 states.
Talk to a business expert
AT&T business experts are available M - F 7am - 7pm CT
Request info
To get sales help from a Business Solutions specialist, please complete this form.
Your feedback will help us to improve AT&T Business so you continue to have a great experience when visiting us!
This survey is conducted by an independent company ForeSee for AT&T.