eCornell 5G Certificate
Learn how to guide your business through effective network planning, design, and deployment of 5G
with this business focused 4-course series brought to you in part by AT&T.
See it in action
An enterprise grade solution for the next generation of opportunities.
Benefits
Equip yourself for the future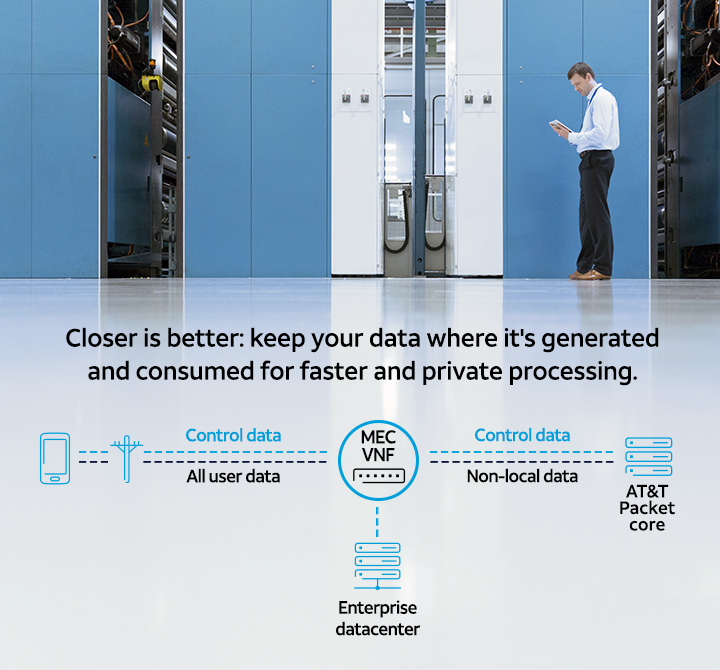 AT&T Multi-Access Edge Computing
How AT&T MEC can work in your business.
Pricing
Pricing that fits your needs
Customizable solution
Whether you need a single component or the whole network architecture we're here to help. Our sales managers can help right size your customizable solution.
| Features | Details |
| --- | --- |
| Private processing | Keep your data where it's generated and consumed for faster and private processing. |
| You make the rules | Control which data stays local and what goes external for processing all the way down to the device level.  |
| Reliability you can count on | LTE enables greater range, less extreme fluctuations in connection stability, seamless handoff between radios, and greater capacity for connected devices. |
| Easy integration  | Because AT&T MEC is a software-based solution it can easily be programmed to integrate into your existing infrastructure. |
| Customized to meet your needs | Don't have all the components? No problem. Our experts can help create an IT infrastructure to handle your business needs.  |
What is AT&T Multi-Access Edge Computing (MEC)?
It's essentially a computer and cellular network architecture that brings real-time, high-bandwidth, low-latency access to latency dependent mobile applications.
How do I know if MEC is right for my business?
If your business uses cellular or Wi-Fi and you want to improve productivity, drive efficiencies and keep your sensitive, proprietary data inside your local network, you should ask your AT&T Sales Executive for more information about MEC.
MEC delivers ultra-low latency using wireless technology. This means MEC can be deployed using an LTE network or on 5G technology. AT&T MEC services are compatible with the LTE solutions our customers use today and allow for easy integration of 5G for even greater performance.
Resources
Learn more about AT&T MEC
Request info
To get sales help from a Business Solutions specialist, please complete this form.
Your feedback will help us to improve AT&T Business so you continue to have a great experience when visiting us!
This survey is conducted by an independent company ForeSee for AT&T.