Revolutionizing healthcare with 5G
Learn more about 5G, how it can eventually enhance virtually every facet of healthcare, and take a peek at early use case trials
The healthcare landscape has changed drastically since the advent of 4G networks. The industry has undergone a digital revolution with a shift toward widespread electronic record keeping. The need and demand for remote patient care has increased. New and emerging Internet of Medical Things (IoMT) technology has health professionals and researchers innovating new ways to deliver patient care.
Now, at the dawn of the 5G world, Joe Drygas, Vice President of Healthcare Solutions at AT&T Business, explores just how much 5G stands to transform the healthcare industry.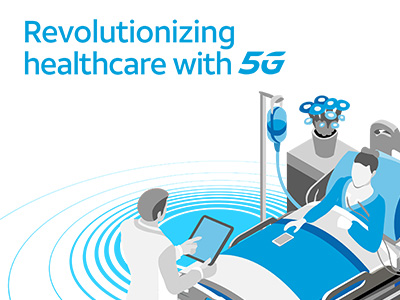 Revolutionizing healthcare with 5G
Learn more about 5G, how it can eventually enhance virtually every facet of healthcare, and take a peek at early use case trials.
In this essay, he examines how 5G is already beginning to revolutionize healthcare and the patient experience, including:
What are the driving factors behind a 5G adoption?
What are the real-life applications of 5G in a healthcare environment?
How do healthcare institutions bridge the gap between today's technology and 5G?
What does 5G mean for the future of healthcare?
In addition, he covers several examples of how medical organizations are already using or trialing 5G today and the new technology it enables, like enhanced telemedicine capabilities, next-gen virtual reality (VR) solutions, remote monitoring in near-real time, and much more.
Prepare yourself for the future of healthcare technology: download Joe's essay now.