3 ways 5G will boost retail
Retailers seek innovate ways to deliver personalized experiences
Whether you run a clothing boutique, grocery store or hotel chain, positive customer experience is a key to success in the retail industry.
As retailers continue to digitally transform, and shopper demographics continue to shift toward younger generations, it's crucial for businesses to understand their consumers. According to a recent report from the National Federation of Retailers, one of the top demands of younger generations is an individualized shopping experience.
IHL's report, Debunking the Retail Apocalypse, sponsored in part by AT&T, says retailers must give people compelling reasons to enter their store.
"This means investing in their people and investing in the ambiance of the store," the report says.
Data and analytics
To help create the personalization that people now crave, many retail companies are gathering and analyzing data.
"In-store analytics are being applied to every phase of the retail process by determining retail trends, predicting where the demand will be for products, optimizing pricing for a competitive edge, identifying consumer purchasing patterns and behaviors, and other insights for immediate decisions," says Alex Gefrides of Intel in the 28th annual edition of a retail technology study sponsored by Intel, Oracle, AT&T Business and many other industry leaders.
In-store analytics are being applied to every phase of the retail process by determining retail trends, predicting where the demand will be for products.
Share this quote
In order to collect data and deliver an experience that helps improve sales and create loyal customers, however, retailers need a network with speed, reliability and low latency.
5G networks
With technology such as the Internet of Things (IoT) and mobile apps, innovative trends are reshaping what many people expect now when entering a store.
Because many retail interactions – from both employees and customers – now take place on mobile devices, businesses need a network that can handle the amount of data required.
The addition of 5G technology to an existing network architecture can help power new technologies many retailers are beginning to utilize, such as:
personalized digital signage
augmented reality
virtual reality
video and pattern recognition of shoppers
interactive mobile apps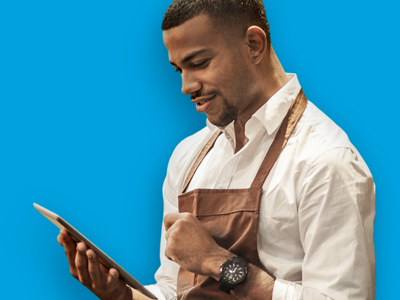 5G: The next retail revolution
5G is more than speed—it's an entire experience. Unleash the full potential of your retail business with the next generation of mobile networking.
Here are some additional examples of how 5G can help retail companies:
1. Dressing rooms
In the dressing room of the future, interactive "magic mirrors" can recognize the products someone tries on through an RFID tag. This can provide valuable information about the customer.
A store could use this data to display personalized ads in real time, such as a necklace or pair of shoes that perfectly match a dress. If a customer needs a different size, they could simply press a button that alerts a sales clerk instead of awkwardly shouting requests over a dressing room door. Additionally, if the shopper is excited about a new purchase or wants to get input from friends before buying, they could quickly and easily post the image on social media or send a text.
When stores begin using 5G networks, customers and employees will have the mobile capability for these types of interactions and data collections.
What's more, the personalized experience doesn't have to end when the shopper leaves the store. During the interaction, you can seamlessly collect data such email address, sizes, style preferences, and use it to send targeted offers. Imagine opting not to buy a product after trying it on due to a steep price, only to receive an email a few days later letting you know it's on sale.
When stores begin using 5G networks, customers and employees will have the mobile capability for these types of interactions and data collections.
Share this quote
2. "Out-of-stock" instances
Each time a customer wants an item that's out of stock – whether it's an article of clothing, food item, or anything in between – you not only lose the revenue from the potential sale, but also have a less satisfied customer.
By using IoT-embedded sensors, you can have a real-time view of your stock – which leads to faster response and restocking times. This can decrease the likelihood of unsatisfied customers.
When something like a smart shelf senses a product is low, it can communicate to the supply chain to send a new shipment, or verify when the next shipment is in transit.
This level of response requires a lot of new data to be added to the network, however, and data must often be transmitted over the mobile network. With the capability and reliability 5G is expected to provide, you can help keep your shelves stocked with the items people want.
3. Hospitality improvements
In the hospitality industry, you want guests to feel at home – or even more comfortable than their own living room – while staying at your property. A positive experience can turn one-time guests into loyal guests, but it often requires a network with high reliability and low latency.
For this reason, many hotels could look to deploy 5G networks.
With the increased capacity of the network, guests could use keyless entrance into their room using a cell phone connected to the hotel's wireless network – which could save money and the environment by reducing the need for room keys made with plastic and other environmentally (plus, no more lost keys!). Once inside their room, guests could even adjust temperature, window shades and lights with the touch of a button on their phone or a user-friendly tablet.
The takeaway
With 5G, retail companies can help power new, innovative technologies with more speed and reliability, gather more data, and ultimately help build a long-lasting relationship with customers. The above examples are just a few of several innovations businesses will begin utilizing to help boost their business and compete in an increasingly competitive industry.
Technology of the future don't necessarily mean that the human connection is now lost or unimportant in the retail shopping experience. In fact, if utilized intelligently and effectively, it could very be the opposite.
Visit our retail industry page to learn more about how your business can embrace next-generation technologies.