4 Success Factors in Customer Journey Orchestration
AT&T delivers the four success factors needed to successfully orchestrate the customer journey: real-time data and personalization wherever the customer is, unified by secure technology.
Picture this: You're sitting down with the family for an evening movie. You gather the popcorn and snacks, retrieve the remote from between the sofa cushions, settle into your favorite chair, and start your streaming service. What's the first thing you see—besides the content your service provider is paid to promote?
Most likely, you're presented with multiple recommendations based on who's watching (you), what you watched recently, and a host of other preferences your provider has learned about you. Often, they get it right. You choose from their recommendations and, before you know it, you're immersed in the story. Whether you realize it or not, your streaming experience has just been orchestrated. You didn't even need to search.
Customer journey orchestration is now the gold standard in customer service. Responding to customer needs has been replaced by anticipating them. Meeting customers where they are now includes when they are there. You need to move seamlessly between communication channels and in real-time or at the right time. Consumers expect to have continuous conversations anytime and anywhere, and they want the brands that serve them to anticipate their needs.
AT&T Business can help you reimagine the customer experience. Tap into data from across your organization and use it to lead customers from brand awareness to loyal advocacy. No matter when and where customers connect with you, customer journey orchestration can drive engagements that delight your customers. With over thirty years of experience providing world class contact center solutions, we understand the requirements for successful journey orchestration, and we can't wait to help you get started.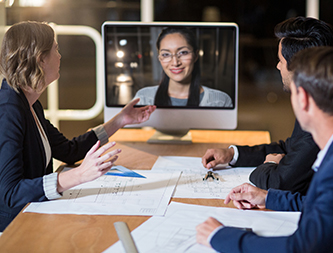 Collaboration Solutions
Empower your teams with solutions that can help you grow your business.
Hyper-personalize the customer experience
Personalization isn't new. Customers have been able to create custom products like office products, t-shirts, and mugs for years. In these scenarios, the customer takes the first step, then you respond and deliver.
In hyper-personalization scenarios, you understand the customer's tastes and preferences and proactively offer specialized products and services. Hyper-personalization uses data to understand the customer's needs, preferences, and the channels they use to engage with you. Then, you lead, or orchestrate, the customer's journey based on insights from that data.
Today's savvy customers understand they are trading valuable information when they engage with you, and they expect something in return. That "something" is an exceptional experience that anticipates their needs. For example, a chat with customer support that not only resolves their issue, but recommends a useful related product or service. A social media interaction that results in a coupon or offer to sweeten the deal and make it irresistible.
But one size does not fit all. You must understand what the customer values. And to understand the customer, you must listen everywhere. Gather information from every interaction in every channel about who the customer is, where they have been, and what they have done and said. Combine data from across the organization, interpret it instantly to understand their pain points, predict where they are going, and create engagements that delight in real time or at the right time. 
Master the omnichannel customer experience
Today's contact centers offer multiple ways for customers to engage with companies. Chat, email, phone, social media are a few popular options. "Over 90 percent of all customer journey interactions took place across just four channels (email, phone – voice and SMS, social, and in-store)."[1] Therefore, connecting these channels to ensure customers do not have to repeat information at each touchpoint is key to closing customer service gaps and delivering a seamless, positive customer experience.
It's not enough to be good at one channel if the customer's experience comes up short in another—not when half of customers are ready to switch brands after just one poor interaction. With potential engagements spanning ten or more channels, that's a lot of channels to master. And by "master" I mean:

Connect and optimize every path. Does your customer service chat bot consistently result in first-call resolutions, or have the intelligence to seamlessly switch to a human agent who can? Does your website offer only online shopping, or can customers use the website to locate products in local stores if they prefer? Understanding which paths result in positive interactions and which create barriers is the first step to removing those barriers.
Identify potential interactions and know the results of the actual ones. Did the interaction result in a sale? Did one sale lead to more sales? Did the customer provide a review to tell you what they loved? Knowing where your customers are interacting is important. Knowing the results of those interactions helps you build on successes and identify weaknesses.
Understand what matters most to your customer. Does your customer shop your site but buy on another site? If so, why? Maybe they shop in-store but buy online from a competitor. Was price the deciding factor, shipping cost, or something else? To offer something of value, you must first know what your customer values. To learn what your customer values you must listen everywhere.
[1] "State of the Customer Journey", 2022 CSG Systems International, Inc, June 2022
Today's savvy customers understand they are trading valuable information when they engage with you, and they expect something in return. That "something" is an exceptional experience that anticipates their needs.
Share this quote
Collect customer data across the organization
Large enterprises with sophisticated sales, marketing, and customer service operations constantly connect with customers. Think about the thousands of interactions each day across multiple communication channels: calls, chats, and emails to the customer service center, clicks on ads and within websites, views in social media channels, and purchases (and returns) from online and brick-and-mortar stores to name just a few. Don't forget connected devices that offer a  wealth of information about the health of devices, how customers use them, and which features and functions they value.  
Each of these interactions is an opportunity—sometimes to sell, often to provide excellent customer service and build brand loyalty, but always to gather data. The more first-party data you have, the more accurate your customer profiles and the higher-quality your interactions.
The good news is your organization probably already has a wealth of data from each of these touchpoints. Sales and marketing collect data about purchasing, web, and social media behavior. Customer service has information about customers and their service and support interactions. Finance can tell you which products, service, and channels are the most profitable.
The not-so-good news: All of this data is likely fragmented across the organization, and each of those operations probably uses different tools and multiple vendors to collect and manage it.
So how do you harness the power of this data held in silos across the organization? And how do you do it with minimal disruption to your touchpoints that service customers every day? AT&T Business can help with a single platform that provides actionable insights from every channel and works with your existing tools.
Employ a unifying technology
We combine world class contact center and network solutions from AT&T Business with the powerful Customer Journey Orchestration technology. This combination forms an end-to-end solution—a powerful customer orchestration platform that enables you to:
Access and combine data in any channel.
Interpret customer data to better understand their needs and preferences.
Elevate interactions, from responding to customer needs to orchestrating customer journeys.
Understand what your customers want and offer it before they ask.
Using this cloud-based platform, we'll help you automate personalized experiences at every stage of the customer journey. The platform consolidates customer data from across your organization, extracts insights, and uses a decision tool to engage with the customers at the appropriate time based on their preferences. It works with your existing systems, so there's no need to replace them. And it's supported by the world class AT&T network, providing the highest levels of security and resilience to protect your customer relationships and business reputation.
It's a complex customer journey from awareness to advocacy. Trust contact center solutions from AT&T Business to get you there.  Schedule a consultation today with AT&T Business via email (g04689@att.com) to learn more about how AT&T Business can support your customer journey.
To learn more, watch Orchestration: Listen, Decide, Engage.
Request info
To get sales help from a Business Solutions specialist, please complete this form.