Welcome to the omnichannel contact center: AI and bots
When to bot, when to not, and other key considerations when it comes to the omnichannel contact center
As contact centers strive to reduce costs, increase efficiency, and enhance the customer experience, they have been turning to the use of Artificial Intelligence (AI) and bots. Applying AI technologies such as bots, machine learning, and natural language processing helps businesses reduce the time it takes to solve customers' problems, while improving both the agent and customer experience through omnichannel interactions.
Help resolve issues with enhanced efficiency
It is a generally held belief that the highest cost component of any contact center is the staff. As companies try to reduce costs, they look to reduce agent headcount and "do more for less." That's where bots and virtual assistants shine. They can help offload some of the traditional agent calls and interactions by automating tasks and interacting with customers for basic or repetitive inquiries. In many cases, millennials prefer to interact with a bot than a human.
AI also helps contact centers with various tasks. Virtual Assistants, for example, can guide the caller or consumer through self-service processes. Robotic Process Automation (RPA) lets consumers access backend systems effectively without requiring human intervention. AI can also help shepherd consumer data across channels for a true omnichannel experience.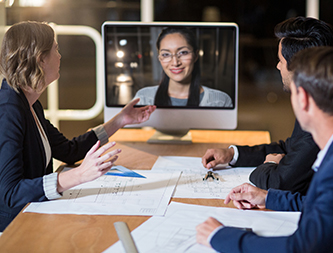 Voice and Collaboration
Empower your teams with solutions that can help you grow your business.
When to bot and when to not
Bots are not the answer to everything and can't always interpret the customer's emotional state or handle overly complex interactions. That's where an agent comes in.
When thinking about using AI and bots, businesses need to consider their customers and customer preferences. Some interactions and transactions are better suited for bots and some are not. Map out which interactions can be successfully moved to a bot interface, as well as what types of bot interactions may need to be transferred to a human agent.
When bots and AI are integrated in an omnichannel platform, your customer's data can move virtually seamlessly from bot to agent and back, reducing pain points and friction along the way to issue resolution.
Getting started
One of the first steps in deploying an omnichannel contact center with AI and bot technology is to develop a strategy and methodology. Look for consultants, partners, and providers that can help you develop the right strategy. They should be able to identify your requirements, evaluate various technology options, build the business case, and select the right vendors' solutions.
When bots and AI are integrated in an omnichannel platform, your customer's data can move virtually seamlessly from bot to agent and back.
Share this quote
Going beyond features and functionality, look for partners and providers that can ensure quality and reliability. For example, AT&T provides a Software as a Service (SaaS) offering called Visual Network Analytics to identify friction points in customer contact journeys, troubleshoot issues, and remove friction that can impede quality.
Also think about the network and voice connectivity that the contact center rides over, which needs to be highly secure and scalable. Look for a company that offers global transport, IP toll-free, SIP trunking and routing services, providing a foundation for delivering contact center services.
There are many options to choose from and many decisions to make as you evolve your contact center to an AI-enabled omnichannel experience. Providers such as AT&T have experience in designing, deploying, and optimizing these solutions to help you best achieve your desired business outcomes.
To learn more about how to evolve your contact center and deliver exceptional customer experiences, read our white paper entitled "Welcome to the digitally transformed contact center."