Press "1" for contact center transformation
How a global bank reconnected with customers and boosted the bottom line
The tipping point had finally arrived. For years, senior leaders at one of the biggest names in banking had observed FinTechs challenging their market share by providing a more responsive customer experience. As if the Great Recession wasn't disruptive enough, it was followed by technology breakthroughs accelerated by startups unencumbered by legacy operations. Innovations in self-service, online banking, artificial intelligence, and machine learning were upending the status quo.
By the time the company convened strategy sessions in conference rooms around the globe, the urgency was clear. Because of outdated call centers, they were losing touch with customer expectations, triggering a downward spiral that was leading to losing the actual customers. Few things overcome the perceived "cost of switching" banks like not feeling heard.
The C-Suite knew that future success would require agility. They needed to up their service game, paying attention to details, treating clients like VIPs on a virtual red carpet, anticipating potential frustrations, opening doors and new accounts.
The problem
Millions of customers were growing increasingly frustrated by a calcified 800-number strategy built to serve a different era. The disconnect was obvious and unsustainable:
Incoming calls were tethered to a patchwork of inflexible hardware and patronizing touch-tone trees
Customers who were seeking information from more than one business unit were often given different numbers to call or routed to a frustrating loop, followed by requests for the same information given at the start of the call
Hold times, inefficient routing, and lack of digital options were tarnishing the brand and eroding customer loyalty
Bigger needed to get better. But for one of the largest institutions in the world, changing course would be a difficult, high-stakes maneuver. Legacy infrastructure, CRM integration, and unified communications needed rethinking and retooling to provide the kind of consistent, omnichannel service that's attuned to the latest insights. The effort would demand a hybrid set of skills, operating models, affiliates, and technologies to do more than keep pace with the competition.
The solution
The leadership team called AT&T Business, taking advantage of unique experience with contact center solutions, and the network with more highly secure connections than any other provider in North America.
The managing director and team collaborated with AT&T Business consultants and network engineers to design and deploy a future-flexible contact center solution. By orchestrating VoIP, SIP trunking, session layer, communications layer, and custom software development, the intent was for every customer, regardless of device or endpoint, to be treated like a VIP.
Decoupling the applications from the underlying hardware enabled artificial intelligence, chatbots, and automation to optimize routine interactions with greater speed and efficiency. Complex high-touch conversations remained human-to-human, better facilitated by technology.
"Millions of customers were growing increasingly frustrated by a calcified 800-number strategy built to serve a different era."
No more "Hold on, let me transfer you"
It can be hard for large banks to discern individual voices from inside the machinations of a massive enterprise. This one leaned in and made the distinction between difficult and impossible. The timeline was ambitious, and the needs complex. With the tech, network, and expertise of AT&T Business, they delivered on time and on budget.
Customer satisfaction has increased from interactions with product specialists via phone and online chat, being able to quickly sign documentation online, and from receiving a similar experience across multiple devices. Nearly seamless call routing is also happening between departments and divisions, reducing friction and enabling smart personalization that's fostering trust, deepening relationships, and increasing share of wallet.
To learn more about the challenges and solutions for enterprise contact centers, download this market briefing: 'Transforming the Financial Services Contact Center'.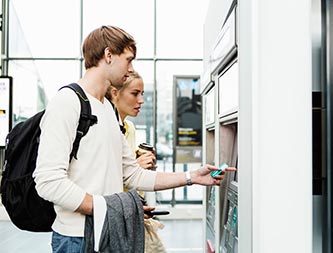 Financial Services
Inspire renewed loyalty, streamline operations, and position yourself to outpace competitors with integrated, data-driven solutions.
AT&T Business is a leading provider of Edge-to-Edge solutions for Financial Services and is the largest SD-WAN provider globally. Achieve smarter, more trusted interactions with business solutions that integrate our unique ecosystem of technology and expertise with our highly-secure global network to obtain near real-time intelligence from every corner of your enterprise.