The Internet of Things is changing the world how we know it
AT&T Business Insights Blog
We did it. Over 100 million IoT devices connected.
As of Q4 2022, we have over 107,000,000 IoT devices connected to our network.  To give you a sense of how huge this is, it would take you more than three years to count every single one. And that's without stopping for food, sleep, even Netflix.
So, you'll have to excuse us if we're a little excited. Supporting over 107,000,000 connected devices is an incredible accomplishment. And one worth celebrating.
Not just because we're the first domestic provider to do so. But also because of what it means to our business and our customers, with IoT use cases spanning a wide range of industries like healthcare, agriculture, transportation, climate and sustainability, fleet management, energy, and more.
The businesses we've worked with have made exceptional progress improving lives and the world we live in through smarter, more informed decision making. Decisions that wouldn't be possible without the benefit of IoT connectivity through our global network. Or our full-service suite of consulting and professional services tailored to make their dreams a reality.
IoT is everywhere—including…smart cows?
Look around and you'll notice AT&T-connected devices can be found almost anywhere. From densely populated urban centers to the most remote areas in the world. In places you rarely think about like storm drains, dog collars, solar panels, tractors, even cows.
Yes, cows.
In the case of smaXtec, monitoring the real time health of dairy cows using an IoT solution helps farmers detect issues sooner to help improve the wellbeing of the herd and the food they bring to the market.
The ability of a smart sensor, once it's been safely swallowed, to connect to our network in rural areas is a testament to the flexibility, reliability, and confidence we bring to our customers. And just one of the many IoT use cases delivering exceptional outcomes to businesses and consumers.
In theory, any device can benefit from IoT technology. Whether it's connected through a cellular network, by hardwire, or Wi-Fi.
Of course, the data sent to and from IoT devices is only as good as the network transporting it. Our customers choose AT&T Business because our network offers both global reach and is ultra-reliable. Two features that are incredibly important when it comes to patient care.
Improving patient health with IoT
For healthcare providers, remote patient care continues to redefine how treatment is offered. When the uncertainty of COVID-19 led many facilities to reduce in-person appointments out of caution, My Everyday Health created an IoT device to help providers manage and monitor patient treatment through home medical devices.
Designed to pair seamlessly with no additional setup needed, My Everyday Health's Bluetooth hub relies on our low power wide-area network to transmit secure patient data to doctors. By reducing the number of steps and barriers to adoption, My Everyday Health was able improve patient outcomes by simply making things easier for those that need it most.
Conserving resources one meter at a time
At the same time, IoT has the power to reshape how we think about, and use, our natural resources in an era where conservation is key.
A leading provider of smart water solutions, Badger Meter became the first major meter provider to offer cellular-enabled smart meters to measure and manage community water usage. Working with AT&T Business as part of our Connected Climate Initiative, Badger Meter was able to leverage IoT resources to help its customers curb water waste, increase efficiency, lower costs, and reduce energy usage.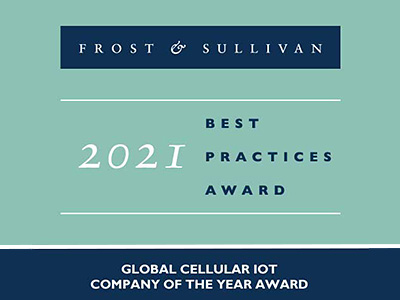 Internet of Things (IoT)
Drive your innovation into the future with our best-in-class IoT solutions. Discover why we're recognized by Frost & Sullivan as the 2021 Company of the Year for Global Cellular IoT.
Enabling the next generation of transportation
For Siemens Corporation, expanding and improving its electric vehicle (EV) charging stations required a flexible and dependable cloud connectivity solution that would work anytime, anywhere.
Using AT&T Global SIM, Siemens created a simple and seamless solution that benefits its customers across the globe. It also contracted with AT&T to provide support services to better monitor and manage EV infrastructure as we move toward a greener future.
IoT offers limitless possibilities
Over the last decade, we've seen tremendous growth in the use cases for connected devices. It's amazing to think how much the world has benefited in a very short time. And how powerful and productive the technology has become.
Consumer devices like fitness trackers, artificial intelligence (AI) voice assistants, smartwatches, smart doorbells, smart security systems, and so on exist in our homes and everyday lives.
At the same time, commercial and industrial businesses continue to deploy and manage IoT devices to improve operations and make better use of resources. Or in the case of healthcare, help save lives.
When it comes to real world uses, IoT offers limitless potential.
If you can dream it, we can do it
Even in today's tech-forward landscape, you don't have to be an expert to reap the benefits of IoT solutions. All it takes is a little bit of inspiration. With decades of experience providing strategic and tactical support to our customers, translating your ideas into reality is what we do.
All you need to do is identify a business challenge and our professional services team will do the rest. From business case planning and solution design to device deployment, management, and ongoing support, we manage the entire IoT lifecycle.
We can even build an IoT device from scratch. Or you can choose from our extensive catalog of pre-certified IoT devices.
Simple, straightforward IoT management
As the recognized leader in IoT, we empower you to work smarter, manage easier, and connect faster.
Ranked #1 in the industry according to James Brehm & Associates, AT&T Control Center offers full service IoT management in a single platform. One that is both flexible, scalable, and cost effective to fit your current and future needs.

Whether you're already on your way to realizing your IoT vision, or just starting to chart your course for the future, we can't wait for you to be part of our next 100,000,000 devices. Request your AT&T IoT Demo Kit at no charge today or contact an AT&T Business representative to learn more about what IoT can do for you.