Cybersecurity as a Service (CSaaS) explained
With the changing cybersecurity landscape, it's hard for even large enterprises to keep up with the volume, velocity, and variety of threats. And, as companies pivot to network modernization, understanding cybersecurity controls and which ones are most beneficial to your business is an important step to protect your data and ultimately your business.
This article will discuss Cybersecurity as a Service (CSaaS) as an option for businesses, small to large. We'll use Zero Trust and secure access service edge (SASE) as a use case. We'll define what a Zero Trust environment is and how a managed security services provider (MSSP) may get you there sooner. We'll explore how SASE can help as well, because while the market may conflate Zero Trust and SASE, they're not one in the same. Implementing Zero Trust and SASE may be confusing, hence an MSSP and consulting services can help expedite the process that can effectively protect your business.
CSaaS is a pay-as-you-go approach to cybersecurity. As with all SaaS  offerings, it's a subscription model with a third-party vendor. Services offered vary and can be tailored to your needs. These can include threat monitoring, compliance with industry standards, employee training, and penetration testing, which simulates an attack on your network. A key focus of these services is preventing malware, such as ransomware, from impacting your business.
With cybersecurity skills difficult to hire for today, CSaaS can be an attractive option because it takes the burden off of the business to maintain a cybersecurity team. In addition, it allows you to scale as your business grows. This means you won't need to keep recruiting and hiring cybersecurity professionals – a big bonus in this competitive environment. Expertise in things such as SASE and Zero Trust is hard to find. Sometimes it just makes more financial sense and can improve an organization's risk posture work with a trusted third-party advisor.
What are the benefits of Cybersecurity as a Service?
There are many benefits to CSaaS, however, some of the key benefits are that it's:
Faster than hiring and training new employees—you get protected sooner with  less stress on your HR team.
Flexible and scalable, which is key  for the rapidly-changing cybersecurity landscape.
Focused on specific skills  for modern cybersecurity  think Zero Trust architecture expertise and managed SASE.
CSaaS enables you to focus on innovation for your core business. Also, data breaches can hurt your business. CSaaS lets you tap consultants with various regulatory and specific skills, such as threat hunting, incident response, network security, and so on.
Use case 1: How CSaaS might work with SASE
A major reason that businesses are utilizing an MSSP for SASE is because it can be difficult and expensive to hire and retain technicians with the specialized skillset that's needed, particularly if they require 24x7 monitoring.
Another consideration is that while some technology providers claim to offer a complete SASE portfolio,  implementing SASE is complex. This makes it even more important to choose a provider that can offer you expert, reliable guidance for your cybersecurity needs.
One of the most important reasons to consider CSaaS is that SASE is not a "one and done" or plug-and-play solution. It's not feasible to rip out and replace an infrastructure overnight. Most large or well-established companies will be on a hybrid environment for the foreseeable future. Having assets hosted both on-premises as well as in the cloud requires the expertise a skills-rich CSaaS vendor can provide.
Use case 2: How CSaaS might work with Zero Trust
Zero Trust provides a different lens to data and network security. Some systems have a reliance on old and easily neglected least privilege/whitelisting models. These aim to eliminate trust from every communication packet on the network, whether it originated from inside the organization or outside, and looks to gain confidence that the packet is legitimate. In short, rather than the traditional "trust but verify" approach, it never trusts and always verifies all traffic. 
Zero Trust is built on a set  of unique foundational principles or tenets: All network flows are authenticated before being processed and access is determined by dynamic policy. 
All transaction flows are cataloged to enforce access. 
Security (authentication and encryption) is applied to all communications independent of location and must be performed at the application layer closest to the asset in the network. 
Comprehensive vulnerability and patch management procedures must be followed.  
Technology is utilized for automation in support of user/asset access and other policy decisions.  A Zero Trust architecture requires automation, especially in support of dynamic policy, authorization, and authentication. 
All traffic is controlled and monitored as access is provided.  
Given all of this, you can see that having an experienced third party making these recommendations may work better than doing battle with "we've always done it that way" beliefs in your organization. Reputable CSaaS vendors have experience in both working collaboratively with management on the approach and successfully implementing Zero Trust.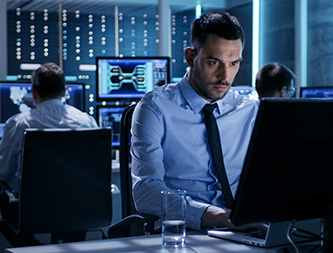 Cybersecurity Solutions
Security is never one size fits all. Learn how to build a cyberdefense plan to meet your unique needs.
How to choose a CSaaS company
When choosing a CSaaS vendor look at factors such as:
Technical expertise and depth the MSSP will provide.
Do they just provide penetration testing and call it a day? As we've discussed, that's not the whole story by a longshot.
Reputation of the CSaaS. Do they have customers similar to your business? Do they have experience in your industry? Are they financially stable?
Size of the CSaaS. Can they scale with your business needs as you grow?
Terms and conditions of the relationship. Details matter. Definitely read the small print to understand all the details in various scenarios. Understand their policies and procedures.
Cost and fee structure.
What kind of tools do they use? Make sure their technology is solid.
Can they support your business 24x7? If you're in multiple time zones, can they cover you?
Can they meet the regulatory compliance that you need in your industry?
Protect your business today
AT&T Cybersecurity Services has a large consulting group available for your CSaaS needs. Our cybersecurity consulting team will help you make sure you understand SASE and Zero Trust, as well as how to apply them to your business. They'll focus on understanding your business so they can provide the best recommendations for where your business is today to where you plan to grow.
We also want to help you make sure you have the best foundation for your cybersecurity and technology infrastructure. Your network is that foundation and our network consulting services can provide you the guidance you need for network modernization.
Be sure to check out the latest AT&T Cybersecurity Insights Report to explore the changing cybersecurity landscape and what to look forward to in related topics such as edge computing.
Learn more about AT&T Cybersecurity and how our expertise can help you make smart decisions for your business by visiting our page or contacting your AT&T Business representative.