It's hard to imagine a world where business functions without fast, reliable fiber internet.
So much of what we do—texting, emailing, video conferencing—requires instant, direct communication with colleagues and business partners. Exchanging information so quickly and frequently we sometimes lose sight of how much we're able to accomplish because of it. We even have the power to make timely, informed business decisions using real-time data that just a few years ago would've been all but impossible.
Of course, to do any of this requires access to quick, reliable internet. But as companies add new software and cloud services to their networks, many are finding they don't have the bandwidth necessary to perform everyday business functions.
Fiber solves this business connectivity issue with speed and consistent, reliable, low latency service that meets the data and accessibility demands of modern business. It's also the foundation for new and emerging technologies like augmented reality (AR), virtual reality (VR), and robotics.
If you're reading this, then you're already connected to the internet one way or another. You're also probably familiar with different forms of internet connectivity like Digital Subscriber Line (DSL), cable modem, satellite, wireless, and broadband.
But what is fiber internet and why does it matter for your business? Fiber optic internet is a broadband form of internet service made up of a series of tiny optical fibers bundled together. Unlike other types of service which use copper telephone wires or coaxial cables, fiber optic cables transmit data using light instead of electrical pulses.
This enables information to move at much faster speeds than cable or DSL—even during peak usage periods. It also means that fiber isn't vulnerable to electrical outages or downed power lines. And because it's buried underground, it's not impacted by weather events.
For a business, this means that you can adopt new and emerging technologies that require more bandwidth. This includes robotics, applications, machinery, voice and collaboration tools, and a host of other technologies.  Fiber internet also delivers unprecedented speeds compared to copper lines.
How fast is fiber internet?
If you've ever performed a speed test on your cable or DSL line, you probably noticed your upload speed was slower than your download speed. But with fiber you have symmetrical upload and download speed, in other words, that speed is the same in both directions. Not to mention it's ultra-fast.
This makes it incredibly attractive for your business because it means you can transmit and receive information faster and more consistently than ever. That can make a huge impact when it comes to uploading large files, accessing data, streaming video, and leveraging technology difference makers like 5G and edge computing.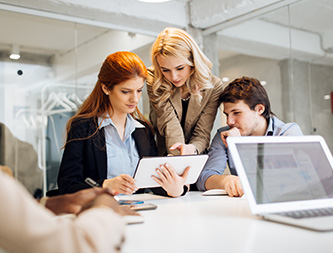 Network Services
Technology is changing rapidly and with that comes higher demands on your network while pushing bandwidth requirements to its limits.
Will fiber internet work with my Wi-Fi network?
The quick answer is yes. In fact, fiber can be mixed and matched with different connection types depending on what you have available in your location.
In the case of your workplace or home office, Wi-Fi lets you connect your laptop, phone, printer, and other devices to your local area network (LAN). Each time you transmit data wirelessly, that data is sent through your Wi-Fi gateway where it connects with your internet service provider's fiber optic network.
From there, your data is sent along this fast, ­reliable, fiber-optic network until it reaches its destination. It's also possible to connect a modem to a fiber optic network using a hard line like an ethernet cable.
Connecting customers in out-of-the-way places
What might this look like in your business? Let's look at AT&T Business customer ZTelco. This company is a voice over internet protocol (VoIP) and internet service provider. Like many businesses, they needed a trusted telecommunications provider to deliver highly reliable, low latency internet connectivity to its customers in areas that aren't always so easy to reach.
ZTelco chose AT&T Business Fiber because of its ability to bring service to new areas and provide last-mile connectivity to their customers.
Dependable, low latency service is critical in maintaining connectivity for VoIP services and other high bandwidth applications. With AT&T Business Fiber, ZTelco has been able to expand its reach nationwide with the support of a proven, reliable business fiber network.
How fiber internet can benefit your business
Aside from the speed, simplicity, and reliability fiber internet offers, one of the biggest advantages of fiber has to do with the technology itself.
Many legacy networks and copper lines aren't suited to meet the demands of cloud applications in the wake of digital transformation, which is the process of digitizing operations, application, and other business processes. More and more, many carriers are doing away with traditional copper lines as the cost of maintaining them goes up and their usefulness decreases. This can result in unwelcome price hikes or service difficulties that impact productivity.
Fiber is also more secure than copper both physically and from a cybersecurity perspective. Copper degrades over time due to age and expose to the elements. And poorly insulated copper wiring can leave your data exposed to anyone who's listening. Fiber is extremely tough and flexible, making it ideal for tight spaces and tricky corners. But it's also more cybersecure because it enables for your business to better monitor and manage your data.
Also, fiber connectivity doesn't use electricity to move data and isn't subject to interference the same way it is with copper lines. For example, with fiber, the core is made of glass, which is an insulator. No electrical current can get through, which makes it more resilient to inclement weather. Why is this important? It means you can practically put it anywhere without the risk of signal loss.
What AT&T Business Fiber can do for you
Fiber is the backbone of our network, connecting people, businesses, and communities across the globe using the latest technology and innovation. Whether your company is just starting out, or you're an industry mainstay in need of network modernization, we offer flexible and scalable business fiber internet solutions for every stage of your business.
AT&T Business Fiber can be deployed in as little as 5-15 business days wherever fiber is available. We operate one of the world's most advanced and powerful global networks, carrying more than 594 petabytes of data traffic on an average day with over 99.95% percent reliability2—giving you the confidence you deserve backed by dedicated customer support.
With fiber, you get ultra-fast, consistent, dependable service to support seamless business collaboration and cutting-age technologies, both now and in the future.
To learn more about how we can help your business, visit AT&T Business Internet solutions or contact your AT&T Business representative at 855.485.3581.