Unleash your growth through cloud transformation
Digital transformation isn't a new concept. Since 2020, however, we've seen an acceleration of digital reliance. How many telehealth visits have you had in the past three years (and is this now your preferred way to communicate with your doctor for routine or follow-up visits)? What about ordering food, clothes, or other supplies online and then picking them up in person? Businesses have learned, however, that to effectively provide these services to their customers, clients, and employees, they must have a modernized network in place that can support critical technologies. This includes cloud transformation and cloud connectivity.
Modernizing your network is the first step to cloud transformation and cloud connectivity
Yes, digital transformation has become an essential business strategy to operating virtually and maintaining a competitive advantage. However, the first step to digital transformation is network modernization. Legacy systems cannot provide the bandwidth, speed, and low latency needed to sufficiently support cloud-based tools and applications. In addition, traditional or legacy network infrastructure can't support the scale, flexibility, and control of these technologies that your business needs to be agile.
Once you migrate from a legacy or copper-based network to a modern network, which is founded on fiber, you not only gain the foundation to adopt a cloud transformation strategy for cloud connectivity. You'll also have what's needed to support digital technologies such as IoT devices and virtual applications that are becoming critical for businesses that want to deliver a better customer and employee experience.
How your network is the foundation for cloud transformation and cloud connectivity
In the evolution of physical to virtual infrastructure, connectivity is the foundation. Your business expects it to be reliable, high-performing, and secure. Which means utilizing 5G  and fiber technologies to deliver the speed and capacity your business needs.
With this foundation, organizations often start with cloud transformation. It's a flexible business model that gives you the ability to scale as your business grows. And it's integral to virtual operations in enabling reliable access to information and applications. But the key to realizing cloud transformation is having the right cloud connectivity.
What is cloud transformation with flexible cloud connectivity?
The adoption of cloud services is happening fast. According to IDC, total worldwide spending on cloud-related products and services will surpass $1.3T by 2025.1 That's because connecting to what matters for your business often means connecting to applications that run in the cloud. The cloud in all its forms (public service provider ecosystems, private networks, or hybrid networks) is where your data lives. It's where your critical applications run. And, it's where traditional communication practices like phone calls, emails, and group meetings have found a hosted home with unified voice and collaboration tools, making them readily available via your 5G or fiber network through any internet-connected device.
As workloads continue to shift to the cloud and infrastructure becomes more distributed, your business will need to connect to more cloud providers in more places, spanning both cloud regions (centralized) and local edge zones (distributed). These cloud connections need to interconnect in a fast, secure, and seamless way. When interoperable with your network services, they can enable virtual or software-defined interconnect capabilities through automation to deliver an on-demand, self-service experience through portals.
Fast, reliable access to secure information, applications, and communication through the cloud, within and outside of your organization, is the ultimate experience. It's what is driving efficiencies and opportunities for growth in a digital world.
Protecting cloud connectivity
There is a lot at stake for your business in protecting the data flowing through and between cloud ecosystems and applications. For organizations that are rapidly adopting cloud services, security for cloud services and infrastructure is crucial. This is driving interest and demand for cloud connectivity through private networks. With private cloud connections, critical business data is isolated from the public internet. Integration with cybersecurity services can reduce DDoS attacks and other cyber threats. And these private cloud connections can integrate with your preferred network service (Virtual Private Network, Ethernet, Internet) with embedded security, further reducing business risk.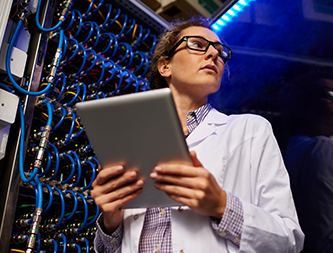 Cloud Based Solutions
Flexible, high-performance cloud services for the way things work today.
Assessing your needs and outcomes for cloud connectivity
When thinking about cloud transformation and cloud connectivity, security isn't the only consideration. Understanding your business requirements is important to achieving the outcome you want. For example, if your need is for on-demand, self-service cloud connectivity, a fast, virtual, multi-cloud connection through a simplified process can enable agility, scalability, and cost optimization. With this approach, it's pay as you go, and no additional equipment is needed.
Here are questions to help assess your needs:
Where are you in your journey of moving applications to the cloud?
Which applications are most important to you and where are they hosted?
Are you able to easily connect to cloud service providers on your terms (on-demand, easy to turn up and turn down circuits, no contract)?
Is your strategy single or multi-cloud?
Use cases: Optimizing digital infrastructure for cloud connectivity
Meeting compliance needs has become more challenging for businesses of all sizes with digital transformation and migrating data to the cloud. Keeping up means having the ability to access, manage, and protect large volumes of data in near-real time. Using a reliable, on-demand virtual connection to cloud providers through your existing AT&T private network can help you gain control over your data, process it faster, enable scalability, and optimize costs through a pay-as-you-go model.
Supply chain issues have also become a sore spot for businesses who maintain their own servers and networking equipment inside of datacenters. These issues can disrupt expansion to new markets. Having flexible interconnections accelerate moving workloads to public or hybrid clouds, enabling businesses to operate faster and smarter. Building the infrastructure and migrating the data, however, can be complicated for businesses without significant experience.
AT&T Business can help with fully managed cloud connectivity capabilities featuring integrated network services. These capabilities can help you focus less on the managing of your network connections and more on what your business does best. Managed digital infrastructure from AT&T Business is modular including options for reliable, high-performance connectivity, data center cross-connects, access to virtual services, and the ability to quickly add new network services, such as SD-WAN, for added agility with cloud transformation.
Find the right solution for your cloud transformation needs
Cloud connectivity from AT&T Business brings together the power of the reliable, secure AT&T network with flexible, secure, on-demand and managed cloud connections designed around your business. Gain access to cloud-based applications critical for your business using our services. Our integrated and advanced connectivity securely and seamlessly connects you to cloud ecosystems and a multitude of applications that can improve business efficiency and outcomes. With cloud connectivity from AT&T Business, you can pivot in response to changing market conditions with the visibility and control to calibrate connections in near-real time.
Your business will benefit from a simplified and standardized global experience by using a single company with a holistic set of cloud connections ready to work together for your business needs. Our best-in-class digital experience and platform delivers faster and streamlined connections for you. With expertise in cloud design and architecture solutions, our network and cloud connectivity consultants can help you meet current and future business needs.
Learn more about AT&T cloud connectivity or contact your AT&T Business representative.

1. "IDC Forecasts Worldwide 'Whole Cloud' Spending to Reach $1.3 Trillion by 2025," IDC, September 14, 2021, https://www.idc.com/getdoc.jsp?containerId=prUS48208321.