Cloud-based phone systems vs. on-premises systems
These days everyone's talking about the cloud. In fact, you're probably using it as part of your digital architecture already. With cloud technology finding its way into so many everyday business tasks, understanding the difference between a cloud-based phone system vs. on-premises will help you migrate to a communication solution that works best for your business.
You'll also want to consider how a Unified communications as a service (UCaaS) solution—one that bundles voice, video, and messaging into a single application—can help you better optimize your voice and collaboration strategy for today's distributed work environments.
What are on-premises phone systems?
An on-premises phone system, also known as a Private Branch Exchange (PBX), is one that has been installed in a business location. There may be physical wires running through the office, connecting phones to a main box or data center. Or phones may be connected digitally to a local server using Voice over Internet Protocol (VoIP) technology.
In either case, the phone system is present at the location where it manages all inbound and outbound calling features. This includes call routing and transfers, extensions, voicemail, messaging, and others. If you're still using a Time Division Multiplexing (TDM) system to route calls, or the more recent Internet Protocol (IP) PBX, you'll likely want to consider an upgrade as the technology is largely outdated.
Another major drawback of traditional on-premises phone systems is their dependence on copper wires as part of the Plain Old Telephone System (POTS). That's because POTS technology has largely remained the same since the late 19th century. Today's business tools require more bandwidth, lower latency, and better reliability than copper can provide. This is one of many reasons why it's being phased out in favor of faster and more reliable forms of broadband connectivity like fiber optic cables.
What are cloud-based phone systems?
Unlike an on-premises phone system where all your equipment and connections are kept on site, a cloud-based phone system like AT&T Phone for Business relies on the bandwidth, speed, and lower latency of a broadband fiber internet connection to make and receive calls using a VoIP service. For this reason, an important first step to migrating your communications is to modernize your core network to fiber.
Once you have this foundation in place, a cloud-based phone system will give you the same basic calling and messaging features as on-premises systems with the benefit of added functionality and one major cost-conscious difference. Because the cloud service provider owns and operates the system, it is responsible for any upgrades or maintenance. It's also highly flexible and scalable, and is much quicker and easier to set up.
Many cloud-based phone systems are compatible with your existing analog devices so you don't have to spend money on new equipment. This includes solutions like AT&T Phone for Business and AT&T Phone for Business – Advanced.
With AT&T Phone for Business, we help you migrate your POTS lines to VoIP while keeping the system and devices you're already using. And because it's hosted in the cloud, you can access your system from anywhere at any time. AT&T Phone for Business – Advanced takes things even further by providing VoIP connections to both analog voice and specialty lines like faxes, alarms, elevators, point-of-sale terminals, and more.
Regardless of which solution you choose, the result is a smooth, seamless transition to the cloud that offers exceptional call quality and connectivity without the need for a costly rip and replace.
Comparing cloud-based phone systems vs. on-premises systems
While the benefits of a cloud-based system make it the preferred choice for forward-looking businesses, there are some cases where an on-premises system might be an okay fit.
With an on-premises system, you own it. That means it can be tailored to meet very specific needs and use cases. If you require strict security or data storage, an on-premises system can offer greater control over how information is kept safe. But that kind of customization and control also comes at a high cost.
Because you own the system, you're responsible for every expense. This includes the setup, hardware, security, and maintenance. That can be a sizeable capital investment, one that can take many years to pay off. This makes it difficult to pivot to something new if your business or customer needs change. A cloud-based system, on the other hand, is an operational expense, which is much easier on your budget due to its fixed monthly cost.
In addition, as technology continues to evolve, it's becoming more challenging to find skilled on-premises technicians and the right parts for maintenance and repairs, which drives up the overall costs. On-premises systems also lack the Application Programming Interfaces (APIs) included in cloud-based systems. This means they are less likely to integrate with business applications like customer relationship management (CRM) or enterprise resource planning (ERP) platforms that enable you to collaborate with business partners.
Overall, cloud systems bring greater agility, flexibility, and affordability to your present and the future of your business. Because they're highly adaptable and scalable, they're better equipped to grow with you as your communication needs evolve.
Cloud
Pros:
Flexible and adaptable
Scalable to meet your business needs
Lower upfront and maintenance costs
Secure cloud environments
Can be used with multiple devices 
Cons:
Requires reliable, low latency internet connection
On-Premises
Pros:
Control over security and data storage policies
Control over updates
Accessible without an internet connection (depending on setup)
Cons:
Limited flexibility and scalability
High upfront and maintenance costs
Skilled, dedicated IT involvement needed to maintain, upgrade and backup systems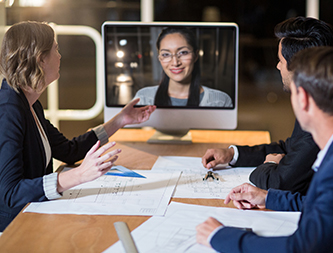 Collaboration Solutions
Empower your teams with solutions that can help you grow your business.
Keeping connections secure
Choosing a UCaaS solution means making sure your network and your data is protected from outside threats. Most UCaaS providers employ highly advanced cybersecurity measures like data encryption, enterprise-grade firewalls, distributed denial of service (DDoS) protection, and other methods to keep customer information safe. Their cloud will also be housed in a physical data center that offers its own strict level of security.
But when you choose an on-premises system, you're responsible for protecting company data and guarding against attacks all on your own. While your IT team may be knowledgeable about security, guarding against outside threats at the same level as a trusted UCaaS provider like AT&T can drain both budget and IT resources.
Flexible, reliable, future-ready voice and collaboration for your business
For businesses with an eye on the future and moving to the cloud, UCaaS solutions are rapidly becoming the preferred choice due to their flexibility, simplicity, and cost savings.
UCaaS makes it easy to connect and collaborate across different devices and workspaces so you can work from anywhere. That's because UCaaS simplifies all your separate communications platforms—things like chat and messaging, video conferencing, phone, and others—into a single, easy-to-use solution. It's also less costly to use and manage, while creating a more effective, efficient, and productive working environment.
And because it requires a reliable internet connection to perform, you'll want to choose a fast, reliable, low-latency connectivity solution like AT&T Dedicated Internet, AT&T Business Fiber, or AT&T Wireless Broadband. You'll also want to choose a voice and collaboration provider that understands your needs to help you find the perfect fit.
We can help you make the right business choice
Whether you're using POTS, Centrex, or a Primary Rate Interface (PRI) phone system, upgrading to a cloud-based platform is easier than you think. Plus, it doesn't have to be done all at once.
Even better, you don't need a team to support it. Our voice and collaboration consultants function as an extension of your business, enabling you to be more proactive in your day-to-day with your voice transformation. We can help you figure out what you have, and help you migrate to a business internet phone system that makes the most sense.
Our support teams are always there when you need us. At the same time, you also have the freedom to make adjustments with our easily accessible self-service tools.
No matter whether you're looking to replace a few lines, or your entire on-premises system, we'll provide the knowledge, experience, and support to help you make that leap. We offer a host of voice and collaboration solutions for every business case and every business size. Let's take a look at your options.
AT&T Phone for Business
AT&T Phone for Business is a great first step toward upgrading your network. It replaces your POTS lines with VoIP service good for up to 6 lines. Calls are transmitted across our highly secure Internet Protocol (IP) network using AT&T Internet for Business or AT&T Business Fiber.
Features:
Over 20 traditional and advanced phone features
Unlimited domestic calling includes U.S., Mexico, and Canada
Optional international calling to 50+ countries
Voicemail-to-text transcription
Intelligent routing and flexible caller ID
Locate Me rings up to 5 numbers simultaneously
Self-service web portal lets you manage features
Benefits:
Single bill for simple, straightforward billing
No contract, no early termination fees
Works with most analog phones, no new equipment needed
Quality of Service (QoS) prioritizes voice services over data

AT&T Phone for Business – Advanced
Designed for businesses of all sizes AT&T Phone for Business – Advanced is a cloud-based VoIP solution  that replaces legacy POTS lines using existing phones and specialty lines. It simplifies your analog phone and specialty data line setup for things like faxes, alarms, elevators, point-of-sale terminals, and more. The result is a reliable, highly secure connection that offers industry-leading performance, proactive monitoring, and maintenance.
Features:
Unlimited domestic calling, including Canada and Puerto Rico
Calling features include auto attendant, voicemail, music on hold, call forward and handling
LTE wireless capable with 12-hour battery backup
24x7 remote monitoring
Secure, end-to-end encryption
Benefits:
Single bill for simple, straightforward billing
Single service reduces need for dedicated specialty lines
Works with most analog phones, no new equipment needed
Business continuity includes automatic failover

AT&T Cloud Voice
AT&T Cloud Voice brings business-grade, cloud voice connectivity to your collaboration and contact center platforms. We integrate your existing PBX and analog equipment with our secure and reliable network so you can receive calls from just about anywhere.
Features:
Global Public Switched Telephone Network (PSTN) reach to over 25 countries
Flexible calling plans
Phone number management
Web-based portal lets you manage your service
24/7 support
Optional concierge services
Benefits:
Business-grade voice calling
Highly secure
A host of calling plan options to meet business needs
Integrates with IP PBX, Time Division Multiplexing (TDM) PBX, and key system environments

AT&T IP Flexible Reach
As the established leader in Session Initiation Protocol (SIP) trunking with over 20 years of experience, AT&T IP Flexible Reach lets you combine voice and data together with the added benefit of PBX integration to support your current premises environment.
Features:
PBX integration
Trunk to trunk failover and call preservation
Bandwidth management
Enhanced call quality
Self-service web portal lets you manage features
Benefits
Flexible pricing
Payment Card Industry (PCI) compliant
Leverages current equipment to reduce costs

AT&T Office@Hand
If you're looking for an all-in-one, voice and collaboration solution, AT&T Office@Hand brings unparalleled flexibility and simplicity to your business. Forget about relying on multiple vendors for voice calls, video conferencing, chat, and messaging. Office@Hand brings everything together into one easy-to-use cloud solution.
Features:
Cloud PBX includes robust call controls and routing
Choice of hardware includes desktop, mobile, and SIP desk and conference phones
Video and audio conferencing comes standard
Built-in analytics to drive productivity and performance
200+ available integrations allow you to embed calling inside Office 365, G Suite, Salesforce, and more
Benefits:
Fast deployment
Flexible and scalable
Supports hybrid and mobile working environments
Single communication collaboration solution for voice, SMS, mobile, video, and audio conferencing
Whether you've already started a digital transformation, or you're still fine-tuning your network transformation strategy, we can help you transition to the cloud in a way that fits your business needs and budget, with the technology and support to match.
To learn more about how we can transform your business communication, visit our voice and collaboration page or contact an AT&T Business representative.