The 2023 guide to a successful UCaaS migration
Editor's note: Why do you need a UCaaS plan? We consulted with Bob Gamiel, AVP Strategy and Practices with AT&T Consulting, and Michael Windon, National Practice Lead for SIP and Voice Transformation, for advice on why you need a phone system migration plan.
Private Branch Exchange (PBX) phone systems are quickly going the way of those big, clunky phone books gathering dust on your shelf. PBX systems are costly and sometimes rely on aging technology such as copper phone lines and Primary Rate Interface (PRI). Both of those are heading toward obsolescence. Centrex, or "central exchange," which was the mainstream telephony solution for most larger enterprises back in the 1970s, is also being retired.
Unified Communications as a Service (UCaaS) is the modern-day replacement that's becoming mission critical in the future of work. UCaaS is a cloud-based solution that takes all the separate communications platforms for your company and manages them in one easy-to-use place. For example, your organization may use separate platforms for instant messaging, video conferencing, and phone systems. UCaaS integrates voice, messaging, and meeting services and is sold on a monthly recurring subscription basis. UCaaS can empower employees to work from almost anywhere, simplify technology and security, and reduce the strain on your budget and operating costs.  
UCaaS solutions are offered by network carriers, cable companies, and over-the-top service providers.1 Not all providers, however, are created equal. We'll talk more about that in a bit.
Putting off a UCaaS migration is not the answer
"If my current system is working, why do I need to change?" It's a question we hear a lot.
Staying with obsolete, legacy technology carries great risk. Carriers are sunsetting copper lines across the United States and around the world at an increasing rate, according to Gartner.2 In the U.S., carriers can retire copper facilities and replace them with fiber with only 180 days' notice to the Federal Communications Commission (FCC).2
Many service providers are also planning to phase out legacy services such as Plain Old Telephone Service (POTS), Time Division Multiplexing (TDM) PBXs, and some Multiprotocol Label Switching (MPLS) services.
When these legacy services shut down, does that end all communication services for a business? Some businesses have redundancies in place so that loss of these services won't shut down the entire business. Unfortunately, since many companies have had their existing systems for so long, they're not certain of everything that will be affected. And without a plan in place to migrate your voice and other communications to a modernized network and communications infrastructure, you might realize too late that the fax line for your credit card machine is inoperable. Other specialty lines that rely on an analog dial tone can also be affected. That includes elevators, blue-light emergency phones, security alarms, and ATMs. You'll need to move legacy services to a cloud-based replacement to keep those up and running.
The pandemic really made it clear that investing so much in capital and assets, hard assets that were unused, was a losing proposition.
Share this quote
Procrastinating your UCaaS migration can be risky in other ways, too. When it's time to renew your on-premises PBX contract, you may discover that the service is no longer available or that prices are skyrocketing. The costs associated with maintaining legacy networks and related technology continue to rise. Among other issues, fewer technicians specialize in older tech, and parts are more difficult to come by. As a result, providers are hiking the prices for legacy technology to cover these costs, and many are also providing limited technical support.
"As equipment is getting end of life, service providers have to struggle to find replacement parts," said Michael Windon, National Practice Lead for SIP and Voice Transformation at AT&T Business. "They're changing the pricing models on those services. It's important for businesses to be aware of that and to have a strategy to address that."
Legacy technology also runs the risk of driving customers away. More and more, customers expect to conduct business over the internet, email, text messages, and social media. POTS lines cannot accommodate these rich media channels, but newer technology can.
Moving communications to the cloud can strengthen the bottom line, too. Switching from legacy tech to UCaaS can give businesses flexibility and agility in terms of funding. Instead of using capital expenditure (CapEx) to pay for the PBX and tying up dollars over multiple years, a business can use operational expenditure (OpEx) to pay for the cloud-based software as a service model. Instead of buying a program outright, it's a subscription with a certain amount of flexibility. "It's easier to turn on and turn off without having to carry those expenses across multiple years," Windon said.
Flexibility means your business model can shift — for example, to accommodate a fluctuating workforce or business expansion.
"The pandemic really made it clear that investing so much in capital and assets, hard assets that were unused, was a losing proposition," Windon said.
When you free up capital dollars, you can invest them in your people instead. As just one example, you can pour those dollars into employee training and making your workplace a better place to be, which makes your business more competitive in the marketplace.
Finally, the modern network delivers another extraordinary benefit: cybersecurity. The cloud is more secure than on-premises systems, according to most IT experts. UCaaS systems usually boast data encryption, enterprise-grade firewalls, multiple protection systems, and distributed denial-of-service (DDoS) protection. Furthermore, providers keep their cloud in a physical data center bolstered by high levels of security. 
Perhaps your IT team has already built strong security measures into your on-premises system. UCaaS, however, has exacting security standards.
Getting an inventory of your equipment and network capabilities
Take a thorough inventory of your communications technology stack to examine hardware and physical devices, subscriptions and platforms, and related business tools like a CRM system. Determine which legacy services are nearing discontinuation in the next 12 months, both from current agreements and from potential new providers. Gartner recommends performing a full inventory of copper line services by collating contracts, creating a control list, applying a lead, and getting a roadmap on all services from suppliers.2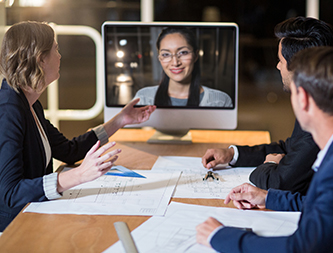 Collaboration Solutions
Empower your teams with solutions that can help you grow your business.
Making a UCaaS migration plan: Assess tomorrow's needs
Here are some questions to ask as you consider a UCaaS investment:
Is the platform run on a fast, trusted network?
Does the platform offer complimentary white glove set-up?
Is the UCaaS provider a leader in industry driving innovation?
Does the platform offer independently verified security standards such as SOC 2 and SOC 3?
Does the platform offer protection to specialized compliance standards given by the likes of the Finance Industry Regulatory Authority (FINRA) and the Health Insurance Portability and Accountability Act (HIPAA)?
Does the platform use strict physical security measures and widely distributed data centers to minimize geographic risk?
Does the platform offer separation between business and personal calls on devices?
Are any toll-free numbers included?
Does the platform offer legacy integrations such as faxing?
Are there easy integrations with popular customer relationship management (CRM) platforms?
Are there an unlimited number of voice conferencing bridges?
You may need expertise outside your business to help put together the plan. For example, AT&T Consulting services, Voice and Collaboration, can help simplify the complexity and help you plan a roadmap to success.
"The men and women that we put on site really work hard to understand the customer's needs and help translate them into our AT&T products and services," Windon said.
Among other things, skilled consultants can identify security vulnerabilities and help shore them up as you migrate to the cloud.
6 key steps to a successful UCaaS migration
A skilled service provider with the right expertise can help you understand how to migrate your phone systems today and create a plan for the future.
Take a thorough inventory of your communications stack to examine hardware and physical devices, subscriptions and platforms, and related business tools like a CRM system.
For every department, capture the essential processes your teams use today.
Create a training plan. Overcommunicate with your employees and ensure the organization knows what's happening, when, why, and how changes are taking place.
Make a transition plan that gives your team time to acclimate to the new experience.
Create shared milestones with teams to ensure everyone adopts new standards in a unified fashion.
Consider hiring a skilled consultant who can determine your needs. AT&T Business offers consulting and professional services for voice, collaboration, and contact center. AT&T Consulting and Professional Services has experience in delivering cloud voice in over 90 countries worldwide with expertise to help customers navigate transformations in complex environments.
How long does a phone system migration take?
Gartner recommends allocating one to four months to research replacements and get bids.2
When it's time for the actual UCaaS migration, you can count on some downtime when you cut over from Service A to Service B. Windon added that if properly executed, the disruption might last only 1-2 hours. But things happen. For example, porting activities can fail, leading to an outage.
Plan for excellence in your business technology
When shopping around for a UCaaS solution, you can solicit bids from network carriers, cable companies, or over-the-top service providers. IDC MarketScape released a report, Worldwide UCaaS Service Providers for Enterprise 2021, that makes it easy to find top-notch providers. Among its 19 recommendations, it names AT&T as a leader in UCaaS for Enterprise and SMB.
Technology is complex. Transformation is fast. Are you making the right choices for your business? What you want is simple advice that you can easily understand and apply. We deliver the right insights, guidance, and solutions for you.
Learn more about AT&T Business voice and collaboration solutions or contact your AT&T Business representative.

1 Denise Lund, IDC MarketScape: Worldwide UCaaS Service Providers for Enterprise 2021 Vendor Assessment (Framingham, MA: International Data Corporation (IDC), 2021).
2 Lisa Pierce, "Quick Answer: My Legacy Telecom Service Is Being Shut Down, So What Should I Do?" Gartner, December 28, 2022, https://www.gartner.com/document/4022567?ref=AnalystProfile/.