What is DNS Security Advanced?
Cloud-based DNS security protects your network, monitoring web traffic and stopping connections that threaten your business
Even as technology grows more sophisticated and powerful, security remains a top concern among businesses of every size. Despite advances in cybersecurity solutions, 68% of business leaders report that risks are increasing.1 Between January 2005 and May 2020, authorities recorded 11,762 cybersecurity breaches.2 It's no surprise then that a full 78% of business leaders report that they lack confidence in their business's cybersecurity capabilities.3 To combat sophisticated malware, ransomware, and phishing threats, small- and medium-sized businesses need tools that easily integrate with their existing infrastructures without requiring time-consuming management or continuous oversight.
Leaders at small- and medium-sized businesses with limited cybersecurity personnel and resources will appreciate intelligent, proactive platforms that screen for vulnerabilities in near-real time. By examining internet traffic for threats, these solutions can help take pressure off leaders so they can focus on running a successful business. In this article, we'll take a closer look at one type of cybersecurity solution, Domain Name System security, also known as DNS security.
AT&T Cybersecurity helps to make your network more resilient
Learn the latest from our experts in the webinar Tech Demystified: How can Cybersecurity Protect your Small Business?
How DNS works
What is the DNS is and how does it enable your business to access the internet?
The Domain Name System operates like a rolodex or phonebook of the internet. It catalogs all of the domain names, or websites, on the internet and translates them into the Internet Protocol (IP) addresses assigned to devices running on the web.

By coordinating domain names with IP addresses, the DNS makes surfing the internet convenient and virtually effortless. It performs the necessary translation between common website names and the string of numbers compromising unique IP addresses. Without this critical function, internet users would have to recall individual IP addresses, such as 143.24.295.2, instead of the more memorable "amazingbagelexample.com."

Here is how the DNS look-up process is intended to work:

Your employee types in a domain name into a browser, generating a DNS query

A DNS "resolver" chosen by your Internet Service Provider (ISP) receives the query
The DNS root server forwards the query to your regions DNS root nameserver
The root nameserver responds by pointing to the appropriate .com, .net, or .org server
That server responds with the IP address of the requested domain
The resolver sends a request to the IP address, establishing a connection to the browser
As you can see, the process your browser has to go through to connect to a website is complex. Especially vulnerable is the stage when your business's network consults the many DNS servers across the world before establishing a connection to an IP address. Between the several information handoffs occurring during a DNS search, a malicious agent can attempt to bypass or confuse the process and gain entry to your network.

AT&T DNS Security Advanced acts as a gatekeeper, monitoring activity between DNS servers and your network."
Share this quote
Move security into the cloud to help reduce DNS incidents and ease management

Cybersecurity trends reflect broader currents in business technology. For instance, as businesses transfer more and more applications to the cloud, the focus of cybercriminals shifts to infiltrating those resources. Fortunately, cloud-based tools are helping address security challenges by providing powerful protection against threats without requiring businesses to make significant investments in hardware and software.
These cloud-based solutions help protect your employees before they establish a connection with malicious websites. They act as a gatekeeper, monitoring activity between DNS servers and your network. Many have advanced threat intelligence that allows them to keep continual watch for fraudulent requests to and from unauthorized websites, servers, and apps. They block access to suspicious sites before your employees can access them and potentially expose your business and its sensitive information. Even when your staff enters what they believe to be a legitimate URL into a browser, a DNS security platform can authenticate the resolver and root server interactions to help screen the site and determine if it's safe and credible.
Defend your gateway to the internet with AT&T DNS Security Advanced
One such cloud-based cybersecurity platform is AT&T DNS Security Advanced, a cloud security solution that relies on daily threat updates to actively identify dangerous web addresses and block suspicious requests.
AT&T DNS Security Advanced operates as your safe onramp to the internet without impacting your performance. It checks all DNS requests against near-real-time risk intelligence to proactively block access to malicious websites.
Legitimate internet requests are processed as normal while suspicious requests are blocked prior to connection. And because the platform lives in the cloud, it offers robust security without the need to acquire new hardware or software. Best of all, AT&T DNS Security Advanced is compatible with other security solutions such as firewalls and requires very little maintenance or oversight by business managers.
AT&T DNS Security Advanced features and benefits:
 Safeguard your digital assets…
Improves security defenses and reduces attacks
Blocks malicious internet requests in near-real time to avoid risky sites
Receives intelligence updates every two hours
 So you can act with confidence…
Minimizes security management time and complexity
Increases DNS resiliency and reliability with 100% availability service level agreement*
Enhances web experience with reduced latency and improved internet traffic performance
And 
drive efficiency in your security operations
Help relieve the cost and complexity of protecting your network
Deploys quickly and easily: Just point your DNS address to the DNS Security Advanced cloud
Requires no additional hardware or software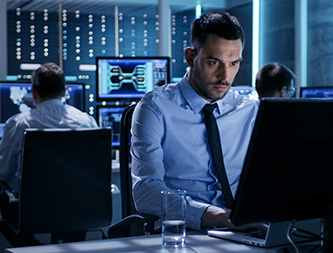 Cybersecurity Solutions
Security is never one size fits all. Learn how to build a cyberdefense plan to meet your unique needs.
Use case: Keeping journalists protected against unauthorized websites

A small independent journal needed help safeguarding staff researchers from malicious activity as they combed the internet for materials needed to conduct their reporting. The journal chose AT&T DNS Security Advanced to help prevent staff from inadvertently accessing websites that, while appearing credible, were in fact malicious. By implementing a cloud-based cybersecurity solution, the journal eliminated the need for a costly hardware and software investment and helped protect its reputation and the integrity of its work.
Businesses looking for a minimally disruptive, cloud-based cybersecurity solution to help guard against fraudulent or unauthorized web traffic should consider an automated platform such as AT&T DNS Security Advanced. With its continual intelligence updates and proactive operation, this advanced tool can reduce the burden on business managers and help protect valuable business information.
AT&T Business is here to help small businesses in a big way. Our Tech Demystified series can help you decide what products and services will work best for your business.  To learn more about AT&T DNS Security Advanced, contact your account team or contact us at (866) 792-3278 for more information.
We're here for you
Are you a small-to-medium business wanting to better support your workforce, customers, and locations? Contact us today. We have professionals who can demystify the technology for you and get you up and running with emerging technology and other solutions for your business.

AT&T Business is here to help small businesses in a big way. Our Tech Demystified series can help you decide what products and services will work best for your business. To learn more, read the AT&T DNS Security Advanced Brief or contact your local sales representative.