Leap year: Helping Financial Services jump ahead in 2020
These 5 technologies offer more than incremental improvement
Incumbent financial institutions (FIs) are hoping to soon see measurable improvements in public perception and bottom line numbers. Why? They're taking advantage of new tech that addresses 3 things. (1) Rising customer and workforce expectations. (2) Increased competition. (3) Regulatory pressures.
According to the recent EY Global FinTech Adoption Index, "Incumbents have entered the fray in a big way. Markets with a sharp rise in adoption from 2017 to 2019, such as Ireland, the Netherlands and Singapore, reflect the availability of FinTech services offered by banks, insurers, stock brokers and other incumbent financial institutions."
However, many in the C-suite might still be concerned. Are they investing in the right tech? The kind of FinTech that increases their odds of a leap into breakthrough success?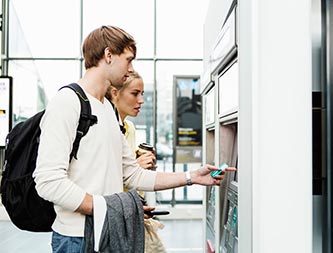 Financial Services
Inspire renewed loyalty, streamline operations, and position yourself to outpace competitors with integrated, data-driven solutions.
Faster horses vs. airplanes
Growth technologies of the last several years have paved the way for the next wave of digital transformation in the financial services sector. IoT, software-defined networking (SDN), and advances in cybersecurity are helping providers become more tech-first companies. But if you're investing in tech, you have to ask yourself: Am I investing in a horse or an airplane?
Industry influencer Chris Skinner famously suggested that Financial Services providers merely trying to build "faster horses" would get left behind by those that embrace a different approach to innovation. According to Skinner, "TechFin firms start with technology and wonder how that can be used for commerce and trade. Alternatively, FinTech firms start with existing trade structures and wonder how to make them cheaper and faster with technology. I liken it to FinTech firms are making faster horses whereas TechFin firms are working with airplanes."
Many FIs are now considering the future from Skinner's perspective. Why? First, other industries (especially retail) have raised customer expectations in the last decade. This has driven FIs to move from a product-centric mindset to a customer-centric one. Second, FIs can see clear advantages in emerging tech. For example, near-real time data and APIs can connect legacy systems to modern user interfaces (data sharing between analytics and messaging). Across the full spectrum of financial services (FinServ) providers, opportunities can emerge for firms that study the gaps between new tech capabilities and transitioning business models.
Platform model
Skinner called it "working with airplanes." The metaphor speaks of not just adopting new tech piecemeal, but bringing them together to break the mold of "business as usual" and create a more powerful whole.
According to EY, "An invented service is one that didn't exist before but is now possible by technology and alternative business models, such as peer-to-peer lending and mobile-phone payments. Some invented services fill niches in the market, and others have the potential to redefine and transform entire financial subsectors." For FIs that strive to do more than keep pace with competitors and customer expectations, several areas of technology have emerged as standout enablers. Individually, they can be powerful. Put together, they can help FIs construct an integrated, platform-based springboard from which to take a larger leap.
The digital platform model is designed to be more agile, flexible, and open-source. It can enable integration and scale as a bridge between core systems and new tech. It allows organizations to quickly plug-in new components or even connect entire systems to each other. What's more, FinServ providers can more quickly go from idea to deployment to refinement by moving beyond complex, single-unit solutions.
Ideally endpoint-agnostic, digital platform models can be remotely-managed. This helps banks and insurers:
Grow the business
Improve time-to-market
Deliver more efficient experiences geographically
Connect a customized digital ecosystem
Support legacy systems
Transformation is a journey to remain competitive. It often requires reimagining business models, products, target customers, and operations, in addition to technology. The platform-based model, wrapped in cybersecurity and supported by a trusted managed services provider, opens the door for FIs to create more relevant roadmaps. FIs considering future-flexible digital platforms should keep the following 5 technologies in mind. They have the potential to catapult FIs beyond the status quo.
IoT
Device proliferation is an opportunity. Gartner forecasts the number of connected things will exceed 25 billion across consumer and business applications by 2021. Drones and smart sensors are already changing claims processing and risk prevention for commercial and residential insurers. Consumer and employee wearables are transmitting immediate feedback, like vital statistics. Connecting to, capturing, analyzing, and acting on the vast amounts of available data is a strategic challenge—and opportunity—for banks and payment platforms. IoT-enabled smart analytics tools are being deployed to assist with forecast modeling. They can also help enhance cost savings, operational efficiency, and sales.
5G and edge computing
A more intelligent and dynamic network supports in-branch employees, mobile appraisers, field agents, drones, connected vehicles, and core systems. Business use cases that were once dependent on wired network connectivity can be deployed in innovative ways, untethered by 5G. And untethering isn't just about speed. It's about enabling low-latency performance at the edge for applications and enhanced user experiences, like remote advisory services. As a result, 75% of enterprise data is predicted to be processed at the edge by 2025. As 5G grows, core FinServ apps migrate to the cloud, and data processing moves closer to the data origin (user), there are fresh opportunities to rethink strategies and systems. 5G and edge computing can support updated transfer, transport, access, and cybersecurity capabilities that help transform customer experience, employee experience, and workforce mobility.
Artificial Intelligence and Machine learning
Artificial Intelligence (AI) is increasingly being used to improve customer-facing user experiences and back office operational efficiencies. Natural language processing and Human Machine Interfaces (HMIs) have evolved to become more than touchscreens on the sides of machines. AI software is now capable of interacting with a machine on behalf of a human, enabling modern HMIs to incorporate high resolution, multi-touch, and haptic technologies. They can also integrate with augmented and virtual reality (AR/VR). What about new business opportunities or risks that humans may miss or overlook? Machine learning (ML) helps bankers, insurers, and wealth managers analyze the influx of potentially actionable data. As a result, customers can get more complex "contextual advice." And that's without the kind of on-the-spot information gathering or wait time frequently associated with these kinds of interactions—making for a better customer experience.
Put together, they can help FIs construct an integrated, platform-based springboard from which to take a larger leap.
Share this quote
Contact center tech
According to a survey by Accenture, 79% of consumers still regard their relationship with financial institutions as "purely transactional." Yet only 37% of financial service providers have a formal customer-experience plan. Answering routine customer inquiries like "next bill due" and "account balance" are often considered low-hanging fruit. As banks, insurers, and wealth managers move into more advanced tools, however, they can reduce customer friction. Text messaging, interactive video, and AI-enabled chatbots enhance the customer experience. AR/VR interfaces are also playing an increasing role in remote customer support. They have the potential to transform key areas like virtual tellers, in-field training, and remote risk and damage assessment. At the same time, APIs can bridge the compatibility gap between old and new systems. APIs can help overcome many of the legacy-tech objections to contact center transformation.
SD-WAN
Software-defined networking (SDN) continues to centralize control and increase the flexibility of network connections. It delivers the security, agility, and management features that FinServ providers desire. SD-WAN allows FIs to adapt quickly to corporate and market changes by:
Adding access
Connecting new sites
Enabling automation and near-real time analytics, and reporting
Combining hybrid infrastructure with multiple access types to enhance cost-effectiveness and application performance
A network-based software-defined wide area network (SD-WAN) can combine MPLS quality and lower-cost internet at each site for an optimal balance of performance, security, and cost. Over-the-top (OTT) SD-WAN can also provide dynamic links on more efficient, private, broadband, or wireless connections.
Make the leap
As you look to jump ahead in 2020—by investing in airplanes and not faster horses—consider these 5 technologies as part of a future-flexible digital platform. Learn more about the measurable results and customer success stories that FinServ providers have achieved with Financial Services Solutions.
AT&T Business is a leading provider of Edge-to-EdgeSM solutions for Financial Services Solutions and is working to deploy SD-WAN in more than 28,000 locations around the world, making us the largest SD-WAN provider globally. Achieve smarter, more trusted interactions with solutions that integrate our ecosystem of technology, expertise, and highly-secure global network to obtain near-real-time intelligence from virtually every corner of your enterprise.