What you need to know about IoT in Retail
This post was sponsored by AT&T Business, but the opinions are my own and don't necessarily represent AT&T Business's positions or strategies.
The proliferation of digital payments and the Internet of Things (IoT) in retail has opened up a whole new market: Data.
The ways data is being created, collected, used, and operationalized across the industry are leading to a revolution in how retailers are meeting their customer needs. In this article, we're going to explore some of the common and rising ways that data is informing retailers for better operations and the customer experience.
Digital transformation—the adoption of digital technology—has become table stakes for most businesses. Both consumers and business customers demand more flexibility, responsiveness, and in the case of retail, more personalized interactions. To enable this, businesses have needed to prioritize network modernization, that is, migration from legacy and copper phone lines to fiber internet, to support digitization. In retail, the benefits are in everything from the shopper experience—in store and online—to how payments are taken.
By now, many of us have used different kinds of contactless payments, via either contactless payment cards (e.g. tap to pay) or mobile wallets for wearables and smartphones. These methods are driven by IoT and operate in a range of how much human interaction is required – smart speakers, using biometric data to authorize transactions, automated mobile payments, and IoT mobile payments.1 The result is unprecedented insight into how customers purchase goods and services, enabling retailers to diversify how they operate and what they offer to their customers.
But while adoption of such payment methods has increased exponentially in recent years due to its speed and convenience, especially when compared to cash payments, the benefits of digital transformation extend well beyond what we've seen so far.
Beyond connecting communities and businesses, the next evolution of networking comes from capitalizing on the data economy, riding on the wave of the growing IoT market enabled by reliable networks that combine the power of 5G and fiber connectivity. According to the Statista Market Forecast, revenue in the IoT market is projected to reach US$5.27 billion in 2023.
How are retailers using the data and what does all this mean for them?
IoT in retail for inventory management
Here's an example of a use case that relies on IoT and 5G for retail: Imagine having smart vending machines placed at the entry and exit points of public transit stations, offering different snacks, bento boxes, or drinks for purchase via contactless payment methods. A smart display can show short advertising videos based on the products that the user wants to purchase. Some vending machines can even perform automated age and identity verification using built-in biometrics capability.
To ensure that items are not out-of-stock or misplaced in the wrong slots, smart shelves with weight sensors and radio frequency identification (RFID) tags can be installed and alerts can be sent to inform employees when inventory is running low or when products are incorrectly placed. This not only applies to vending machines, but in stores as well. IoT helps drive operational efficiency, but it also improves the customer experience.
In addition, retailers can use the data collected from these and other points of purchase to track trends for inventory management. Retailers and purchasing managers can create better-informed purchasing strategies with manufacturers, vendors, and suppliers throughout demand shifts during the year. Ultimately, this can mean better control over spending.
Take this concept one step further into advertising and marketing. Retailers can use this data to send real-time alerts to smartphones. Based on location proximity, or dynamically customizing marketing messages on digital signage in the stations where people are, they may expand their revenue opportunities.
Data and the rise of customer-focused applications
Superapps are another example of how IoT in retail has informed operations and the customer experience. Gartner defines a superapp as "an application that provides end users (customers, partners or employees) with a set of core features plus access to independently created miniapps."2 Often offered by fintech or big tech providers, these apps combine different facets of what customers need in their day-to-day lives, from ride hailing and ecommerce to social media and mobile payments, all in one single mobile app. These applications have often been credited as key to empowering a cashless digital economy, due to their ease of use and stickiness.
The data collected throughout the IoT-enabled retail experience can help to inform not only if a superapp should be considered for a business, but provide key information for how it might best operate. And because of their increasingly-popular use, they can be a gold mine for data into customer behavior.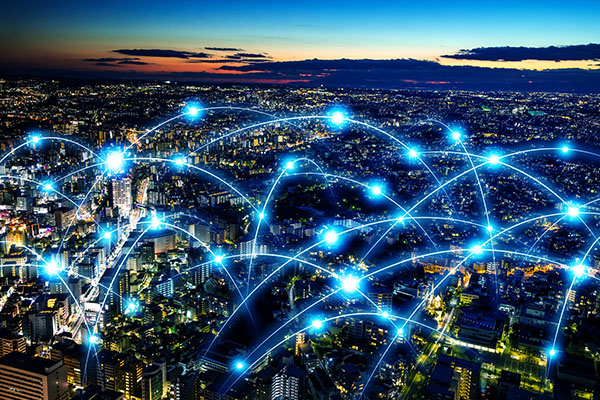 The ROI of network modernization
Network modernization can produce strong ROI for your business, but you need the right strategy and technology to exceed your digital transformation goals.
How else can IoT in retail help your business?
Beyond driving marketing and sales, data from IoT in retail also plays an important role in customer service and logistics. Here are just a few examples of what's possible.
More efficient customer service
Inside brick-and-mortar stores, IoT-enabled occupancy sensors can track areas with the heaviest foot traffic and the amount of time people spend in different areas of the store. Such data is crucial in helping retailers plan in-store merchandising for hot spots, as well as staffing needs for facilities, customer service desks, check out kiosks, and pre-order pick up.
Increasingly, restaurants and coffee shops are also offering complimentary Wi-Fi for customers who dine in. Beyond enjoying on-premises connectivity, diners can also scan the menu using QR codes, order the food, and pay for the bill on the same wireless point of sale (POS) system. Such solutions also offer businesses an opportunity to learn from customer behaviors to more accurately upsell other items while reducing overhead.
This can also be a useful way to keep in touch with customers after they leave the eatery. It's no wonder why these setups are becoming more common, especially in airports where travelers are often pressed for time. Tailored solutions, powered by connectivity and data analytics, are critical to delivering a seamless and pleasant customer experience.
Smarter warehouse management
IoT services can help out behind the scenes as well. Environment sensors can help monitor ambient temperature, humidity, light, and other factors inside storage facilities, delivery trucks, or in-store, for perishable items, to help keep the products fresh and reduce waste. And smart warehousing solutions equipped with sensors can help maintain optimal store inventory to meet customer demands.
IoT sensors can also assist in keeping machinery up and running as well. Predictive maintenance based on the data from these sensors can minimize downtime. These sensors also make it easier to identify malfunctions and locate the source of the problem, making repairs quicker and easier.
As we look beyond these use cases, there are other retail technology solutions that have great potential as well. For example, through the combination of blockchain and IoT, consumers can track the coffee beans bought in the store or used in their coffee all the way back to the farm from where it is grown to how and when it is shipped. Such solutions help connect the different parties in the ecosystem, from traders and buyers to retailers and consumers, together on one single platform, creating transparency for the entire supply chain from crop to cup. The benefits are for better quality assurance and in the event of an issue with the product or a recall, it's easier to investigate where a problem may have occurred. In other words, better accountability controls.
In a world where consumers are increasingly demanding ethically sourced products, such traceability solutions powered by IoT-driven global connectivity, are crucial for long-term sustainability of businesses and the environment.
Connectivity
Unlocking the benefits of the next evolution of IoT solutions will require a firm foundation of secure and reliable connectivity, which is achieved through network modernization with both fiber and 5G connections working seamlessly together to enable uninterrupted service. Retail Wi-Fi makes the bandwidth and speed of a hardwired network available to your customers, while SD-WAN solutions can help keep these networks secure—a major consideration for a network that hosts hundreds of devices a day.
Multi-access edge computing
The next generation of devices in IoT for retail can process data in near real-time, leveraging the high bandwidth and low latency of 5G. However, instead of sending all the data to the cloud for analysis and processing, multi-access edge computing (MEC) moves the computing to the edge of the network and closer to the customer, reducing latency and strengthening security and compliance, while enabling real-time analytics with lower latency and generating new services and revenue sources. 

Industries such as manufacturing have been benefitting a great deal from MEC because it enables them to better protect their data by keeping it within the walls of the facility. This is important to retail because there is a need to protect valuable business and customer data in warehouses and distribution centers. A reliable network, combined with IoT, 5G, and MEC gives retailers more control over who accesses their network and keeping the data that it carries within these facilities.  
The future is bright for IoT in retail
The use cases for IoT in retail are quickly moving us into data-driven efficiencies: Smart vending machines that know when they need to be restocked, inventory-control robots that patrol your local supermarket to provide up-to-the-minute stock information, personalized in-store marketing, and more. But this isn't the tech of the future; all of this is possible with today's technology.

Visit the AT&T Business page for retail technology solutions or contact your AT&T Business representative to learn more about retail industry technology.