Retail loss prevention: Investing in network security
Retailers have more flexibility than ever to define their business whether operating exclusively as an online store or globally, even if from only a single location. They can expand their "footprint" with more locations, warehouses, and distribution centers that enable more reliable delivery of goods and services faster, with better visibility and tracking. This can result in a better customer experience. All of this is made possible through connectivity, technology, and getting more out of your data.
As retailers continue to use technology to improve captured data analysis and the customer experience, threats in the cyber landscape, physical security, and loss prevention are continuing to evolve. Thieves are becoming more savvy, more brazen, and more strategic. They target businesses of all sizes both in the store and online and are causing record shrinkage. The National Retail Federation (NRF) reports that annual retail shrink is nearly $100 billion, bringing loss prevention to top of mind for all retailers.1 Combined with supply chain shortages, which drives up costs of goods, theft and shrinkage are especially detrimental to a retail business.
Traditional methods for retail loss prevention
Retail loss prevention requirements have evolved a great deal over the years to keep pace with how thieves are becoming more sophisticated in their operations. Snatch and grab, traditional shoplifting, and other physical ways they illegally remove merchandise out of stores continues. For this reason, watchful employees and onsite security teams are important, bare minimum traditional methods for retail loss prevention.
As safety risks that come with theft increase, low-tech solutions like locked display cases and secured products are being deployed more often. Planograms to improve floor visibility and eliminate camera blind spots are also being used more often. However, high-tech retail IT solutions play an increasingly important role in the battle against loss, theft, fraud, and other infractions. Digital solutions can provide vital information for better physical security measures, employee protection, and risk mitigation.
The rapidly changing world of loss prevention in retail
To win in retail, it's critical that consumers have a variety of purchase options. Today, the omnichannel experience, which enables consumer in-store and online activities to be connected, needs to be fluid. However, options that are convenient for a consumer can also create prime opportunities for criminals and create complex vulnerabilities, especially around data. For example, digital theft—downloading files, software, and payment card information illegally—might mean gaining access to a shopper's retail location activities (storefront, pop-up, etc.). Loss of customer data, financial information or intellectual property, proprietary store details, and other digital proprieties are exposed and adds up. The average cost of a data breach for a retailer is $3.28 million.2
Organized retail crime (ORC) is on the rise and creating new challenges for retail loss prevention. ORC is a coordinated and systematic effort by a group of criminals to steal merchandise or data from a retailer. While retailers prefer to not add any inhibitors to the consumer experience or their freedom, employee and consumer safety becomes a complicated risk if they don't take action.
Although targets vary by location and current trends, criminals often target high-value items that are easy to resell, such as electronics, designer clothing, and cosmetics. Criminal groups may surveille a location over extended periods of time to learn patterns of the merchandise, employees, customers, shipments, and other key vulnerabilities.  
Retail crime is continuing to evolve and become more complex, but so are methods retailers use to protect their businesses and their customers. Autonomously collecting data from connected tools, devices, and machines using Internet of Things (IoT) services is playing an important role in this protection. Retailers are also taking advantage of 5G solutions and monitoring properties, customers, and employees with video and other wireless systems for better planning and defenses.  
These onsite defenses are important, however, to effectively protect the business—physical and digital—it's important to understand that security starts at the network. This critical foundation mitigates retail safety risks and enables adoption of technologies like IoT. Data encryption, employee training, and regular security audits can help create a more comprehensive security infrastructure. Combining all these measures with strong, non-intrusive physical security and loss prevention strategies discourages spotters from targeting a business and protects retailers from many thefts.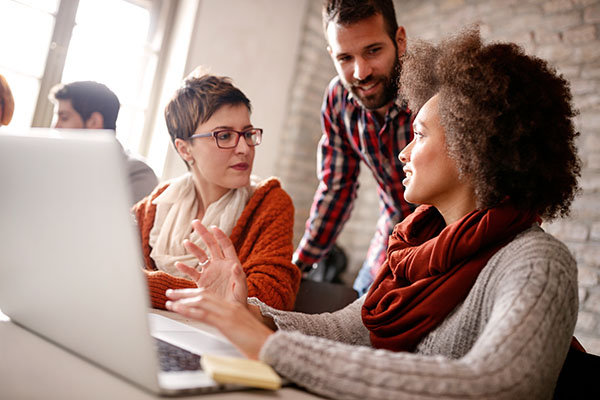 The future of networking
Rick Welday, EVP-Enterprise Markets at AT&T Business shares the how we're bringing new standard of networking to our customers.
Minimizing total retail loss (TRL)
There are many instances where retailer loss is exposed. Not all loss is simply theft. Shrink can also occur through operational inefficiencies. Poor inventory tracking/visibility, shipment receipt and management, customer experience, and delivery are all susceptible.
Using the right technology will enhance total retail loss prevention. Total retail loss aggregates shrinkage across the entire retail business. Consider internal, external, digital (including e-commerce), and operational inefficiencies. One area of loss can be a challenge but having multiple areas of loss can be crippling and even lead to store closure. The total retail loss prevention market is expected to grow at a compound annual growth rate of 13.8 percent between 2022 and 2030.3
What all of these potential loss centers have in common is the network. Connectivity and other integrated technologies enable security-based operations. A modernized network built on fiber-optics and private internet access is an important step to improve loss prevention. Fiber provides superior security to safeguard data more so than legacy copper networks because fiber carries broader bandwidth, better speed, and offers lower latency. With these enhancements, retailers gain more flexibility in managing security across their policies and protocols.
Fiber also boosts IoT video intelligence performance for more comprehensive location surveillance. It's also more resilient than copper. The adoption of cloud transformation is trending upward as fiber becomes available consolidating platforms, and improving network performance with faster, more reliable access to secure data.
Using data to improve retail loss prevention
The modernized network enables retailers to collect data through IoT, cloud adoption, and centralized orchestration. The reliability of fiber and 5G helps provide  agility, flexibility, and reliability for a fully-connected retail infrastructure. For this reason, network transformation services and data security play a crucial role in modern retail loss prevention strategies in several ways:
Surveillance and monitoring. Advanced video surveillance systems powered by high-speed wireless connections empower artificial intelligence (AI) and machine learning to detect suspicious activities, identify potential and repeat shoplifters, and monitor employee behavior in real-time. These technologies can also analyze customer patterns to help retailers improve store layouts that reduce the likelihood of theft.
Data analytics. Integrating IoT and other technologies create a rich resource for data. Combined with technologies like AI, data analytics enable retailers to identify trends, patterns, and anomalies in sales, inventory, and customer behavior and to be proactive with potential issues. For example, identifying suspicious patterns and implementing relevant security measures.
Fraud detection. Advanced algorithms can monitor transactions and customer behavior to detect potential fraud at the register and through e-commerce. By identifying suspicious activities early on, retailers can take steps to prevent losses from fraudulent transactions.
Access control. Network security policies control who has access to sensitive information and areas within a retail store. Implementing strong authentication protocols and access restrictions can prevent unauthorized personnel from gaining inappropriate access to valuable merchandise or confidential data.
Inventory tracking. IoT devices, radio frequency identification (RFID) tags, and GPS tracking technologies can help retailers track inventory more accurately and efficiently reducing misplaced goods and employee theft.
Fiber networks and data security play a vital role in retail loss prevention. By leveraging the latest technologies, retailers can better identify potential threats, implement effective security measures, and make informed decisions to protect their business and their customers.
Why AT&T Business for Retail?
See how ultra-fast, reliable fiber and 5G connectivity protected by built-in security can help you redefine the customer experience. Let our experts work with you to fine-tune your operational efficiency and supply chain agility. Welcome to a new standard for networking.
Learn more about AT&T Business retail solutions or contact your AT&T Business representative to connect with an expert who knows business.
1Jason Straczewski, "Retailers battle nearly $100 billion in shrink," National Retail Federation, September 28, 2022, https://nrf.com/blog/retailers-battle-nearly-100-billion-shrink.
2"Cost of a Data Breach Report 2022," IBM Security, Accessed June 27, 2023, https://www.ibm.com/downloads/cas/3R8N1DZJ.
3"Retail Loss Prevention Market Size 2023 and Updated Report, Key Players 2031 | US$ 138.2 Billion," MarketWatch, June 15, 2023, https://www.marketwatch.com/press-release/retail-loss-prevention-market-size-2023-and-updated-report-key-players-2031-us-1328-billion-2023-06-15.