Talk to your representative about getting a $100 credit with the purchase of a Fleet Complete Vision forward-facing or dual-facing dash camera solution today.
Connect your fleet and assets with a full suite of tools and connected devices that interoperate on a common platform, providing real-time insights into your business operations

AT&T Fleet Complete features
Save time with one platform that does it all
AT&T Fleet Complete Vision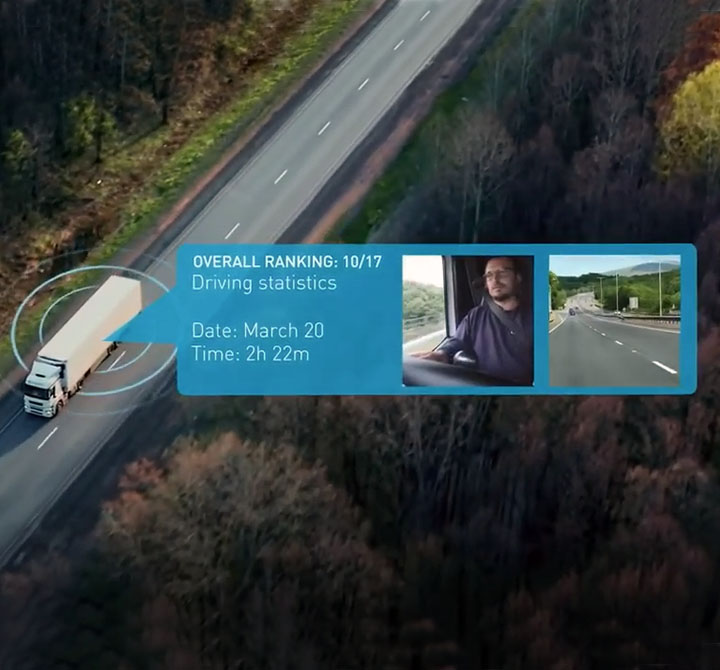 Make the connection for safety
Help drivers reduce traffic violations with AT&T Fleet Complete Vision, an AI powered in-cabin and road facing camera solution. The next step in protecting your business and your team costs less than you think. 
Capture short video events from road-facing and in-cabin camera
Events are verbally announced to the driver as they happen
Access real-time driver scorecards with safety scoring
Watch now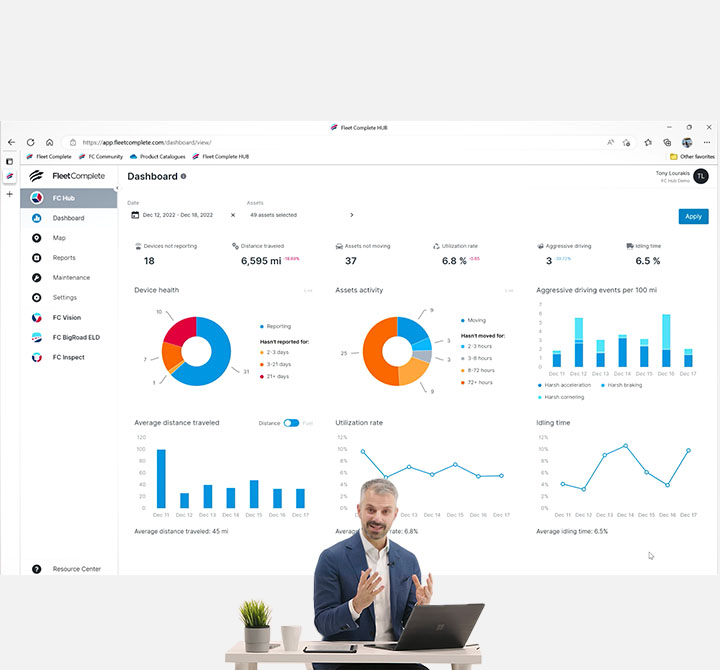 AT&T Fleet Complete Hub dashboards 
Your entire operation at your fingertips.  Prebuilt dashboards are ready to use out-of-the-box and easy to customize.
Watch now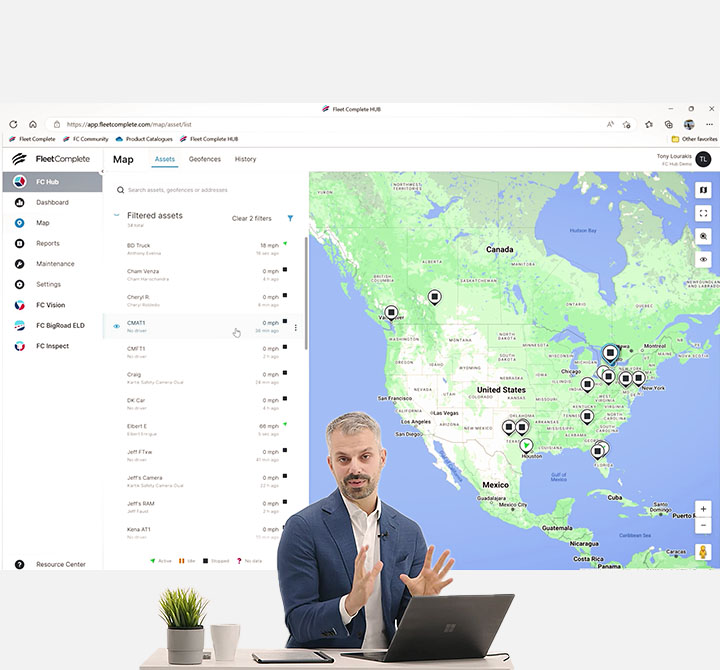 AT&T Fleet Complete Hub maps
Don't just manage your fleet. Map it. Visualize your fleet and assets all from one place.
Watch now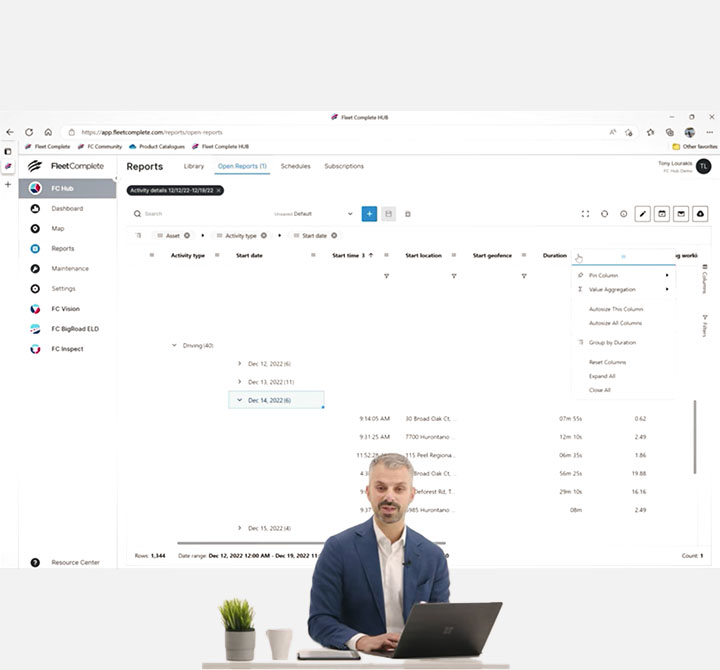 AT&T Fleet Complete Hub reports
Tony Lourakis explains how we are making cost saving insights easy to access, navigate, and analyze with prebuilt and customizable reports. 
Watch now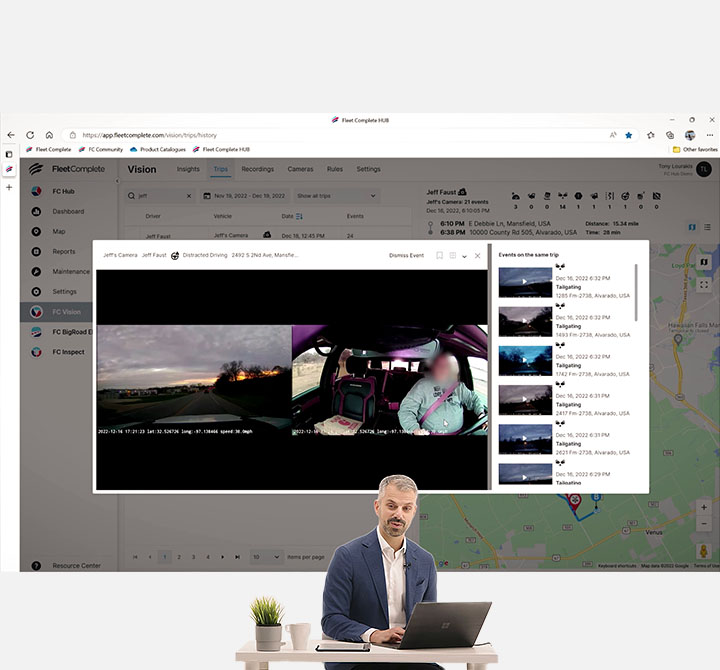 AT&T Fleet Complete Vision platform
See how an extra set of eyes on the road can reduce risk.  AI powered dash camera insights are easy to manage right from FC Hub.
Watch now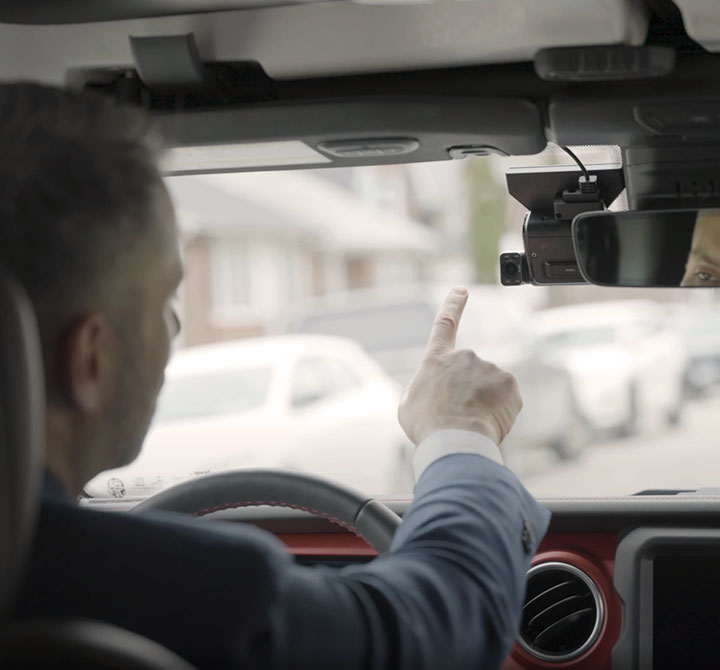 AT&T Fleet Complete Vision on the road
Ride along with Tony Lourakis to see Fleet Complete Vision in action.  
Watch now
What are the components of AT&T Fleet Complete?
The AT&T Fleet Complete family of products includes AT&T Fleet Complete, AT&T Fleet Complete Vision, AT&T Fleet Complete Big Road ELD, and AT&T Fleet Complete Connected Devices, but you can purchase only what you need. The suite of solutions integrates seamlessly in one platform, AT&T Fleet Complete Hub.
What are IoT fleet management solutions?
IoT Fleet management solutions provide real time visibility into vehicles, assets, and connected equipment. Devices are typically small black boxes connected to the vehicle or asset. The devices report information wirelessly to a centralized cloud-based platform. AT&T Fleet Complete provides visibility into vehicle location, driver behavior, maintenance needs, and more, so fleet managers can better plan operations and quickly adapt to changes.
What are video telematics?
Video telematics solutions use dash cameras and advanced sensor analytics to detect changing road conditions and more. The cameras can automatically record short videos of traffic violations or accidents. This information can be useful for improving driving practices and for accident investigations. AT&T Fleet Compete Vision is powered by Artificial Intelligence (AI) that enables real-time voice feedback to improve driver, pedestrian, and vehicle safety. 
Why is an Advanced Driver Assistance System important?
An Advanced Driver Assistance System helps coach drivers, while keeping them aware of issues such as lane departure, harsh braking, and drowsiness. The Advanced Driver Assistance System is designed to improve driver safety and reduce vehicular injuries. The goal is to prevent an accident before it happens. Video recordings provide proof which can help limit the number of insurance claims made for minor accidents with no injuries.
How is telematics data collected?
Data collection varies, based on the hardware used; however, the most common method of data collection is a small black box installed under the vehicle's dashboard. This box contains a SIM card that collects and sends data in real time to a cloud platform. With AT&T Fleet Complete, data is then compiled on the dashboard into reports and other tools within the Fleet Complete Hub. This information is easily accessed from a desktop or mobile app.
How does a connected vehicle work?
Connected vehicles, both light- or heavy-duty, are packed with sensors that track a wide range of vehicle data. This data is collected by onboard computers, and AT&T Fleet Complete reports it to a management platform. These technologies provide companies with real-time data about routes, maintenance requirements, and driving conditions.
How does Fleet Complete help drivers meet their Electronic Logging Device (ELD) compliance requirements?
AT&T Fleet Complete devices capture driving data, including Hours of Service (HOS), and reports that information to a centralized platform ꟷ Fleet Complete Hub. Using Fleet Complete Big Road ELD on their tablet, drivers can easily access logs on the go and share information with law enforcement.  With AT&T Fleet Complete Big Road ELD, compliance is easy.
How do connected vehicles improve fleet safety and security?
Telematics devices spot unsafe or wasteful driving behaviors and alert drivers in real time. Pairing devices with fleet management software brings immediate improvement to your fleet safety and security programs. Real-time route updates with road incident notifications, mobile vehicle upkeep checklists, and video training help improve safety, while stolen vehicle recovery and vehicle location data helps keep vehicles secure.
Resources
Learn more about AT&T Fleet Complete
Talk to an AT&T Business expert
Monday - Friday, 7am - 7pm CT
Request info
To get sales help from a Business Solutions specialist, please complete this form.
Your feedback will help us to improve AT&T Business so you continue to have a great experience when visiting us!
This survey is conducted by an independent company ForeSee for AT&T.