The new era of IoT in the supply chain
An interview with Guy Poorman from AT&T about the challenges companies face and how IoT can help solve them
For stakeholders in the supply chain, moving products into the market efficiently and cost-effectively continues to be top-of-mind—both for finished goods, as well as components that other companies depend on to complete their processes in manufacturing.
We had a brief chat with Guy Poorman, AT&T Business Director of Channel Marketing Global Business and Industry Solutions to discuss supply-chain challenges that companies are facing and how the Internet of Things (IoT) is helping to innovate solutions.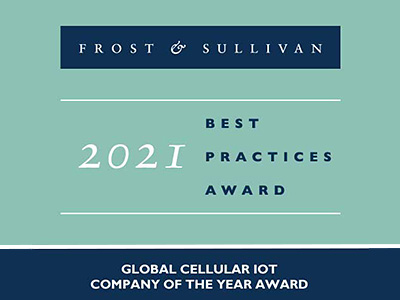 Internet of Things (IoT)
Drive your innovation into the future with our best-in-class IoT solutions. Discover why we're recognized by Frost & Sullivan as the 2021 Company of the Year for Global Cellular IoT.
Q: One of the biggest challenges the supply chain is facing, nationally and globally, is related to trucking capacity. This is partially due to industries adjusting to the ELD (electronic logging device) mandate, but also to increased consumer demand for products. How is technology such as IoT being used to help address these challenges?
A: Connectivity is the core of everything businesses need to be successful. It will eventually impact how businesses of all sizes interact with customers and compete as increased consumer demand via direct-to-consumer models continues to rise. IoT is the digital connectivity technology that has probably had the most significant impact on the supply chain and the transportation and logistics industry.
Businesses in the transportation industry are using digital technologies like IoT to improve fleet and cargo management, track goods, regulate driver compliance (ELD), and gain information access for customers. To help keep up with consumer demand as well as help deliver the right product to the right place at the right time, enterprises are using these latest innovations to track, pattern, and even predict many transportation events.
This breakthrough in technology has unleashed a wave of innovation that is rapidly transforming the way cargo moves along the supply chain, allowing transportation companies and others in the supply chain to make more informed decisions that positively impact the consumer experience.
Q: That means the opportunity to be more agile as the market changes so that a positive customer experience is preserved. So, beyond the help IoT can provide with enhanced customer experience and ELD regulations, there's a great deal of data it can provide. What are some of the ways that companies can use the data they collect to support flexibility and agility for the supply chain?
A: Powered by connectivity and sensors, IoT generates actionable, near-real-time data insights about the condition of physical things in the factory and throughout the supply chain. This, combined with data analytics, new technologies, and a fast network, is helping businesses better maintain their assets and streamline efficiency in production.
Specifically in manufacturing, there is opportunity for manufacturers to gain efficiencies with end-to-end visibility into their products and solutions—from the point of product design to the factory floor to the point of delivery.
In consumer packaged goods (CPG), today's digitally empowered customers are well-informed, can easily compare products, have extensive choice, and expect quick delivery of customized products at affordable prices. With IoT-powered solutions helping retailers efficiently manage centralized inventory, warehouses, and shipping—versus exclusively in-store stock—they are able to redirect and track product shipments to address localized demand and meet store-level revenue targets.
Powered by connectivity and sensors, IoT generates actionable, near-real-time data insights about the condition of physical things in the factory and throughout the supply chain.
Q: That brings us to making sure the assets are in place to keep things moving. Another hot topic in the supply chain is asset management. There was a time when tracking and deployment was a very manual process. Now, "track and trace" is evolving. Where are we now, and how do you see it evolving in the near future?
A: Supply chain solutions include a range of mobile workforce, fleet management, asset tracking, and equipment-monitoring solutions. Relative to asset management today, this is all about giving enterprises near-real time visibility into their fleet and assets. They can monitor an asset's location and shipment conditions from virtually anywhere. With greater visibility, it helps them to get ahead of any unexpected issues before shipments reach their destinations.
In the future, I see blockchain technology becoming much more prevalent in the supply chain as the technology matures and adoption climbs. Blockchain will serve as an extension of IoT, giving customers even better resources to track and manage information across multiple parties in the supply chain. Being able to (1) track goods from their origins and as they move through factories, (2) monitor the quality of goods from creation to delivery to the consumer, and (3) help verify products' authenticity by tracking them from order to delivery are some of the benefits expected from this technology. Such innovations can help promote consumer safety, help reduce waste and surplus stock, and may benefit the bottom line.
Q: What are other possible financial benefits for companies that embrace IoT to improve supply chain-related operations? And, how can this benefit ripple through the stakeholders that move products to market?
A: There can be numerous financial benefits to organizations that adopt an IoT strategy in various parts of their supply chain. From a manufacturing standpoint, being able to monitor equipment on the production floor and gain greater insights into the performance of the line can help businesses identify issues before they arise. These capabilities can also help reduce unplanned, costly downtime by moving from a break-fix mode of operations into more a predictive mode.
In the transportation and logistics industry, organizations can implement this form of connectivity for cargo in transit. This can help ensure compliance and minimize penalties and costs associated with not meeting certain industry mandates. It can also help them to realize financial benefits by operating more efficiently through minimizing idle time and optimizing the routes of their drivers and operators.
And in CPG (and across the supply chain as a whole), sustainability measures continue to be an important aspect of IoT technology integration for both the bottom line and environmental practices. The technology can help businesses preserve perishable goods (reduce waste), save energy and costs, and reduce carbon emissions.
Q: I'd like to end on the most important part of the equation: The companies and consumers in the global supply chain who purchase goods. How does a company that expands their adoption of IoT ultimately improve the customer experience?
A: Consumers are becoming increasingly demanding, wanting access to goods when and where they want it. Because of this, companies are looking for ways to keep up with consumers and are turning to digital technologies to create efficiencies and improvements in and outside of their businesses.
By adopting digital technologies, including IoT, organizations can increasingly offer products and services directly to consumers in a customizable way. While not always fully achievable, customer profiles can be built up and their behavior analyzed in detail to help businesses solve for the consumer desire for greater personalization of products and marketing messages on a 1:1 basis.