How one insurer is tackling the risks of on-prem data centers
They started a digital transformation years ago. The latest step? Relocating physical data centers to the cloud.
Insurers know all about risk. For one of the largest insurance providers in North America, its own on-premise data centers were becoming a liability. Hardware-centric data and network infrastructure was showing its age and vulnerability. If servers failed, hackers breached, or a natural disaster struck, the damage and downtime to agents and policyholders could be catastrophic.
After the COVID-19 pandemic arrived, yet another hazard became apparent. Visiting a data center in person was not only risky, but possibly out of the question due to local restrictions.   
"In some areas there were hard quarantines," said Robbie Harrell, Practice Lead for Networking and Cloud, AT&T Business. "This is where people really started to think, 'Is there infrastructure I own today in my data centers that I would be better served having in the cloud?'"
Fortunately, this company had already embraced the need for digital transformation years ago. It adopted AT&T NetBond® for Cloud to allow software development to occur out of a cloud computing service for building, testing, deploying, and managing applications and services. Now it was ready for the next step: Move existing data currently housed in physical real estate to more future-flexible and better-protected co-location carrier hotels.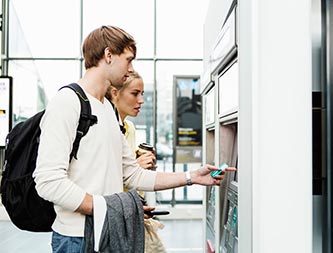 Financial Services
Inspire renewed loyalty, streamline operations, and position yourself to outpace competitors with integrated, data-driven solutions.
The challenge
Change can be hard, and disruptive. Yet change was necessary so this insurer could be nimbler, more efficient, and keep up with both competitive and policyholder expectations.
Pivoting to a new setup would require new learning. "It's a different skill set and a different way of operating," Harrell said, "when you transition from being one who configures networks to one who programs networks. But once you make that shift, it can allow you to be more agile."
The solution
The insurer engaged the problem solvers at AT&T Business for helpful guidance and advice about how to mitigate risk and to increase efficiency and flexibility. They decided on the following solutions:
AT&T Business Fiber – to provide a core network to connect all the company's key locations and assets to multiple, highly secure cloud locations. AT&T Business Fiber offers faster upload and download speeds, highly dependable backup internet, and increased network-based security.
AT&T Dedicated Ethernet – to provide a series of highly secure dedicated Ethernet connections for bandwidth-heavy applications like VoIP, video, and data center consolidation. Specifically, the insurer deployed more than a dozen point-to-point 10GB private lines as the core network to connect key locations and assets to multiple cloud locations. It now has the advantage of an agile, converged network to connect locations and integrate both legacy and leading-edge technologies in a highly secure, highly reliable environment.
AT&T Colocation – to provide a single point of contact for faster contracting, contracting under existing master agreement, pricing advantages, and term flexibility. This simplified the path to high performance, high-bandwidth connectivity for cloud solutions. This solution scaled to their business needs with access to 465+ facilities with robust interconnection services. Colocation facilities typically feature on-site emergency power generation and state-of-the-art fire suppression systems. These highly secure facilities offer industry-leading certifications and service level agreements (SLAs).
Change can be hard, and disruptive. Yet change was necessary so this insurer could be nimbler, more efficient, and keep up with both competitive and policyholder expectations.
Share this quote
The bottom line
This company's leadership team chose a flexible set of solutions better fit to their business that allows them to slowly transition services and applications from existing data centers to the cloud as needed over the coming years.
There's a reason AT&T serves nearly 80% of the top 25 property and casualty insurers in the U.S.1 By integrating this unique ecosystem of technology and expertise, this property and casualty leader is now seeing cost savings and improved uptime. Ultimately, it can react more quickly to the market and more frequently delight employees and customers.
Learn more about AT&T Dedicated Ethernet and colocation services for Financial Services providers, or contact your AT&T Business representative.
¹Top 25 companies according to Reinsurance News.