Build your own Next Generation Network with expert tips
Providing comprehensive advice on groundbreaking network technology designed to transform your business
At AT&T Business, we recognize how challenging it can be to select the right technology to achieve your business objectives. That's why we take every opportunity to explain emerging solutions that can help empower your business by changing the way you serve your customers and support your employees.
One example of an exciting and developing technology is called, "Next Generation Network (NGN)." An advanced type of converged network based on Internet Protocol, NGN comes in multiple configurations designed to best help you meet your business objectives. And in order for you to make the best choices for your business, you need to know the advantages of each type of NGN technology. We're here to help.
To demystify NGN for you and for businesses who come to us for technology solutions, we created a white paper entitled "Next Generation Networking Solution Dimensions" that explores 11 key facets of NGN technology. In this four-part paper, we delve into how Software Defined Wide Area Networks (SD-WAN) and Secure Access Service Edge (SASE) contribute to creating a solid NGN while helping create highly reliable, highly secure networks.
In Part I of the white paper, we considered four key network aspects of NGN: 1. physical transport, 2. customer-premises hardware, 3. SD-WAN platforms, and 4. Virtual Network Functions (VNFs). These aspects deal with the physical and virtual components in NGN.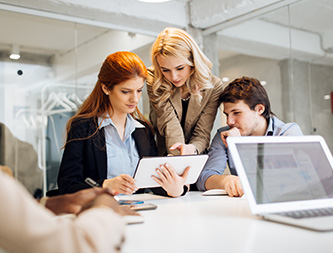 Network Services
Technology is changing rapidly and with that comes higher demands on your network while pushing bandwidth requirements to its limits.
In Part II, we cover the three dimensions of NGN that deal with operational considerations: 1. service providers: network and managed, 2. provider operational and business support systems, and 3. orchestrators and platforms.

Selecting a service provider is among the very first steps taken when building a network. It's a critical decision that affects how your network will be supported and maintained. We provide guidance on how to choose the right Managed Service Provider (MSP) for your specific business goals and needs.
Evaluating the different Operational Support Systems (OSS) offered by MSPs is also an important process when building a network. In Part II, we'll help you understand how these tooling and automation systems can maintain multiple network elements with robust workflow management and component integration support.
Finally, your choice of proprietary orchestrators and platforms will have significant impact upon your NGN environment by influencing the way you implement SD-WAN. Choosing the right solution for your needs will help reduce the likelihood of introducing bugs during routine updates and fixes, plus so much more.
Why AT&T Business?

AT&T Business is ready to assist you in harnessing NGN solutions that help advance your specific business priorities. With so many network configurations available, the right choice depends upon identifying the unique challenges and opportunities facing your business. That's why we invest the time in understanding your goals before recommending an ideal solution. Wherever you want to take your business, we're here to help you with the right solutions.
Read Part II of Next Generation Network Dimensions now. And learn more about how AT&T Business can help your business build a tailored network solution, visit www.att.com/networkservices or call 877-219-3898.
Request info
To get sales help from a Business Solutions specialist, please complete this form.