Powering digital transformation with network modernization
How Equinix and AT&T are building application-centric networks for future-proof digital infrastructure
The disruption sparked by the global COVID-19 pandemic was unprecedented in every aspect of our daily lives — touching our work, education, healthcare, social interactions and many of the staples that we depend on within a delicate global supply chain. As a result, IT organizations in every industry worldwide were forced to accelerate their digital transformation strategies.  
The Equinix Global Tech Trends Survey (GTTS) reported on 2,600 tech leaders' impressions of the impact of COVID-19 on their digital infrastructure plans worldwide. According to the results, six in 10 leaders said that they are revising their IT strategies as a result of the pandemic, and nearly half (47%) reported they accelerated their digital transformation plans.
In addition, 58% of IT leaders see interconnection as a key facilitator of digital transformation – up 9% from last year's results. The top interconnection benefits cited were the increase in connectivity flexibility, followed by improving network optimization. More than half of respondents said interconnection will help them gain competitive advantage, while 50% of IT leaders globally believe interconnection is key to the survival of their business.
Equinix 2020-21 Global Tech Trend Survey: Interconnection Responses

Building application-centric networks for future-proof digital infrastructure
The recent ITPro white paper "Fortifying IT Against Disruption" recommends three critical IT strategies that ensure business resiliency and continuous growth:
By rightsizing networks, you can deliver experiences with greater agility — choosing the right connection for each business-location need, matching application requirements and usage to the right networking technology.
Using edge technology, you can improve application performance by placing digital infrastructure at the edge, adjacent to dense concentrations of clouds, networks, and users.
By deploying direct and highly-secure, private interconnection across strategic ecosystems of partners and providers, you can accelerate growth and gain agility across ecosystems, connecting with individual partners/providers or linking them together as a group. According to the Global Interconnection Index Volume 4, enterprises and service providers are utilizing interconnection to support these processes by connecting to strategic ecosystems, both in the cloud and at the edge.
Percentage of Interconnections by Ecosystem (2019 & 2023)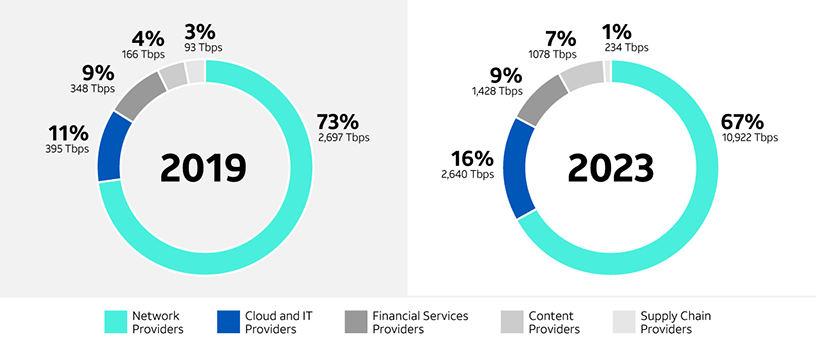 The basic principles behind these strategies may seem subtle but they carry a lot of weight when it comes to providing the best performance, scalability, and security when transferring workloads to distributed users, between clouds and IT infrastructure, and among partner and service provider ecosystems. The secret ingredient behind all these principles is "proximity." By placing IT infrastructure and network access to service provider resources (e.g., clouds, networks, SaaS, etc.) at the edge, close to the users, systems and services that need them the most, you will achieve the network optimization and agility that modern digital infrastructure requires.
According to a recent IDC eBook, "For an organization to successfully digitally transform and become what IDC calls a Future Enterprise, it will need to embrace Connectedness, usually in the shape of a digital-native network. This is an application-centric network that supports the right end-user experience for each application and user." i
Equinix and AT&T Business have joined to help their customers transform their networks so that, whether their applications are in the public cloud or on-premises, global users receive the performance and security they require.
How Equinix and AT&T Business are modernizing networking
Equinix and AT&T Business are transforming companies today through greater network optimization and agility. AT&T and Equinix have been selling solutions together globally for over six years to organizations of all sizes. In fact, Equinix recently named AT&T its Global Transformation – Reseller and Americas Partner of the Year.
As the world's digital infrastructure company™ with more than 220 data centers worldwide and the largest, most active global ecosystem of networks, clouds, and IT service providers, Equinix enables digital leaders to bring together and interconnect the foundational infrastructure that powers their success. AT&T Business has established direct on-net networking in most of Equinix's data centers around the globe with the fastest nationwide 5G network. This collaboration provides enterprises with industry-leading connectivity solutions that accelerate digital transformation initiatives, while reducing latency, increasing flexibility and improving overall network performance.
Together, Equinix and AT&T's combined solutions enable organizations to facilitate the seamless and secure exchange of data among edge and core infrastructure and partners and providers.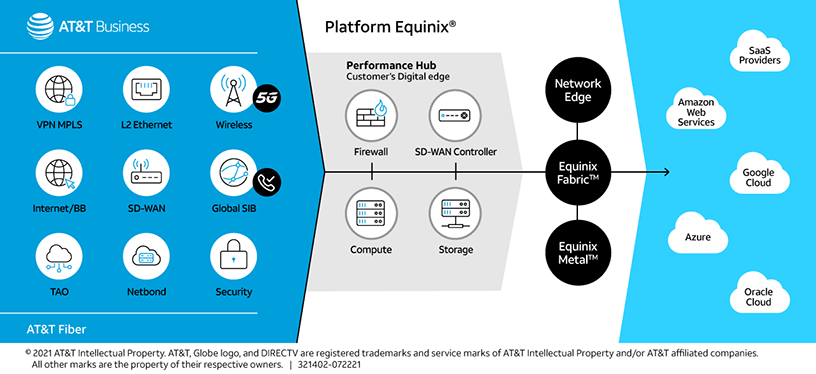 Accelerating digital transformation via fast and secure, geo-redundant cloud on-ramps
By leveraging Equinix Fabric™, as well as its extensive portfolio of cloud-connected data centers, AT&T customers can transform their networks and accelerate the deployment of hybrid multicloud architectures. Whether applications are in the public cloud or a vendor-neutral Equinix facility, they can achieve the global performance, security and manageability today's businesses need, without backhauling all workloads over legacy MPLS networks. In combination with AT&T Business solutions, Equinix provides hybrid multi-cloud with "last mile" access.
Platform Equinix offers direct access to prebuilt AT&T Ethernet, including AT&T Switched Ethernet (ASE), AT&T Switched Ethernet On-Demand and AT&T Dedicated Ethernet (ADE) via Equinix Fabric with speeds of up to 100G. This includes all AT&T WAN services including EPLS-WAN, AT&T Virtual Private Network and AT&T Dedicated Internet. Companies that require global, software-defined interconnection have the option of AT&T NetBond® for Cloud, which supports direct connections to a number of leading cloud service providers. Rapid access to the AT&T network from most of Equinix International Business Exchange™ (IBX®) data centers with direct connections to AT&T WAN services and pre-built AT&T Ethernet are streamlined via Equinix Fabric virtual connections.
According to Flexera's 2021 State of the Cloud Report, more than 92% of enterprises today have a multicloud strategy.i With Equinix Fabric, AT&T and Equinix customers can quickly (in minutes versus months) deploy multiple virtual connections to any number of cloud service providers (CSPs) through a single physical port versus multiple circuits to each CSP, saving significantly on cloud connectivity costs. And because there are so many direct and secure "cloud on-ramps" within Equinix global data centers, virtual private network usage over the internet is reduced because you have dedicated private connections to the CSP of your choice.
Equinix Fabric also interconnects our joint customers' digital infrastructures globally on Platform Equinix, enabling greater regional cloud access and redundancy. By deploying Equinix Fabric software-defined interconnection in strategic metro hubs nationwide, our customers can leverage reliable cloud access among multiple cloud availability zones across Equinix's global footprint.
Equinix and AT&T Geo-Redundant Cloud Availability Zones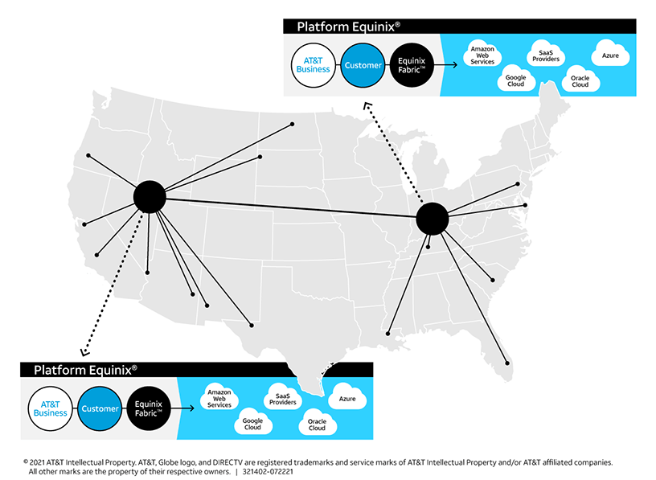 How you design your network matters
How you design your network really does matter. And that architecture should consider the applications that are the most important to you and how and where they are being used. Ultimately, it should enable you to manage and exchange data globally while reducing latency, risk and cost, and increasing scale and performance.  
Equinix and AT&T Business help digital leaders build and interconnect hybrid IT infrastructure that can be easily replicated in strategic locations — where it really matters to your business. We'll enable you to transform how you interconnect with users, applications, and partner ecosystems and ultimately, future-proof your business.
Learn more about Equinix and AT&T Business solutions.
i IDC, "The Future of Connectedness and the Digital-Native Network," Doc #US46992520, November 2020.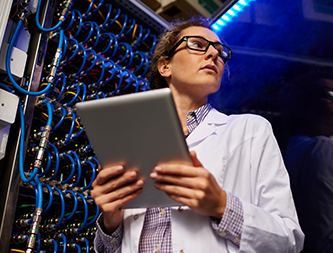 Cloud Based Solutions
Flexible, high-performance cloud services for the way things work today.