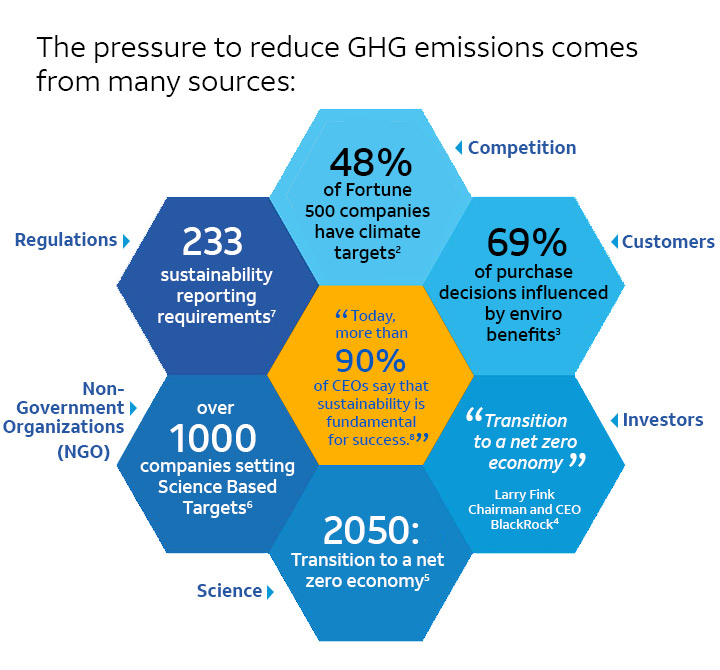 New and emerging technologies can help you make better business decisions, improve efficiencies, save money, and even drive new revenue opportunities.
Download the whitepaper
Broadband-enabled solutions can help companies reduce emissions and improve business performance
Current and emerging broadband-enabled solutions such as IoT and 5G/edge computing solutions can help businesses make better decisions, improve efficiencies, save money, reduce GHG emissions, and even drive new revenue, all while solving tough operational problems. Investment in the right technology can pay for itself.
Efficiencies and development
IoT delivers near-real-time insights and analytics to many aspects of your business, so you can make data-driven decisions that streamline processes, lower operating costs, and drive value. Add 5G, artificial intelligence, video analytics, augmented reality, and other technologies, and the sky's the limit on innovations in operations.
Customers are looking for ways to reduce their impact on the environment. Have you considered how your products can be enhanced by integrating connectivity into their value proposition? We can help you integrate connectivity into your next generation of products and services, giving you the potential to drive emissions reduction, grow new revenue, and delight your customers. 
Operational efficiencies


Equipment performance insights
Optimized maintenance
Reduced electricity, fuel, water, and raw materials


Connected Product Development


Continuous monitoring enables resources efficiency
Enables transition to renewable/smart energy
Continuous data enabled business models that support low emissions innovation
Use cases
Reducing waste and emissions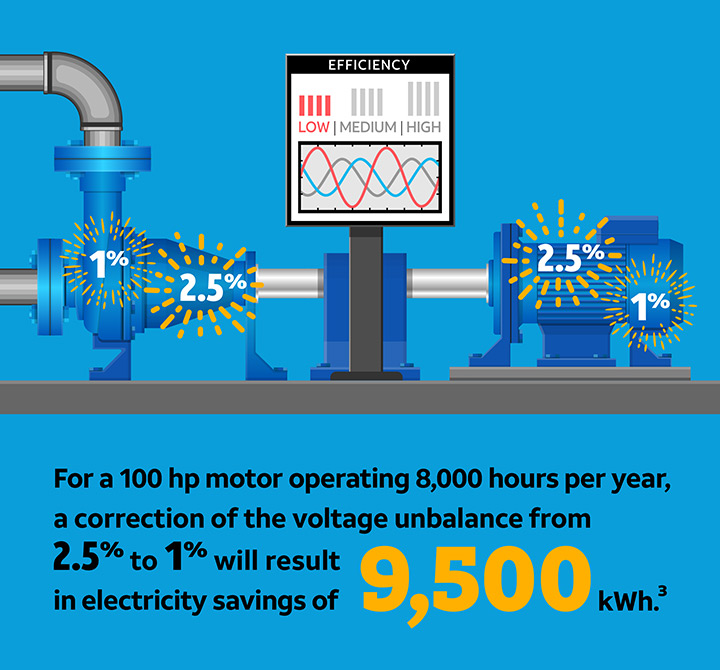 AT&T 5G/MEC
Small problems can waste money and energy at a plant. AT&T Multi-Access Edge Computing (MEC) + 5G can help you identify and address these inefficiencies and reduce emissions.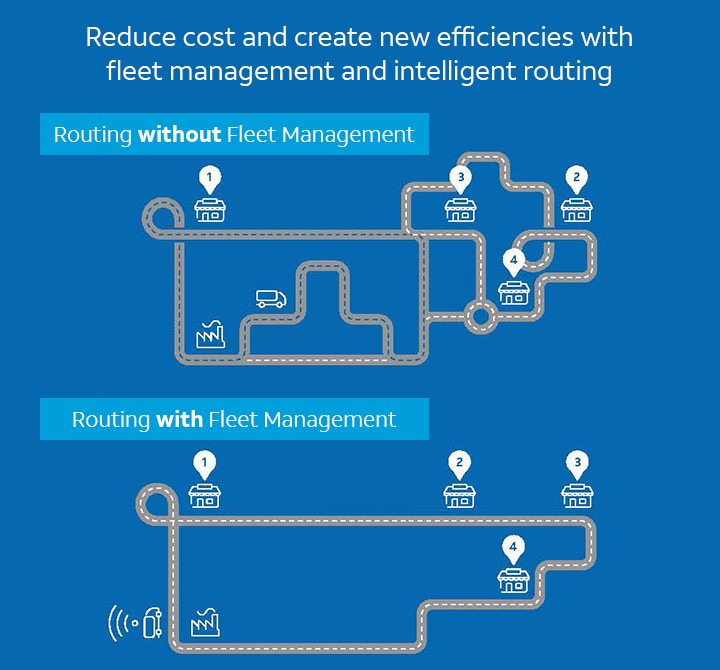 IoT and fleet telematics
Fleet and workforce management solutions can help businesses reduce idling times and monitor driver behavior with an eye towards reducing fuel usage and associated GHG emissions.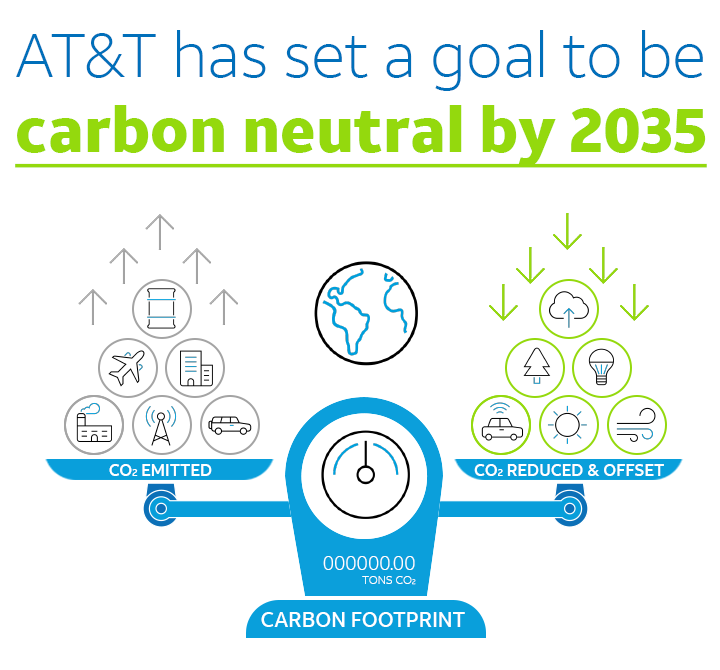 Our carbon neutral goal shows our commitment to reduce our own emissions as well as delivering solutions that help our customers achieve their net zero ambitions.
AT&T Business answers the call to help relieve climate impacts
We've established a new goal to deliver connectivity solutions that enable business customers to reduce a gigaton (1B metric tons) of greenhouse gases through a program called the Connected Climate Initiative.  Working with other companies, nongovernmental organizations, and universities to scale today's—and develop tomorrow's—smart connectivity solutions for addressing climate change, focusing in these areas:
Exploring the possibilities of 5G

Funding research at leading universities to explore how 5G can enable emissions reduction in areas like transportation, energy and manufacturing.

Co-creating solutions with customers

Engaging businesses across various industries to identify connectivity-driven use cases that enable business value and result in emissions reduction.

Fueling innovation and disruptive technologies

Supporting disruptive technologies through the largest climate tech innovation cohort in the world.  

Joining forces

Collaborating on joint product offerings around digital transformation, making service integration easier and faster to deliver, helping customers drive emissions reduction.
Our projects result in solutions that businesses can use to lower environmental impacts, ultimately eliminating at least a gigaton in emissions by 2035. We will use our findings to implement faster, bolder innovations that help deliver the massive emissions reductions needed to achieve global climate goals for years to come.
Impact area

Solutions and benefits

Emissions-reducing services


IoT Professional Services
Connect your IoT devices to the new or legacy cloud or enterprise platforms. Get the most out of your IoT investment, including the data needed to reduce emissions.


Fleet Management
Leverage vehicle use data to create programs that reduce emissions by reducing idling and speeding while optimizing routes.

Manufacturing
Monitor and control equipment on the factory floor to increase energy efficiency and reduce process waste.

Energy and Building Management System
Monitor and reduce energy usage in your facilities - from offices to factories - by collecting equipment performance data into a single system that alerts if energy is being wasted.

Asset Management
Track stationary or mobile assets to prevent loss, reduce inspection and maintenance trips and optimize energy efficiency.

Connectivity solutions


IoT, Global IoT
Connected devices make it possible to collect data that opens doors to efficiency. Our global capabilities can extend this efficiency around the globe.


Private Cellular Networks
Private networks provide control, flexibility and data management.

5G
High speed and low latency opens doors to performance management.


Multi-Access Edge Computing (MEC)
Edge computing enabled enterprise-grade security and privacy, combined with low latency, enables new kinds of innovations such as video and AI.

Core network services


Fiber connectivity, Wireless connectivity, and FirstNet
The foundation of our value to customers, our network provides the speed, security and dependable connections that make many emissions-reducing tools possible.

Sustainability professional services

Sustainability performance
Measure environmental impacts and benefits of connected solutions and identify improvements for potential operational and environmental efficiency.

Environmental optimization 
Extend capabilities of technologies that are already in use to improve environmental outcomes.

Sustainability advisory
Leverage our expertise in executing large-scale corporate sustainability programs.

Climate adaptation & resilience
Better understand climate risk to your business by leveraging GIS-ready data from AT&T's Climate Change Analysis Tool (CCAT).* Identify potential impacts of climate change on your operations—at the local, even neighborhood scale—up to 30 years into the future.

Sustainability Transformation
Move from optimization to transformation in sustainability performance while creating business models of the future.

Why choose AT&T

AT&T is uniquely positioned to provide solutions from our network to your hardware to edge-to-edge solutions. Whether you're looking for ways to save money by reducing resources, drive new revenue from environmentally preferable products, or show your commitment to shrinking your environmental impact, we can help. Smart climate solutions: good for our businesses and our planet. That's the power of AT&T connectivity.
*Data only available for select geographical regions
AT&T Business helps companies integrate GHG emissions reduction into operations, products, and services. We can help you meet your emissions reduction goals and unlock business value with solutions that fit your specific needs.
Talk to your representative or complete the form below to learn more
AT&T business experts are available M - F 7am - 7pm CT
Request info
To get sales help from a Business Solutions specialist, please complete this form.
Your feedback will help us to improve AT&T Business so you continue to have a great experience when visiting us!
This survey is conducted by an independent company ForeSee for AT&T.