AT&T Managed Wireless WAN puts power of 5G in hands of businesses without the hassle
As today's businesses seek to digitally transform themselves to seamlessly facilitate the new normal in remote and flexible work arrangements—not to mention changing customer expectations--wireless technology plays a pivotal role. No matter the size, successful businesses are increasingly turning to 5G connectivity to untether locations, assets and people, and to adjust to rapidly changing business conditions without the hassle or limitations of hardwired connections.
AT&T recently unveiled a new plug-and-play offering for business customers that makes it easy for them to set up quick wireless connectivity where wired connections are unavailable, costly to deploy, or require long lead times. AT&T Managed Wireless WAN is a work-from-anywhere powerhouse that puts Cradlepoint 5G wideband modem hardware in the hands of businesses without burdening them with the management or upfront infrastructure costs to run it.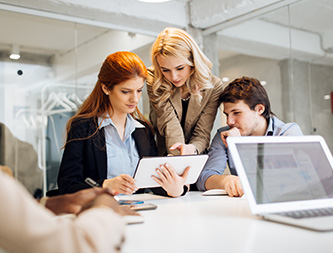 Network Services
Technology is changing rapidly and with that comes higher demands on your network while pushing bandwidth requirements to its limits.
AT&T monitors and manages the Cradlepoint hardware, maintains the equipment and licensing, and provides it all for a fixed monthly fee.  AT&T Managed Wireless WAN can connect any number of endpoints, located virtually anywhere.
It provides high quality Internet access to support a wide variety of uses. It also gives you the ability to have internet access without relying on a local carrier to deliver a circuit.

AT&T Managed Wireless WAN provides a simple route to cost-effectively leverage the power and flexibility of 5G wireless connectivity at remote, branch, and temporary locations, among other situations. It makes sense for a wide range of use cases, including:
Work from anywhere: Special wireless connection for your business at home or
nearby location
Popup locations: Temporary solutions for special events, trade shows, construction site trailers and flea markets
Retail: Quick deployment option for kiosks, ATMs, fiber buildouts in progress, and store in a store
Fiber out of footprint: Fiber not available or competitor too expensive
Failover solutions: High availability, continuous service when main connection fails, particularly good for SD-WAN customers seeking secure, reliable, and fast primary of secondary link
Because AT&T 5G provides fast download speeds, lower latency, and more capacity and connectivity for millions of devices, business use cases are virtually endless*. AT&T does all the technical legwork on the back-end to make it easier for businesses to get the most out of the service. AT&T Managed Wireless WAN provides high-touch management from AT&T network experts that includes 24/7 support with proactive monitoring and remote troubleshooting, that will:
Automatically connect, license, and configure the device
Monitor solution signal strength, reliability, and health
Diagnose and solve actionable alerts
Perform software upgrades
Provide a single point of contact for support
Offer easy access to cloud-based tools providing network visibility reporting and analytics


*Connectivity plans sold separately.
To learn more about how AT&T Managed Wireless WAN can help your business.