How SD-WAN helps healthcare produce better patient outcomes
Software-Defined Wide Area Networks (SD-WANs) can be game changers for healthcare administrators and clinicians alike.
For administrators, SD-WAN can help simplify the process of managing a complex network by centralizing management, automating processes, creating network performance visibility, and providing granular security policies. This approach can help healthcare organizations comply with regulatory requirements like the Health Insurance Portability and Accountability Act (HIPAA) and Payment Card Industry (PCI) compliance and ensure that sensitive patient data is protected.
For healthcare providers, SD-WAN can help improve patient outcomes by ensuring that critical clinical applications for things such as electronic health records (EHRs) perform well and are always available. This can lead to faster and more accurate diagnoses, better communication between providers, and ultimately, better patient care.
Overall, SD-WAN can be the fabric that helps healthcare organizations navigate complex regulations and improve patient outcomes. Providers who implement this approach are joining a solid trend toward network modernization.
Adoption of SD-WAN is projected to increase at a compound annual growth rate (CAGR) of 31.2% between 2022 and 2030, from $3.5 billion to $30.9 billion, according to a Netify report.1 "The adoption of SD-WAN has rapidly risen due to businesses implementing 'work-from-home' initiatives resulting from the pandemic and the requirement for cost-effective network management and automation," Netify reported.
As the healthcare industry continues to evolve and embrace digital transformation, SD-WAN is likely to play an increasingly important role in helping enable better patient care and outcomes.
But what exactly is SD-WAN?
An introduction to SD-WAN
SD-WAN is a technology that simplifies the management of Wide Area Networks (WANs) by separating the network's control plane from its data plane. It allows organizations to connect multiple sites, such as branch offices and data centers, and provides a centralized view and control of their network.

SD-WAN uses software to create an overlay network that complements and enhances the underlying physical network, such as Multiprotocol Label Switching (MPLS), switched Ethernet, dedicated internet, broadband, or 5G. SD-WAN uses artificial intelligence (AI) and real-time network analytics to ensure the routing of critical clinical applications meets the performance needs of the application end users, typically doctors and nurses. SD-WAN does this by using software-based policies to prioritize and direct traffic based on application type, user, transport link availability, tunnel performance, or other criteria, and dynamically adjust the network's bandwidth and performance to ensure the best possible user experience.
The basic components of SD-WAN architecture are:
Network transport: SD-WAN is inherently network transport agnostic. It can support nearly every kind of transport type as its foundation such as: MPLS, Ethernet, dedicated internet, broadband, microwave, and 5G mobile networks. However, at the end of the day, SD-WAN fabric is only as good as the collective pipes it runs on.
Edge devices: These are typically physical or virtual appliances that are installed at the network edge, such as in branch offices, data centers, or cloud environments. They provide connectivity to the underlying network. These devices automate transport link redundancy and enforce policies and security measures.
SD-WAN orchestrator: This is the centralized management and orchestration component of the system. It provides a single pane of glass to monitor network performance, configure network policies, and automate the provisioning of new devices and services.
Overall, SD-WAN can offer several benefits over traditional WAN architectures, including improved application performance, increased reliability, reduced costs, and easier management and administration.
Challenges to a high-performing healthcare network
Healthcare organizations present unique challenges for an effective SD-WAN implementation.
Compliance requirements: Healthcare organizations must comply with regulations such as HIPAA that govern the protection and confidentiality of patient data.
Network performance: Healthcare organizations often support a large volume of data, including medical images, electronic health records (EHRs), and real-time patient monitoring, which requires a fast and reliable network to transmit.
Multiple location types: Healthcare organizations often have multiple locations, including hospitals, clinics, and remote care facilities, which need to be connected and integrated into a single network. Each site type has its own set of network requirements.
High availability: Network availability is critical in healthcare. Downtime can result in missed diagnoses, treatments, or other medical procedures.
Overall, SD-WAN can offer several benefits over traditional WAN architectures, including improved application performance, increased reliability, reduced costs, and easier management and administration.
Share this quote
How SD-WAN can help healthcare providers
Implementing SD-WAN can help healthcare providers in a number of ways:
Maintain regulatory compliance: SD-WAN provides end-to-end encryption, secure authentication, and the ability to enforce policies to ensure compliance with regulations like HIPAA and PCI.
Enhance security across campuses and use cases: SD-WAN lays the foundation to deliver highly secure cloud access so users get robust protection for a distributed workforce, enabling consistent policy enforcement across locations. In addition, SD-WAN can integrate advanced features such as security remote access (SRA) and security web gateway (SWG) as you build zero trust network access (ZTNA) to prevent unauthorized access to your business environment end to end.
Quickly address dynamic network requirements:  SD-WAN provides a flexible and available network infrastructure. IT teams can quickly and easily provision new sites, configure security policies, and troubleshoot issues from a single location. Additionally, SD-WAN can use multiple paths and protocols to route traffic, including the internet, which can reduce latency and improve performance. This flexibility allows healthcare organizations to adapt to changing network requirements and scale operations efficiently.
Scale operations through central management: SD-WAN can help enable central management of a healthcare organization's network infrastructure through a single dashboard, which simplifies the process of provisioning new sites, configuring security policies, and troubleshooting issues. It also improves application performance by prioritizing traffic based on application type and user, while providing granular security policies that can be enforced across the entire network. Additionally, SD-WAN can scale to accommodate new locations, users, and devices without significant infrastructure changes, making it an ideal solution for healthcare organizations that need to scale their operations.
Drive cost efficiency: SD-WAN reduces healthcare organizations' reliance on expensive private network infrastructure. By using switched Ethernet, dedicated internet, broadband, or 5G connections, healthcare organizations can reduce their WAN costs while maintaining the same level of performance and security. Additionally, SD-WAN's centralized management and automation capabilities can reduce IT costs and free up resources to focus on strategic initiatives.
Provide superior uptime and reliability: SD-WAN provides high availability through multiple paths, ensuring that the network remains available even if one path fails.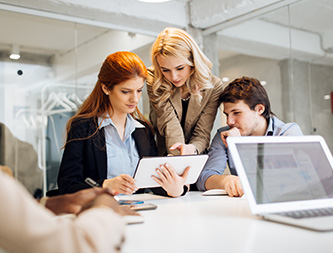 Network Services
Technology is changing rapidly and with that comes higher demands on your network while pushing bandwidth requirements to its limits.
Assessing SD-WAN for your healthcare organization
Before implementing SD-WAN, it's important to assess the existing network infrastructure and determine the network requirements for each location. You should work with a vendor or service provider such as AT&T Business that specializes in SD-WAN solutions.
We can assess your current network infrastructure, identify potential areas for improvement, and develop a customized SD-WAN solution that meets your specific needs. We can assist with application environment assessment to ensure existing applications or systems in place are prepared for the new software-defined architecture. We can also help you select the right edge devices, configure security policies, and provide ongoing support and maintenance for the devices and software code.
Here are a few high-level suggestions as you embark on the journey:
Consider "Fast Start" consulting: Fast Start can help you accelerate the process of planning, designing, and launching new initiatives, and to provide you with the support and guidance you need to achieve your goals more quickly.
Consider creating a proof of concept (POC) or operational lab: POC labs are designed to replicate real-world conditions, allowing you to simulate different scenarios and test the performance, functionality, and interoperability of new solutions before implementing them in production.
Engage principal architects (PA), sales system engineers (SSE), and edge specialists: PA /SSE/edge specialists are professionals who specialize in the design, implementation, and management of network and computing infrastructure for edge computing environments.
Evaluate your "work from home" requirements: Make sure you understand how best to support these users with modern SD-WAN technology to increase efficiency and improve the remote work experience.
Consider using on-site/real hardware instead of virtual licenses or virtualized network functions (VNFs) in the cloud: On-site/real hardware can offer several benefits, including greater control over the network infrastructure, higher levels of performance and reliability, and greater security. However, it can also be more expensive to purchase and maintain and may require more technical expertise to manage and configure.
Consider site typing: When implementing SD-WAN or designing a network, different locations may have varying network requirements based on factors such as size of location, number of users, type of applications, and bandwidth requirements. Site typing can help to identify these requirements and ensure that each location is provisioned with the appropriate network resources.
Select a managed service provider: Hiring a managed service provider can bring expertise, cost savings, increased uptime and availability, and enhanced security. It can also enable businesses to focus on core activities.
Consider augmenting your staff to build expertise and experience: Staff augmentation can help provide additional skilled resources to supplement your existing team, allowing for faster deployment, reduced workload, and improved support and maintenance of the network.
Keep it simple: Look for simple designs that don't tax SD-WAN tunnels and add to complexity.
SD-WAN offers numerous benefits to healthcare organizations, including improved network performance, increased security, and easier management of multiple locations. However, healthcare organizations must carefully plan and execute the implementation of SD-WAN to ensure its success.
Contact your AT&T Business representative or learn more here.