AT&T Network Edge benefits
Connect at the edge and innovate
Features
Take your business to the next level with AT&T Network Edge
Fast, low latency AT&T 5G connectivity integrated with edge computing through the shortest path.

End-to-end optimized connectivity for moving data and workloads between the regional cloud and edge cloud.

End-to-end security protects systems, data, and users.

Automatic routing of local 5G user traffic to the edge with no special configurations or service add-ons.
Innovations with AT&T Network Edge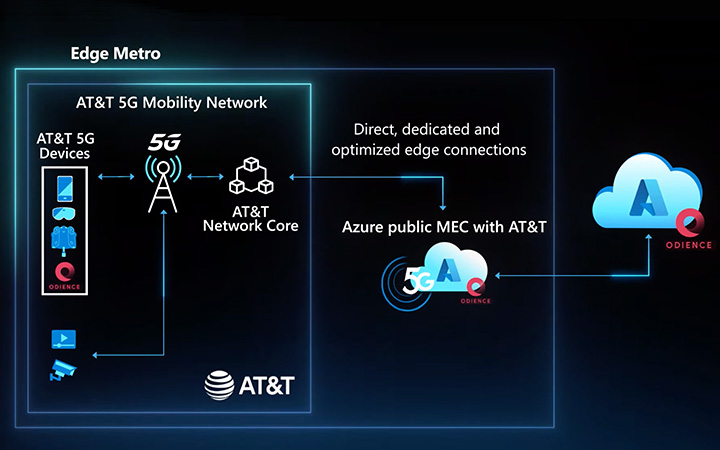 Transforming how we shop
AT&T low-latency 5G connectivity and Microsoft Azure edge compute with Summit Tech's Odience platform bring interactive, live-streaming shopping experiences.
Watch now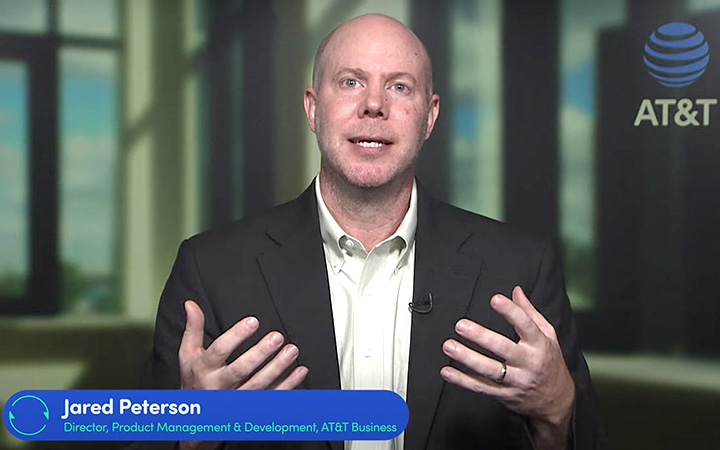 Accelerating edge-based service delivery
AT&T collaborated with Spirent and Microsoft  to measure performance metrics including latency, jitter and bandwidth for apps and services deployed on Azure public MEC.
Watch now
AT&T Network Edge use cases
Automation and cost optimization


Problem: performance  and reliability of data-intensive technologies such as sensors and cameras
Benefits: structure/equipment safety, avoiding costly workflow failures
Solution: capture cloud data at the edge in near real-time using 5G devices

Improving the driver experience


Problem: situational awareness of connected driving systems
Benefits: safer, more efficient driving experience
Solution: connect vehicle sensors and cameras at the edge, and exchange information with pedestrians and road infrastructure

Future of care


Problem: lack of visibility inside and outside of healthcare facilities
Benefits: increase situational intelligence to improve outcomes
Solution: 5G-connected devices that monitor patients at the edge cloud for near real-time communications and response

Enhancing the retail experience


Problem: need to provide a differentiated and immersive shopping experience for customers
Benefits: processing at the network edge reduces bandwidth and latency, while saving device battery life
Solution: live-streamed shopping experiences with 5G-connected devices delivering a high-quality viewing experience

Learn more here
What is AT&T Network Edge?
AT&T Network Edge provides fast, low latency application processing at the edge of customer networks by bringing together the AT&T 5G network and cloud services to process data locally from 5G-enabled devices.

What can AT&T Network Edge do for my business?
AT&T Network Edge provides low-latency, optimized connectivity to cloud service provider edge zones. Enterprises and developers can run applications requiring low latency, security, reliability, reduced jitter, and high-bandwidth, by placing workloads, compute, storage, and edge services closer to the end user. By processing data through the shortest path, AT&T Network Edge enables you to generate measurable results in near real-time from the data captured by 5G devices.
How is AT&T Network Edge different than AT&T MEC?
AT&T Multi-Access Edge Computing (MEC) is an on-premises edge solution where we deploy private spectrum, dedicated radios, and compute on-premises. This helps bring cloud computing capability to the on-premises network edge and helps you get the most out of your mobile devices and your local cellular network.
AT&T Network Edge is a metro edge solution that takes the power of AT&T's 5G network connectivity and pairs it with cloud service providers so developers can create and deploy next generation experiences – either on-premises or off-premises, in a targeted metropolitan area. AT&T Network Edge allows you to move servers from on-premises to an edge cloud – freeing up physical space and IT staff for critical, high bandwidth, on-premises applications.
What cloud service providers is AT&T Network Edge compatible with?
AT&T has established optimized, low latency-connectivity with Microsoft (Azure public MEC with AT&T). Additionally, we are seeking customers who are interested in participating in a Proof-of-Concept technical trial with Amazon Web Services Local Zones.
How many metro locations is AT&T Network Edge connected to?
AT&T Network Edge is available with Microsoft Azure public MEC in Atlanta, Dallas, and Detroit, with additional metros coming soon.
How do I get started?
Customers can purchase edge cloud services and AT&T Network Edge connectivity directly from cloud service providers in one or more edge zones that are enabled by AT&T Network Edge.
Resources
Learn more about AT&T Network Edge
Talk to an AT&T Business expert
Monday - Friday, 7am - 7pm CT
Request info
To get sales help from a Business Solutions specialist, please complete this form.
Your feedback will help us to improve AT&T Business so you continue to have a great experience when visiting us!
This survey is conducted by an independent company ForeSee for AT&T.