AT&T wins Company of the Year Award in Global Cellular IoT
Frost & Sullivan award recognizes AT&T Business for visionary innovation, market-leading performance, and unmatched customer care
AT&T Business has won the 2020 Company of the Year Award for the Global Cellular Internet of Things (IoT) Industry, Excellence in Best Practices. Frost & Sullivan, a business consulting firm, granted the award to recognize AT&T Business for visionary innovation, market-leading performance, and unmatched customer care.
Frost & Sullivan's global team of growth pipeline experts continuously identifies and evaluates growth opportunities across multiple industries, technologies, and regions of the world. The firm believes that every company competing in the IoT space is obligated to address three key strategic imperatives: industry convergence, disruptive technologies, and innovative business models. The recognition of AT&T Business reflects how well it is performing on these imperatives.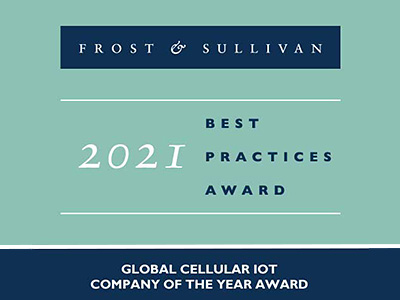 Internet of Things (IoT)
Drive your innovation into the future with our best-in-class IoT solutions. Discover why we're recognized by Frost & Sullivan as the 2021 Company of the Year for Global Cellular IoT.
Market leader for 5 years
AT&T Business, a pioneer in cellular IoT, has been the market leader for more than 5 years. The company has weathered the storm during the COVID-19 pandemic by aggressively investing in network enhancements and new devices.
AT&T Business has experienced impressive momentum in the automotive industry, according to Frost & Sullivan. We are the exclusive cellular provider for the American Center for Mobility, a smart mobility test center for safe interoperability testing and validation of connected and automated vehicle services and mobility technologies.
"COVID-19 has completely disrupted expectations on the markets that were expected to grow in IoT," said Dilip Sarangan, Sr. Director of Research at Frost & Sullivan. "While markets such as manufacturing have suffered, markets demanding cellular IoT solutions such as supply chain, asset tracking, and public safety have thrived. AT&T is well-positioned to capitalize from this trend and continue to lead the market over the next few years."
IoT by nature is complicated. Uncomplicating it is the silver bullet that will accelerate adoption of IoT technologies and advance the industry.
Share this quote
Untangling complexity
AT&T Business continues to innovate and simplify IoT deployments for its customers. The IoT Gateway provides a single point of integration for IoT devices, third party applications and platforms, disparate networks, and IoT platforms. The AT&T IoT Console provides unified reporting and data analysis in addition to an integrated dashboard of devices on one panel to allow customers to use best-in-class systems that help integrate seamlessly.
"IoT by nature is complicated," said Sarangan. "Uncomplicating it is the silver bullet that will accelerate adoption of IoT technologies and advance the industry. AT&T has made significant strides in ensuring that organizations can realize the unlimited potential promised by IoT."
Continuous innovation
While AT&T Business has enjoyed an extended run as the market leader in cellular IoT, it continues to innovate to maintain and grow that position. The company has centralized innovation within their new 5G Innovation Center in Plano, TX. In addition, the company collaborates with companies such as Microsoft, Google, AWS, IBM, Samsung, and universities.