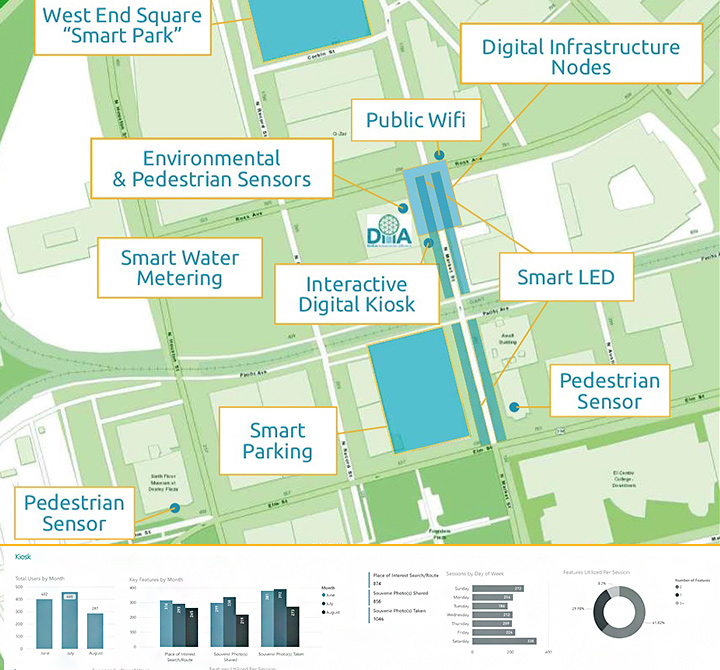 Living Labs – real insights on Smart City use cases
The Dallas Innovation Alliance (DIA), a 501c(3) public-private partnership, created the DIA Smart Cities Living Lab powered by AT&T. It's a 4-block corridor in downtown Dallas and houses 9 integrated smart city projects. It also represents the fastest-to-market smart cities initiative in the country.

"This effort is the culmination of the hard work and dedication of our partners across the City of Dallas, civic, academic, corporate partners and the community. We are particularly grateful for the support and leadership of AT&T in making this vision a reality for Dallas." Jennifer Sanders, DIA Executive Director
Smart City projects can help you realize your city's vision
Unlock the value of data being generated by connected things
Quickly address issues for the communities you serve
Smart Cities Operations Center
Gain valuable insights into your operations with a single interface across departments.
Smart Irrigation
Reduce water use and save money. Your bottom line and the environment will thank you.
Smart Lighting Infrastructure
Transform your existing lighting infrastructure into an IoT platform.
Structure Monitoring
Use wireless sensors on key infrastructure to improve planning and lower costs.
Smart Cities solutions
Learn which solutions can best address your needs
Products
Purpose
Benefits
Smart Cities Operations Center
A software solution that aggregates data from multiple sources in near-real-time and visualizes them in a centralized dashboard.

Customized dashboards offer leaders data-based insights to drive outcomes such as:

Better deploy resources
Minimize crisis response times
Improve service delivery

Smart Irrigation
Ability to monitor and control site-specific watering, detect leaks and adjust remotely with IoT enabled irrigation controllers.

Improve financial and operational costs
Positively impact sustainability goals
Reduce water consumption and improve efficiency

Smart Lighting Infrastructure
Transform your existing lighting infrastructure into an IoT platform and gain operational agility and actionable insights through near-real-time controls.

Rapid deployment with LTE

Reduced energy consumption and CO2 emissions through LED retrofit

Flexibility and further energy savings through dimming and scheduling

Structure Monitoring
Monitor structural and environmental factors in near-real-time via Internet-enabled devices installed on targeted infrastructure.

Improve infrastructure planning and safety with advancements in structural monitoring
Reduce the number of manual inspections which could lower operations costs
Battery operated and quick installation
Smart Cities resources
Learn about AT&T Smart Cities stories
Request info
To get sales help from a Business Solutions specialist, please complete this form.
Your feedback will help us to improve AT&T Business so you continue to have a great experience when visiting us!
This survey is conducted by an independent company ForeSee for AT&T.