Gaining visibility into fleet operations using open technology platforms
See how Napa Transportation utilizes AT&T telematics solutions to achieve a competitive advantage
When Napa Transportation, a family-owned trucking business founded in 1991, wanted to deploy a new telematics solution for its 400+ drivers, a key objective was to have an integrated solution that would help visualize fleet and driver activities, and support near-real-time decision-making for the fleet. The AT&T Fleet Management solution, powered by the Geotab platform, was a natural choice for Napa.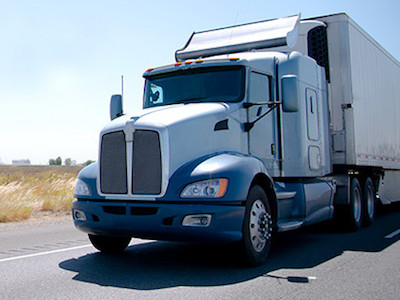 Transportation Solutions
Transportation companies are turning to technology to gain a competitive edge, reduce costs and create new efficiencies.
The Geotab SDK, or Software Development Kit offered a powerful set of tools for automating tasks and working with business data. Whether it was latitude and longitude information, and pre and post trip inspection data being pulled back into internal systems, or mileage reporting from the Geotab portal being pushed into maintenance applications, the open platform greatly simplified the interoperability between different systems. Custom integration that was built into Napa's driver apps, like a Geotab HOS (Hours of Service) widget, meant that drivers would not have to switch back and forth between multiple apps. This was very important from a safety as well as an efficiency standpoint. The platform also offered great flexibility in allowing Napa's IT teams to set up the Geotab portal the way they wanted to see it, with the reports they monitor, and the data collection that supported their business operations needs.
The platform also offered great flexibility in allowing Napa's IT teams to set up the Geotab portal the way they wanted to see it.
Share this quote
For Jim Brighton, IT Director at Napa Transportation, a key advantage of the new fleet platform was the ability to address HOS and ELD compliance regulations, while also gaining access to critical information such as driver behavior and fleet violations so corrective action could be taken immediately. The open APIs from the platform enabled simple integration to business systems and delivered reports with near-real-time data about driver routes and trips, fuel usage tracking, and active diagnostics for predictive vehicle maintenance. Beyond the built-in integration with compliance tools such as HOS, IFTA and DVIR into a cost-effective suite, the Geotab app also offers a range of add-ins or custom solutions. These add-ins give the Geotab app the power to integrate with any software and operation. The possibilities are endless with the power of SDK providing fleet operators extended functionality and flexibility.
For more info on AT&T Fleet Management solutions, visit att.com/fleetmanagement.