AT&T launches integrated blockchain solutions for businesses
Learn more about our AT&T suite of blockchain solutions
Nearly a decade ago, blockchain was created to help power a new cryptocurrency known as bitcoin. What has happened since then – notably over the last few years – is nothing short of historical.
Similar to how few predicted the meteoric rise of bitcoin's value, the widespread potential of blockchain was also unexpected. The technology is no longer just transforming monetary transactions – it's transforming the way we do business.
In an era of digitization and software-defined networking (SDN), blockchain is yet another exciting and revolutionary technology. Real-time cryptocurrency transactions are just one of several use cases.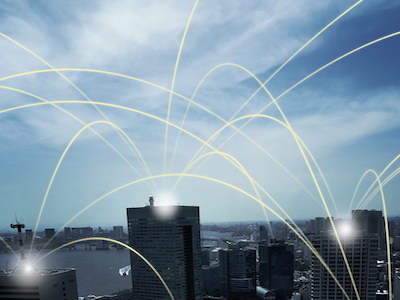 AT&T suite of blockchain solutions
AT&T is combining our edge-to-edge capabilities with blockchain technology to help companies transform the way they conduct business.
Blockchain in business
Here's an example of how a company could benefit from blockchain.
Imagine an enterprise needs help monitoring and ensuring the quality of their products through the supply chain. To start, they'd likely lean on another emerging technology – the Internet of Things (IoT).
IoT-enabled sensors could continuously gather information about the product's temperature, humidity and internal pressure. The data would be collected at points along the supply chain for traceability purposes.
Blockchain technology protects the data collected from the IoT devices through cryptography and allows for a secure, digital ledger to be shared between trusted parties (i.e. the manufacturer, supplier and distributor).
The result: data can be quickly and securely shared with partners, resulting in real-time visibility and a reliable, immutable log of the product's condition. This would help create assured quality, accelerated revenue, guaranteed compliance and accurate data.
The technology is no longer just transforming monetary transactions – it's transforming the way we do business.
Share this quote
Adopting blockchain solutions
In today's increasingly competitive business landscape, companies are tempted to dive head-first into the world of blockchain. They realize that early and intelligent adopters of the emerging trend are poised to reap benefits ahead of competitors.
However, this urgency has resulted in many companies misusing the technology. Additionally, developers are still able to make hard forks in the chain as needed, and many uncertainties still exist.
For these reasons, it's important to engage consulting, guidance and insight from an experienced organization such as AT&T Consulting, and employ additional trusted partners throughout the process.
AT&T suite of blockchain solutions
We pride ourselves on maintaining a strong presence at the forefront of emerging technologies.
Our unique response is to unite with exceptional partners and utilize our existing edge-to-edge services to offer an integrated suite of solutions. What's more, everything is directed and managed by our AT&T Consulting team.
Many businesses may have difficulty adopting blockchain and trusting that their invaluable data will remain safe in a decentralized ledger. We specialize in protecting data, and provide assurance (as well as education) on the safe and proper usage of emerging technology.
Industry expertise
AT&T Consulting facilitates, sustains, and supports blockchain solutions across a variety of verticals. We customize solutions for businesses in several industries, such as:
Manufacturing
Supply chain
Quality control
Asset/goods management
Retail
Supply chain

Inventory control
Lot lineage/provenance
Healthcare
Record management
Validation of clinical trials
Sharing data across external resources
Visit our blockchain page to learn more about our AT&T suite of blockchain solutions.