How to choose the right internet solution for your company
Why a dedicated internet connection is the way to go for growing businesses
When you're the one making technology purchases for your company, it helps to have advice from providers you know can help you make the best decisions – especially when your company plans to grow. You've got to not only think about your company's immediate goals and workforce needs, but you want to make sure your tech purchases make sense in the long run for the business. Plus, you've got to strike the right balance between choosing solutions that fit your business and staying within the company budget. (No pressure, right?)
When comparing internet solutions, you've got a lot of options to consider. For example, should you choose a dedicated connection or shared internet? And what's the difference? You probably already know that public internet connections like broadband provide shared access, which means performance can fluctuate in response to the number of any given users. Dedicated internet gives businesses a private connection with predictable service and exceptional performance. Read below about dedicated internet access, and how it can boost your company's efficiency. It can be the perfect fit for your business.
What dedicated internet provides
1.  A direct, UNSHARED internet connection
If your company is small with just one or two employees, there are shared internet solutions that can support the business just fine. (By "shared," we mean your employees literally "share" the connection with users who are outside your company.) But when your business employs more than a few folks, having a direct connection to the internet gives you the security and performance integrity your business needs. Unlike broadband, direct internet connections bypass the public infrastructure that carries the internet to millions of customers. Think of dedicated internet service as a private fast lane on an otherwise busy, jammed up highway. Your traffic (when it's riding on the dedicated infrastructure) is scrutinized, and the connection is optimized around the clock to help deliver high levels of performance. Direct, unshared connections can guarantee high speeds and high reliability that are not guaranteed on a shared infrastructure.
2.  FAST SPEEDS to boost productivity
Another advantage to a dedicated internet connection is high download and upload speeds. You get symmetrical access with upload and download speeds ranging up to 1 Tbps, so your business can upload information just as fast as you can download it. This is especially important for businesses that deliver interactive services or videos online and need to upload high volumes of information quickly. But when it comes to speed, we know how much it matters in maintaining business operations and keeping your customers happy.
3.  HIGH SECURITY to help reduce risks to your data
Because dedicated internet enables your employees to transmit data that is not on connections shared with public users, you can feel confident that your company's data transmission is highly secure. Dedicated internet helps protect your business against distributed denial of service (DDoS) attacks, spamming, and other sophisticated intrusion techniques. Plus, when you choose AT&T Business for your dedicated internet needs (which we hope you do!), we offer a wide array of additional threat defenses for the security you can trust.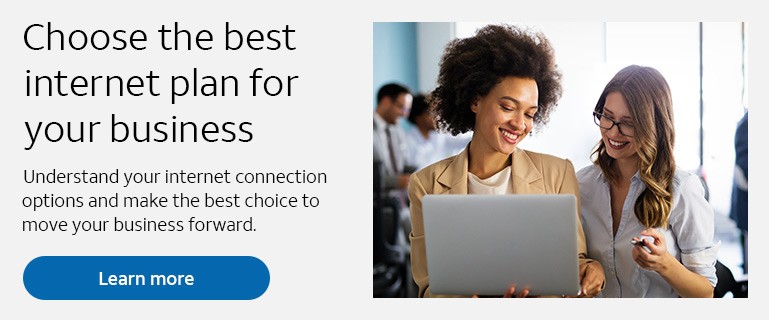 4.  HIGH RELIABILITY to boost business performance
With dedicated internet's performance and reliability, you can significantly limit service outages and enhance your customer's experiences:
Improve online ordering
Provide access to payment processing
Prioritize video and file exchange traffic in real time
Support critical cloud applications
Increase the security of sensitive financial transactions
Facilitate virtual teaching for education or healthcare
AT&T Business SLAs
AT&T Dedicated Internet gives you guaranteed high service level agreements (SLAs). Our customers count on AT&T Dedicated Internet for 99.99% service uptime and always-on failover wireless backup. If your mid-sized business requires highly secure and reliable service with symmetrical speeds, AT&T Dedicated Internet is a natural choice. We provide exceptional support and industry-leading service level agreements, such as:
100% availability
99.95% service availability
37ms or fewer latency
1ms or fewer jitter
24/7/365 monitoring
Standardized ticketing for issue resolution
Single-point-of-contact support
Qualified professionals available to help in 18 languages
5. HIGH VERSATILITY to work with your mission-critical business applications
With AT&T Dedicated Internet, applications such as Voice over Internet Protocol (VoIP), Virtual Private Networks (VPNs), and high-definition video conferencing are supported virtually unhindered.
Ready to put a dedicated internet connection to work in your office? Learn more on our site or reach out to your AT&T Business representative today.