Why choose Cloud-based Unified Communications?
As more businesses move their Unified Communications (UC) to the Cloud, they can take advantage of an OpEx vs. CapEx financial model. Cloud-based UC models are now making the financial evaluation process less complex, as Cloud solutions do not carry the same detailed bill of materials typically seen in premises-based models.
Cloud-based UC services offer the following benefits:
No upgrade requirements or scheduled quarterly patching updates as required for premises-based system. No scheduled downtime is required.
Security and encryption to each remote site, even to the desktop, are available.
Licensing models that are simpler and subscriber-based (vs. perpetual-based), which provide enterprises with the ability to scale up or down as their needs change.
Ability to adapt quickly to technology changes. Some organizations see UC and associated IT applications changing at such an unprecedented rate, that the move to a Cloud infrastructure is more about business strategy and faster go to market than the competition and less about lowering or managing costs.
Faster ramp-up implementation periods as the Cloud model is already built by the provider. In addition, a Cloud solution can expand quickly among endpoints and applications.
Complexities of UC managed by a vendor. UC is a complex technology, and the best practices for delivering on a successful UC model require a specific UC skillset. The maintenance required for keeping the network alive is now relegated to the Cloud provider.
Lower CapEx, as most of the infrastructure is rented or leased by the provider.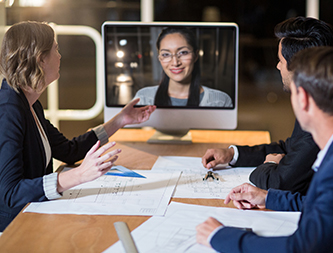 Collaboration Solutions
Empower your teams with solutions that can help you grow your business.
While there was previously a feature parity gap with premises-based solutions, that is no longer the case. Cloud-based solutions now offer:
The Full UC suite of features and functions previously only available to premises-based solutions including telephony, voice mail, visual voice mail, speech-to-text, unified messaging, active directory integration, IM/chat, presence, audio conferencing, video conferencing, collaboration, and newer technologies including Communications Platform as a Service (CPaaS), and workstream communications.
Contact center capabilities including routing, reporting, IVR, callback, call recording, workforce management, speech analytics, omni-channel functions for voice, email, chat, and video, social media integration, and more.
UC mobility clients, integration, and twinning – including single number reach.
E911 and emergency notification
Transformational collaboration does not simply enhance the way a company works; it fundamentally changes it.
Share this quote
There are also less obvious, almost hidden features available in today's Cloud models that we don't speak a lot about that help to fulfill enterprise requirements. These include:
Single dial plan – A UC Cloud solution provides a dial plan that supports a multi-site enterprise. It can adapt and provide 4, 5, 6, and 7-digit dial plans among multiple sites while providing DID services to individual sites.
Voice mail transcription – This capability is available by some providers and allows the user to read rather than listen to voice mails, saving the time associated with listening to voice mails.
Call accounting – This feature is available from Cloud providers, providing various reports per user, per department, per division, or the entire organization. Flagged number and suspicious activity reports are also available. Billing by site is also available to enterprise administrative users.
Portals for Move, Add, and Change (MAC) activity – Portals for making changes to the enterprise (including direct inward dial (DID) numbers, voice mail password resets, name re-assignments, relocation of DIDs to a new department, and more) are available via a portal from virtually anywhere to an administrative owner of UC.
Businesses trying to choose between premises-based and Cloud services now will find that the full suite of features once only available in the premises model are now also available in the Cloud.
For instance, Cloud-based solutions such as AT&T Office@Hand unify voice, video, instant messaging, presence, and conferencing into a single application. The AT&T Office@Hand unified communications as a service (UCaaS) solution enables you to have connected and reliable collaboration both within your business and with your customers.