Transforming how healthcare is delivered and experienced
I have a magnet on my fridge, "I Want It Now and I Want It Delivered! And why not?" I wish I was one of those people who can plan the family dinner plans days or weeks in advance and have just the right ingredients to make the exact dish I want to make or eat at the moment want it. Sometimes, by pure happenstance, I open the refrigerator and exactly what I want is there. If not, the option to pick up my smartphone and order from a food delivery company is always an "Always On" option. Its convenient, its relevant, it doesn't require days or weeks or years of advanced planning and scheduling. In addition to convenience and time saving, I can order from multiple restaurants, get suggestions based on what others have ordered, order the same thing I have ordered before, and even get incentives. Who doesn't want to earn a reward?

I remember when that wasn't always the case. If I wanted to order food for delivery, I would have to go to a restaurant's website or call them specifically to place an order. Restauranteurs would spend time curating that unique experience for their individual restaurant. How many restaurants today handle their own food delivery platforms?

The future of telehealth or telemedicine and the capabilities of remote health in many ways is still rather stuck in the early "food delivery days." During the pandemic, many healthcare companies rushed to put in place a remote health capability - in many cases considering it to be temporary. But the genie is out of the bottle. While in office visits for routine care and chronic care management has increased post 2020 for multiple reasons (least of which is the yearning for human contact), there are market factors which will continue to drive healthcare companies to invest and transition to remote care options – labor shortages or ever tightening of narrow operating margins to name just a few. Simply redefining remote care as a limited replica or variant of an in-person visit to a specific hospital, clinic, or practice will not do. The friction caused from the challenge of having multiple bespoke solutions across doctors, clinical specialists, laboratories, or even pharmacies will drive a transformation not too different from what we saw in the restaurant industry. Technology and connected platforms will enable and unleash a new secure and accessible engagement framework where providers and users alike can interact – not only to perform simple functions but to enable more complex transactions.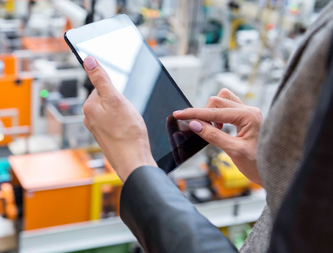 Mobility Services
Device trade in. Connectivity. Apps and services. Empower your teams with solutions that can help you grow your business.
Companies in the healthcare ecosystem likely recognize the change drivers that will transform the industry, but just like in the restaurant example above or as has been seen in many other industries where technology and consumerization have upended the status quo, it is more likely if history is an indicator that external disrupters will accelerate and commercialize the change. The art of the possible to organically change the future of how healthcare is delivered from within a company will call for a different mindset than the traditional clinical influence that has driven telehealth to date. The freedom to imagine remote healthcare has been exemplified in gaming, movies, or television shows for decades, but those futuristic ideas were well ahead of their time. Perhaps it calls for a new era of thinking at the table for healthcare companies. Can you imagine having Hollywood at your product design table? You think that is far-fetched? Who would have imagined an iconic brand in cosmetics would be a leading wearable patch manufacturer, included in the same list as the top healthcare manufacturers? Who could have imagined anyone could buy an FDA approved mobile EKG device from a retail box store or online?

AT&T Business works with many leading healthcare companies in transforming how healthcare products are produced, in how care is delivered, and also how care is managed on a continuous basis. Companies and their customers expect a reliable framework that provides a secure and consistent connection where critical and lifesaving care can be delivered anywhere, at anytime, and without interruption. The connected pacemaker, insertable defibrillator, or drug delivery system are but a few examples of connected care solutions in the market today that are enabled through AT&T 5G and FirstNet networks. Beyond the business value of reduced cost, healthcare accessibility particularly in rural areas, and consistency in the quality of services delivered, connectivity and technological innovation has a profound impact on the intangibles: improved quality of life, a healthier population, and yes, happy people who are more productive – contributing to the economic well-being of nations all over the globe.

We'll keep imagining with customers on what is possible in the healthcare space, but for now it's time to focus on the current task at hand: Chinese or Mexican food for delivery tonight?
Learn more about how Integrated Solutions from AT&T can help transform your business.