How smart watering from AT&T is making waves
Learn about connected systems that regulate water on farms and in public spaces
Have you ever noticed a sprinkler system in full gear, persistently watering a lush, green lawn as the rain pours down?
That is not a smart watering system.
Smart watering uses Internet of Things (IoT) sensors and data about weather, shade, soil, plant types and soil moisture levels. That's how it provides the right amount of water at the right time.
No more watering the sidewalks if the lawn is already saturated. No more watering in the rain or snow.
Today, we're helping several companies – like PrecisionKing and WaterBit – connect systems that regulate water on farms and in public spaces. We also recently collaborated with HydroPoint Data Systems to launch AT&T Smart Irrigation. And we're already using this solution on 40 of our own buildings or campuses.
It's been a hit. "We now have a system that puts some intelligence around a very basic task. It's been very impactful," said Kent Phillips, lead product marketing manager for Industrial IoT Solutions, AT&T.
Here's some of that impact:
Smart watering in our own backyard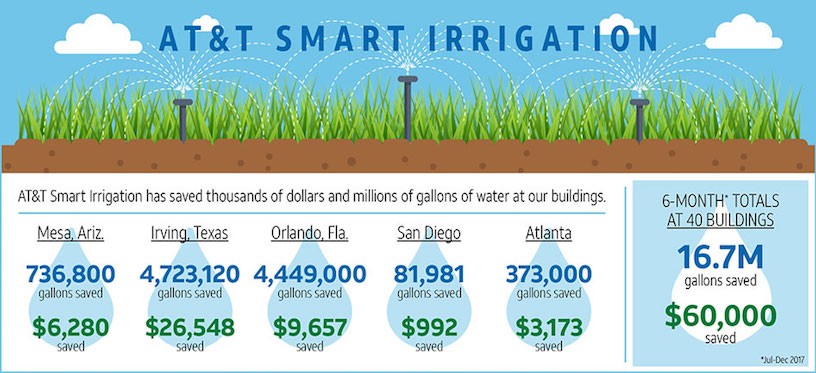 We have more 38.5 million connected devices on our network. But last year, our IoT team made a point of reaching out to a unique customer.
"AT&T is obviously one of the larger companies, in terms of size and operations," said Mobeen Khan, assistant vice president of IoT at AT&T. "So we did an internal audit: What are some of the places where we can apply our own IoT solutions and save the company money or streamline our own operations?"
Smart watering seemed a natural fit.
Last summer, the AT&T Smart Irrigation solution was installed on AT&T campuses and buildings in 9 states, from California to Florida.
"It allows us to use near real-time weather data and the specific watering needs for the plants in each zone at each site," said Michael Zeto, head of Smart Cities at AT&T. "We can provide the right amount of water at the right time, versus the old-school way of irrigation systems based on a timer. Smart Irrigation also monitors the flow of water in that infrastructure so you can detect leaks in pipes. The system will then turn off that zone automatically and alert the property manager, so the leak can be fixed."
In 6 months, AT&T Smart Irrigation has saved us 16.7 million gallons of water and more than $60,000.
Share this quote
Our Real Estate organization will decide this summer if the program will expand. But in the meantime, our sales team can assure their potential clients of at least one satisfied customer: AT&T.
"This serves as a proof point for our customers, where we can showcase that we as a large company are using the same solutions that we are selling to you. So they are more comfortable in deploying these solutions," said Khan.
In 6 months, AT&T Smart Irrigation has saved us 16.7 million gallons of water and more than $60,000.
Smart watering in the rice fields
Check out this video on PrecisionKing, which helps farmers manage the massive amounts of water needed to grow rice.
We connect the pumps. The system lets rice farmers adjust water levels remotely, flooding fields only as necessary. Traditionally, rice farmers ensure their fields are under 4 inches of water – all season.
You can learn more about the use of IoT in rice farming with this case study.
Smart watering for crops and vineyards
WaterBit chose AT&T to provide the highly secure connectivity for its smart irrigation solution. It lets growers target irrigation for a specific terrain – and control it with pinpoint accuracy.
Find out more about WaterBit here.