5 ways IoT is being used for good causes
The Internet of Things is not just about money
As the Internet of Things (IoT) continues to revolutionize the world, billions of connected devices are expected to generate billions of dollars in revenue for businesses over the next several years.
This digital revolution is not just about money, though.
In addition to driving financial investments into new capabilities and products, IoT can do a lot of good for the environment and our society as a whole.
When everything is being connected, you can do a lot of things you weren't able to do before
Share this quote
At a recent AT&T Business event – The Summit – a panel was held to focus on the positive impacts of emerging technologies. The speakers included:   
Chris Penrose: President, Internet of Things Solutions, AT&T   
Charlene Lake, Senior Vice President, Corporate Social Responsibility, AT&T   
David Krems, General Manager, Commercial Solutions Group at Emerson InSinkErator   
Elizabeth Slavitt, Chief Marketing Officer, Khan Academy
Much of the 40-minute discussion – titled "Technology for Good" – was focused on IoT.
"When everything is being connected, you can do a lot of things you weren't able to do before," Penrose said in his opening remarks, while highlighting the following statistics: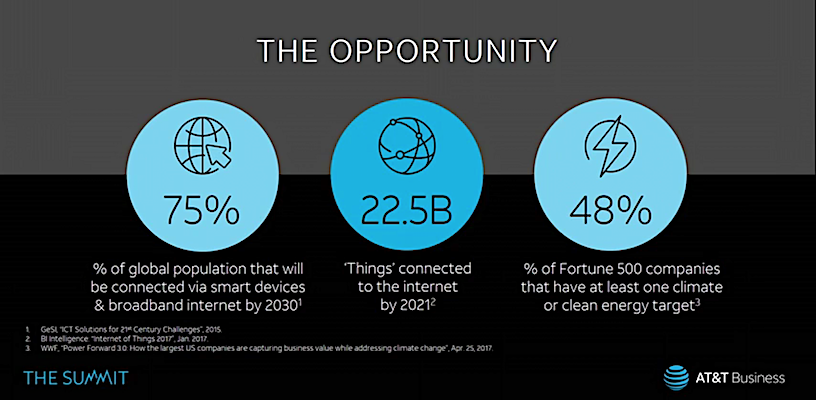 With these increased connections and improved access to high-speed networks, IoT has the ability to address and help solve many challenges we face today. At AT&T, we've positioned ourselves as one of the leaders in this space.
Here are five ways IoT is being used for good causes:
1. Carbon emissions
With more cars and trucks on the road than ever before, greenhouse gas (GHG) emissions have increased 90 percent since 1970. As the number of vehicles continues to increase, AT&T is using IoT to help reduce both our carbon footprint, and that of our customers.
For example, we're using IoT within our fleet of more than 80,000 vehicles to optimize routing, enable preventative maintenance, minimize fuel utilization, and ultimately reduce carbon emissions. To further prove our commitment, we set forth our 10x carbon reduction goal.
"We decided to take a bold step and put some rigor behind it," Lake said during the discussion.
The goal states that, by 2025, we can aspire to enable carbon savings for our customers 10 times that of our own footprint.
"We have the focus on our own footprint, and then we have the focus on our customers' footprint," Lake said. "IoT technology plays a really big part in that."
2. Water waste
According the Center for Neighborhood Technology (CNT), six billion gallons of water are lost per day due to undetected leaks from aging water infrastructure. Many of these leaks occur because 30 percent of pipes (serving over 100,000 people) are between 40 and 80 years old.
Additionally, outdoor irrigation makes up about 60 percent of watering, and about 50 percent of it is wasted.
To combat this waste, AT&T uses smart irrigation solutions enabled by IoT technologies within our office buildings and facilities. These solutions save millions of gallons of water annually by watering only when there's no rain and when the soil moisture level indicates a need.
"Water is going to continue to become a more precious resource as we go forward," said Penrose.
3. Food waste
Food waste is another societal issue that IoT can help address."
There's so much more food waste now that's in the supply chain because the customer preferences are changing and driving all this need for freshness and variety," Krems said.
Krems highlighted troubling statistics – approximately 40 percent of food produced goes to waste, and 95 percent of that waste ends up in a landfill or incinerator that creates methane gas, a potent GHG in the atmosphere.
As businesses such as supermarkets, casinos, hospitals, and others continue to seek ways to make use of leftover food, others are seeking solutions. Emerson, one of the world leaders in garbage disposals, saw an opportunity in this space.
Grind2Energy, a product offered by Emerson, is an industrial grinder paired with smart controls developed in collaboration with AT&T. The grinder creates food waste slurry, and instead of sending this waste to a landfill, it can be anaerobically digested to produce renewable energy in the forms of electricity, heat, or compressed natural gas that can be used for vehicle fuel.
IoT is not just helping us conserve food and water – it's also helping us conserve energy
Share this quote
4. Energy consumption
IoT is not only helping us conserve food and water – it's also helping us conserve energy.
"Eighty percent of the Earth's energy consumption occurs in cities," Lake said.
In addition to convenient consumer applications that help individuals do their part to save energy in their homes, AT&T is using Smart Cities technologies to help cities manage their resources more effectively.
For example, we can use outdoor LED lighting in a city to create a digital infrastructure that helps address issues like traffic flow and parking optimization, which could help citizens save time and fuel. Smart lighting can also help maintenance crews remotely manage a city's entire lighting system without the need to drive around town to find and replace broken bulbs.
5. Health, safety, and accessibility
Whether it's improving the safety of roads or advancing healthcare technology, IoT can make our world safer and our people healthier.
AT&T is a founding member of Together for Safer Roads, which is focused on reducing the number of fatalities on the road. Big data, mobile, and IoT technology are helping make corridors in cities like Atlanta safer.
Technology can also help break barriers and improve employability for people that are aging and living with disabilities so they can live richer fuller lives.
For example, Aira smart glasses powered by AT&T connect the blind and people with low vision to certified agents at the tap of a button, offering them immediate assistance with virtually any task – anytime, anywhere. Cities are also using beacon technology via an app to help people who are blind reach their destination and also explore the other amenities around them.
IoT for Good
IoT technology has the power and reach to address global challenges and engage citizens for the greater good, and these are just some of the many use cases.
Learn more about how AT&T is committed to taking advantage of this power on our IoT for Good page.
The Summit
Want to see more highlights from the inaugural event? Visit The Summit website for video highlights and more information about the 2018 event.