Webinar replay "Best practices to keep your business connected during unexpected events"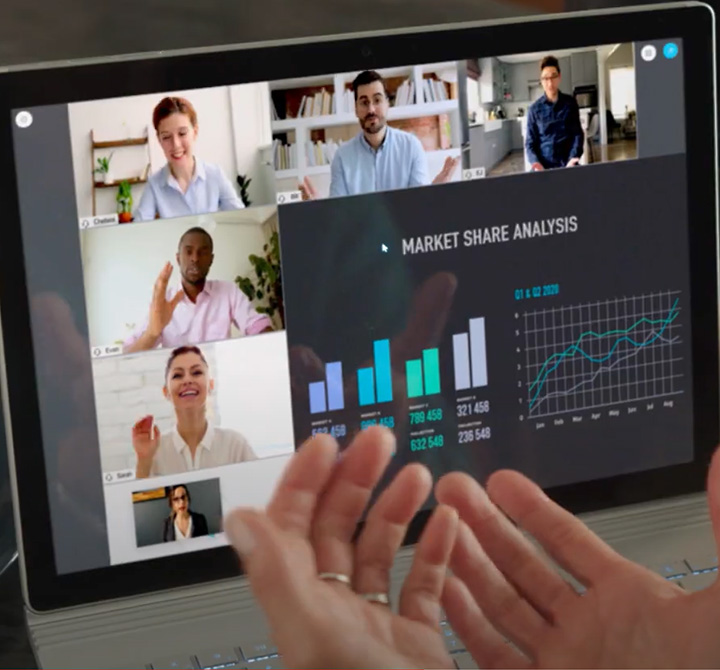 Exactly what you need to keep business moving.
Watch now
Stay connected and productive
Scalable bandwidth, highly secure access to applications, and more
Business Need
Solution and Offer
Business-class internet for home office employees

AT&T Home Office Connectivity
A separate network connection from personal internet

Provide your work-from-home employees with a separate, highly secure, business-class internet connection, so they can access the applications they need to help maintain business continuity with your in-office employees and clients. 
See offer details

Unlimited access to remote IT
AT&T Tech360
Small business technical support for daily challenges

New customers only: First month at no charge and pay only $26 for the next 11 months.*
See offer details
Available 4/1-6/30, 2020

*Avail. to new Small Office customers; $26/mo. per plan for the remaining mos. in the 12 mo. term, then rate reverts back to standard $30 rate per mo. per subscription. Early termination fees apply.
Highly secure access to critical business applications
AT&T SD-WAN
Provide a fast and easy way to stand up and manage a home office

New customers: 60-day no cost trial* which provides end-user hardware and hosted services.
See offer details
Available 4/1-9/1, 2020

*Avail. to new SD-WAN customers only; billing commences after 60-day no cost trial if not terminated. Trial agreement must be signed by September 1, 2020.

Don't miss a fax when working remotely

AT&T Online Fax
Remote employees can fax and receive documents straight from their inbox

New customers: Receive 25% off for the next 12 mos. Pay $7.50/mo. (regular
price $10/mo.)*
See offer details

*Avail. to new AT&T Website Solutions Online Fax 300 customers who purchase by July 31, 2020. After 12 mos., rate reverts to standard rate. Terms and conditions apply.

Expand your eCommerce
AT&T Website Solutions
Build your own website with our intuitive website builder, or have us build one for you

New customers: Receive 25% off Premium Website Plans for 12 mos. Pay
$21/mo. for Website Premium or $82.50/mo. for Build It For Me Premium.*
See offer details

*Avail. to new AT&T Website Solutions Website Premium and Build It For Me Premium customers who purchase by July 31, 2020. After 12 mos., rate reverts to standard rate. Build It For Me Premium has a 12 mo. term, and Early Termination Fees apply. Terms and conditions apply.

Communicate and collaborate
We provide solutions that enable people to communicate and collaborate virtually anywhere
Business Need
Solution and Offer
Feature rich set of cloud-based voice and collaboration tools
AT&T Office@Hand
Help people work while staying in contact with teams and their customers

New/existing customers: Learn how to get 100 simultaneous Meetings participants with the Office@Hand Standard offer. 
See offer details
Available 3/23/20 forward.

Quickly embed communication capabilities into your website or applications
AT&T API Marketplace – Click-to-Connect
Deploy chat, voice, video, and Artificial Intelligence (AI) capabilities into your website so customers can reach service agents with the click of a button

New/existing customers: Learn how to get a free offer for Click-to-Connect.
See offer details
Available 4/16 – 6/30, 2020
Stay in touch internationally from the U.S. to over 155 countries for less
AT&T World Connect Advantage
Get the wireless international package that keeps you connected to family and friends living abroad when calling from the U.S., all at an amazing value 

Business customers currently on or who purchase an AT&T World Connect Advantage package receive 50% off the current rate in a monthly bill credit (max $7.50/mo.).*
See offer details

*Avail. to qual. business customers. Must add World Connect Advantage (WCA) package to eligible postpaid plan during promotion period. Credits start w/in 3 bills. Max credit is $7.50/mo. If WCA subscription is cancelled or modified, credits cease.  Other fees, taxes, charges & restr's apply. Ends 6/30/20.
Protect and manage data
Secure, protect, and manage your data from virtually anywhere
Business Need
Solution and Offer
Security for remote employee traffic and enterprise applications
AT&T Global Security Gateway
Help protect your office and mobile employees

New AT&T GSG – Premium for Mobile Users with a one year contract will receive 30 days free.* After expiration of the first 90 days the Customer will have the right to terminate.
See offer details

*Offer available to new Global Security Gateway customers purchasing Premium service on a 1 year contract between 3/19/20 and 6/30/20 and is limited to 3 service connections; Billing will commence 30 days from Effective Date of Pricing Schedule unless Customer terminates service; Offer not available to existing GSG customers; See Service Guide, Mobile Business Continuity Offer for further information.
Proactively identify and block your security threats

AT&T Content Delivery Network Enterprise Traffic Protector
Improve security defenses against threats such as ransomware, malware, and phishing

All new ETP customers can try the service at no charge for the first month, and get an additional month at no charge with a 13-month commitment. Service discount of up to 25%. 
See offer details
Availble 3/15-6/30, 2020

Connectivity for schools to support eLearning

Unlimited wireless broadband connectivity with AccessMyLAN™
Schools can get wireless broadband connectivity with device management and data protection for their students

Learn how to get at no cost for 60 days on new qualified data-only lines. Offer is available for all qualified public and private schools, from K-12 to colleges and universities. After 22GB, AT&T may temporarily slow data speeds due to network traffic volumes. 
See offer details
Available 3/24-6/21, 2020
Service and support
From account management to service requests, we're here to help 24/7
What is AT&T doing to support my business?
We've committed to the spirit of the Keep Americans Connected Pledge. This means:
 
FOR SMALL BUSINESS CUSTOMERS: We're working to keep you connected 24/7. To the extent we are allowed by local, state and national orders regarding COVID-19, we are keeping our public Wi-Fi® hotspots open for Americans who need to use them. Additionally, as part of this effort, we'll waive:
 
Late payment fees for postpaid wireless, broadband, or DirecTV for small business customers.
Domestic postpaid wireless plan overage charges for data, voice, or text for small business customers.
The waiver applies to fees or charges you may incur between March 13, 2020, and June 30, 2020, for wireless or broadband services, due to economic hardship related to the coronavirus pandemic. To request a waiver, you will need a MyATT account, which you may register for here. Once registered, have your user ID and password ready, and click submit a waiver request. Please allow one to two billing cycles to see  your credit, if applicable.

FOR ENTERPRISE BUSINESS CUSTOMERS: We want to support you as your workforces move to remote environments.
 
We provide scalable bandwidth and highly secure remote access to your business applications to help keep your people connected and productive. From Dynamic Employee Remote Access VPN to AT&T Wireless Broadband that you can scale—we have solutions to support your business as employees move away from the office.
Our cybersecurity solutions can help you address new and heightened cyber risks and help protect your data. Our managed security services can help assess, protect, and monitor your critical assets across the data center, cloud, and remote endpoints.
We offer communication tools, so employees can collaborate from virtually anywhere.
AT&T Consulting can quickly engage and augment your teams to help ensure continuity of critical business operations. We provide an array of professional services to facilitate the continuous operation of your network, security, voice/collaboration, contact center, and application infrastructure.
Are there relief measures for mobility data usage?
Staying in touch with friends, family, and colleagues has never been more important. That's why through May 13, 2020, we're providing relief measures to keep our wireless customers connected:


AT&T is automatically increasing Mobile Hotspot data allowances by 15GB a month for each line across all AT&T unlimited plans that currently include a monthly tethering allotment.
 
For more on how we are helping our wireless customers stay connected, visit: https://about.att.com/story/2020/att_wireless_covid_19.html
How is the AT&T network responding to the effects of the COVID-19 pandemic?
We are committed to service quality. Our wireless network continues to perform well as everyone adjusts to new habits and routines. There have been shifts in traffic volume as people work remotely. Voice calls have jumped. Data usage has spread out from traditional concentrations in urban areas to the suburbs. Conference calls are up, and instant messaging is up significantly. There have been significant increases in mobile traffic.
 
Our network is performing well, and we have the tools in place to help keep our network responsive. Our Global Network Operations Center monitors the network 24x7, and our software-centric network allows us to respond rapidly to surges, enable capacity enhancements as needed, and quickly address any security concerns. You can count on us.
 
View AT&T CEO Randall Stephenson's CNN interview, "Working From Home is Changing Internet Traffic."
 
Get more information here about how we are maintaining our network during the COVID-19 pandemic.
What if I have questions on my existing services or would like to order new services?
For small business customers:
 
We offer 24/7 online support through myAT&T for Business. You can manage your wireline and wireless solutions, video services, or internet bill payments, get device or Wi-Fi troubleshooting assistance, upgrade or activate your devices or services, purchase accessories, add or remove features, and much more.


Log in or register today to view and manage your account preferences. Make sure you have your billing customer code, which is the last three digits of your billing account number ready to complete the registration process.
 
If you prefer to speak to a representative, please call 888.318.1622.


We are providing several business continuity offers for businesses at this critical time to help them stay connected.
 
For enterprise business customers:
 
AT&T Premier is the one-stop, customizable online site for business mobility customers to purchase, monitor, and manage wireless products and services virtually any time. Log in or register here.


With Business Center, you can order wireline services in near real time, pay your bills, personalize your dashboard, get bandwidth utilization alerts, and monitor and manage your U.S. and Global networks 24/7. Using eOrder, AT&T VPN and ASEoD customers can adjust speeds on many components in near-real time, subject to capacity and other limitations. Log in.

Where can I find more information about temporary store closings?
Due to coronavirus, AT&T has begun to close AT&T stores across the nation, significantly reducing our retail footprint to a minimum number of locations required to serve first responders, healthcare workers, government users, and our customers.

Where possible, we will keep at least one store location open within a 20-mile radius in urban and suburban areas, and just over a 30-mile radius in rural areas. 

To locate a retail store that will remain open to serve your area, please visit our store tracker at www.att.com/stores.
Is AT&T experiencing a shortage of device inventory during the COVID-19 pandemic?
As businesses began preparing for the coronavirus pandemic, we saw larger orders for devices to handle remote environments. Temporary triage units, schools, and many businesses that were moving to 'work from home' environments started to deploy WiFi/MiFi solutions while adding new devices. We were able to handle and continue to handle device requests the best we can. If you have a need for devices, always go online to order or call your AT&T representative. If we don't have the device you want, we can help recommend others that can meet your desired needs.
Committed to those who serve
Advanced services and insights designed for healthcare providers and first responders on the front lines of the COVID-19 pandemic
Advice and resources
Get helpful tips from industry experts on everything from cybersecurity to remote working solutions
Request info
To get sales help from a Business Solutions specialist, please complete this form.
Your feedback will help us to improve AT&T Business so you continue to have a great experience when visiting us!
This survey is conducted by an independent company ForeSee for AT&T.