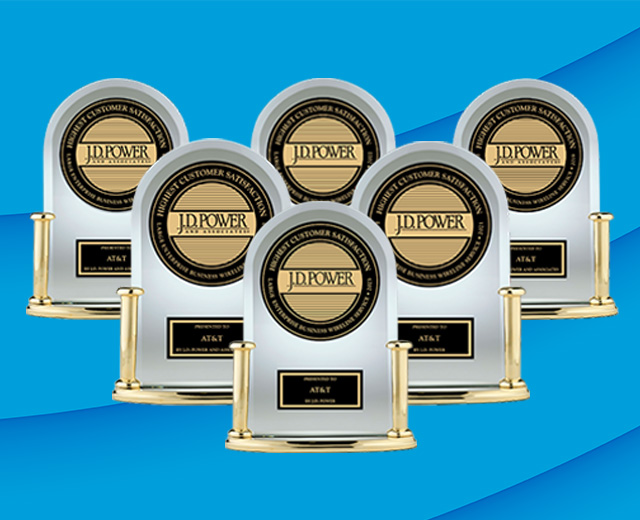 ­­­­­How we deliver on our promise to you
We're committed to installing solutions right the first time, on time, at the speed of your business
AT&T Business is committed to making sure you get your solutions as promised so you can spend more time moving your business forward and serving your customers. To deliver your solutions faster, we've made significant investments to automate and streamline the ordering, delivery, and installation of your solutions.
We're with you in every step
Keeping you informed

We use predictive data analysis and intelligence, based on past trends, to identify potential problems before they become issues.

More efficient installations

Informed and knowledgeable technicians work with your business, helping to make delivery and installation of your solution fast and easy. 

Monitoring your orders

Track your order end-to-end and proactively manage any interruption that might delay the promised delivery date. 

Grow with your business

We're there with you to manage changes such as disconnecting your old solutions as your new solutions come online, proactively and efficiently.  
Fast, agile, and efficient for you
Clear and proactive processes and communication
| | |
| --- | --- |
| Streamlining communications | We ensure that everyone who interacts with your business can view your account details and history, to reduce the number of communications we send. When additional information is required, we communicate these requests concisely and clearly. |
| Delivery as promised | We manage processing delays by monitoring and tracking orders end-to-end. This helps us resolve issues before they impact delivery.  |
| Process automation balanced with sales rep support | We automate processes to be efficient for you. Plus, your sales account team has additional support for your larger deals. The right person from the right team is enabled with the right information to help. |
| Expedite if needed | For some products, you can invest to upgrade your order priority if the time crunch is on. Our dedicated escalation managers will work to ensure your expedited due date is met. |
| Your timeline is our priority | We confirm both your delivery date and technician availability together to ensure we can perform your install on the date you request. |
Customer story
Hospital ship connected
The support you need, when you need it
Self-service tools always and expert support when needed
To serve your customers without interruption, you'll need support that's available around the clock. We have teams available 24 hours a day, 7 days a week. Expect a support team that cares about your business and is dedicated to resolving problems quickly.
More ways for support

AT&T Business offers a suite of support tools to give you more ways to resolve a question or issue. These include Business Center support, online chat, Express Ticketing, and conversations with a live agent.

Self-service tools

We help empower you to solve issues on your end but are available when you realize you need more help. See transparent, near-real-time status. 

Timely progress updates

You'll receive timely progress updates using your preferred communication method—either email, call, SMS (text), online, chat, or interactive voice response. We work to quickly resolve your problem, so you can focus on your business.

Consistent experiences

Our modernized platforms, which include ServiceNow as a Software-as-a-Service (SaaS) solution, have built-in functions replacing multiple behind-the-scenes tools. This ensures consistent experiences across all services within your solution. 
Features
End-to-end visibility into your account
Growing our self-service environment


We are working to provide you:

Tools that give you more visibility into your network
Ability to perform testing to self-diagnose issues before submitting a ticket
Knowledge Bases to help you fix issues you identify through self-testing

Powerful correlation capabilities

We understand the impact major network issues and interruptions can have on your business. Our correlation capabilities enable us to quickly identify the problem and better prioritize restoration efforts.

We aim to keep you informed of any network issues before they occur. To help you stay prepared, we proactively inform you of larger network issues impacting your own service, and provide status and updates through to resolution.
We can compare your network issues with major events, enabling us to identify and communicate the reason for an outage faster. 

Resolutions from a single point of truth
Our SaaS platforms are enabling a robust experience for managing customer incident tickets. These platforms deliver customer data and inventory details all in one location to equip our teams to provide the latest, most accurate information on a ticket.
Know the status of your trouble ticket
We're providing near-real-time information to you about your problem by updating your trouble tickets. We include technician comments, test and troubleshooting results, and technician dispatch information, even enabling you with the ability to find out 'where's my technician' on a map.    
Customer story
Manufacturing outage restored
Managed services for next-level support
We're committed to caring for your business
Technology is complex and changes quickly. It can be difficult to know if you're making the right communication and connectivity choices. That's why AT&T Business makes you and your business our top priority. 
Customer success program management

We understand that larger organizations may require more complex technology solutions. We're here to provide guidance and advice for strategic planning for your business, as well as help simplify the installation and maintenance of your solutions. Our Service Management teams will engage on challenges and implement changes that improve your overall experience.

Expert service

Offer advice to achieve your business goals
Use our technology and industry expertise to assist you with  strategic planning
Work with you to implement, change, and address challenges quickly
Oversee escalated issues through resolution

Providing helpful guidance, service, and support

Our service managers act as your technical advisors with deep expertise always thinking toward the future of your business and technology—providing helpful guidance, service, and support.

Synchronizing your applications

Large enterprise customers also have the option to eBond with AT&T Business. This powerful technology automatically exchanges data between two applications. That way, our teams are able to better service your business and provide faster, more accurate support. 
Streamlined account management
Simplifying the management of large service accounts
Get help from the first person you contact
AT&T Business Service Experience Specialists (customer service agents) are technically skilled and equipped to perform basic triage, remotely access routers, perform connectivity testing, and resolve carrier management and local access issues. They own your incident ticket throughout the repair process, engaging directly with an engineer and managing any needed escalations. This means fewer handoffs and a faster resolution to your ticket.

We hold ourselves accountable through service level agreements (SLA)

Our SaaS platforms enable us to manage one end-to-end SLA plan for your solutions to better meet your service requirements.

We want to ensure that the right measures are in place to track your service quality and can be confident you're getting what you're paying for.

Streamlined to save you time
As we've adopted the industry-leading SaaS solution, ServiceNow, as our post-sale platform, we've consolidated roles, streamlined processes, introduced more automation, improved data quality, and enabled more self-service options—all so you can spend less time managing your solution and more time focused on your business.
Customer stories
Insurance carrier cybersecurity
For Enterprise Business Support visit:
Contact sales
To get sales help from a Business Solutions specialist, please complete this form.
Your feedback will help us to improve AT&T Business so you continue to have a great experience when visiting us!
This survey is conducted by an independent company ForeSee for AT&T.