eCornell 5G Certificate
Learn how to guide your business through effective network planning, design, and deployment of 5G
with this business focused 4-course series brought to you in part by AT&T.
* Pricing shown (a) is after discount with AutoPay & Paperless Bill that starts w/in 2 bills, and (b) applies only to lines for smartphones purchased at full price, on an installment plan, bring your own, or on a month-to-month term.  Add $25/mo. for each smartphone line w/a 2-year svc commitment.  Taxes, fees & other monthly charges are extra.
¹ Does not prioritize eligible data traffic ahead of all other data traffic, which may have a higher quality of service, and does not provide priority network access or preemption.  Not avail. for use on the 5G+ or 5G network.
² Limited availability; may not be avail. in your area. See att.com/5Gforyou for details. 5G service: Req's 5G capable device.  5G+ service:  Req's 5G+ capable device.  Only avail. in very limited parts of specific cities. Other restr's apply.
The two flavors of 5G
What is the difference between 5G and 5G+?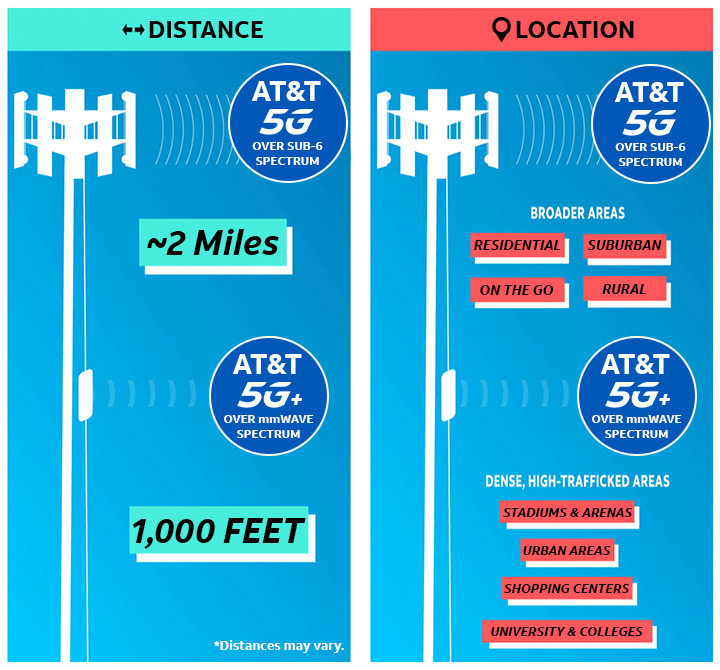 5G initially offers broad coverage areas for both consumers and businesses over low-band 5G. This service is ideal for mobile customers who need performance while on the go.
5G+ is a variation of 5G that offers extra speed and capacity over high-band 5G to serve high-traffic areas and places like arenas, campuses and more. It is currently available for businesses and collaborators who are exploring new ways to unlock the significant performance capabilities of 5G+
View coverage maps
Requires a compatible plan for 5G connection. Limited AT&T 5G availability. May not be available in your area. For coverage d eta ils visit att.com/5Gforyou.
FAQ
Frequently asked questions
5G is the next generation of wireless technology, but it's very different from its predecessors. The 5G network is software based, so by design it can l deliver capabilities previously not experienced from the mobile network.  This new mobile capability means the possibility for new use cases for businesses including some that aren't known yet. 5G ultimately promises to unlock new experiences such as augmented realities (AR), Virtual Reality (VR), driverless cars, telemedicine and connected buildings. Watch this video for an overview of possibilities.
AT&T 5G is now nationwide. Since first launching 5G service and devices for business in late 2018, we now offer two flavors of 5G service across the country, 5G and 5G+. 5G service is provided over low band spectrum and offers broader coverage. This is what is now nationwide.  

Our 5G+ uses high band millimeter wave technology and offers large amounts of bandwidth and speed for short line of sight distances. Currently this is available in parts of 35 cities across the U.S. You can find a map of our 5G coverage here.  
What will happen to the 4G LTE network when 5G launches?
Our 4G LTE network will remain in use for the foreseeable future. AT&T's path to 5G started with enhanced 4G LTE Advanced technologies, which includes carrier aggregation, 4x4 MIMO and 256 QAM – that we have optimized. With enhanced 4G LTE Advanced technologies, we densify our network and upgrade the majority of our equipment so that it can be easily upgraded to 5G via a software release. This foundation enables us to deliver faster speeds now and upgrade to 5G when it is ready.  Our first standards-based 5G deployments (including the mobile 5G we began offering in 2018 in parts of 21 cities) will be "non-standalone" 5G. This service will be delivered using the LTE network core and a combination of 5G and LTE radio technologies (including enhanced 4G LTE Advanced technologies), with 5G radios carrying download traffic and LTE radios carrying upload traffic plus signaling and management functions. Ultimately, "standalone" 5G will use 5G radio access with a new 5G network core and will interoperable with today's LTE network. Even when stand-alone 5G is deployed, the LTE network will remain in place to provide voice coverage, and data coverage where 5G is not available.
Your feedback will help us to improve AT&T Business so you continue to have a great experience when visiting us!
This survey is conducted by an independent company ForeSee for AT&T.