Get Rewarded with AT&T Business Fiber
The higher the speed you chose the more you get rewarded with AT&T Business Fiber ®. Redemption required. See offer details
AT&T Business Fiber speeds
Choose the right speed for your business
Want Hyper-Gig speeds to support your high data needs?
Now delivering up to 5 GIG speeds.
1Internet speed claims represent maximum network service capability speeds and are based on wired connection to gateway. 1GIG speeds available to new customers with the latest router (BGW320) and recommended setup. For 5 GIG speeds, single device wired speed maximum 4.7Gbps. Actual customer speeds may vary based on a number of factors and are not guaranteed. For more information, go to www.att.com/speed101. 2Comparison of Business Fiber 1000 wired upload connection to Comcast and Spectrum 1G cable service w/upload speed of 35Mbps.
Get the Enterprise experience for your broadband internet
AT&T High Speed Internet – Enterprise is the perfect solution for businesses who want a single contract and consolidated invoice for all sites.
Overview
What is AT&T Business Fiber®?
Fiber technology utilizes light waves instead of electrical signals to transmit data. Fiber optic cable can send higher volumes of information over longer distances than copper cable. With AT&T Business Fiber, you can get the right connectivity and speed that can scale to support growing amounts of data traffic as your business grows.
*Based on network availability
AT&T Internet Backup
Protect your business! In the unlikely event of a power outage or service outage, have peace of mind when you add AT&T Internet Backup.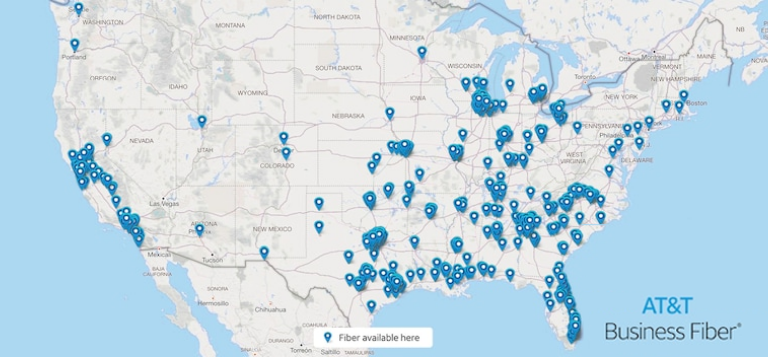 AT&T Business Fiber—now available in 40 states
Want to see if business fiber is available at your location?
Limited availability in select areas.
Want to learn about other internet solutions for your business?
Resources
Learn more about fiber internet and other AT&T products and services
* For J.D. Power 2022 award information, visit jdpower.com/awards

What is fiber internet?
Internet powered by fiber uses cutting edge, 100% fiber technology. Fiber technology utilizes light waves instead of electrical signals to transmit data, and fiber optic cable can send higher volumes of information over longer distances than copper cable. This means customers on a fiber network have higher speeds available to them, regardless of their distance from a network node.
How can fiber internet improve my upload and download speeds?
AT&T Business Fiber uses symmetric internet connections. That means you get equally fast upload and download speeds. Symmetric internet speed capability lets you get quick access to the cloud, video conference, connect to VPN, transfer large files and more.
Does my business need fiber internet?
AT&T Business Fiber is an excellent choice for businesses. As your business grows, you need the connectivity and speed that fiber offers in order to scale to support increasing amounts of data traffic. Fiber can help you:
Connect with customers, business partners, suppliers, and employees without interruptions
Communicate high volumes of information quickly
Provide onsite Wi-Fi® networks for employees and customers
Enjoy fast speeds, reliability, scalability, and value
How fast is AT&T Business Fiber?
AT&T Business Fiber offers Business Fiber 100, Business Fiber 300, and Business Fiber 1000.
To give you a sense for how fast each of these plans are, Business Fiber 100 is great for businesses that might need to provide internet service to customers or regularly stream video and audio files. Business Fiber 300 could be an excellent choice for businesses that need to support e-commerce activities or transfer large amounts of data to and from the internet. Business Fiber 1000 is ideal for businesses that want to leave room for future growth while also getting extremely fast speeds for things like cloud-based software, downloading and uploading large files, or streaming HD videos.

Does AT&T Business Fiber Internet require a term commitment?
No, AT&T Business Fiber does not require a term commitment and there are no early termination fees. Get super-fast speeds for a great price, with no term commitment.
What is the difference between fiber internet and dedicated internet?
Fiber internet uses a shared connection that allows multiple users to share internet bandwidth on the network. It's designed to provide high-speed internet, even during high usage times. Fiber uses light, not electricity, to transmit information. Because it uses dedicated fiber cables, fiber internet is highly secure and scales easily to meet your business needs.
Dedicated internet is a direct internet connection that's only used by your business. With dedicated internet, you get a highly-reliable service and dedicated speeds – no matter how many other users are on the network. Dedicated internet offers equal upload and download speeds to help you stay connected to your partners, customers, and employees. Explore the business internet services near you.

How can AT&T Business Fiber help my business with outage protection?
AT&T Business Fiber customers can decide to add AT&T Internet Backup for extra safety. This service provides automatic backup connectivity through AT&T 4G LTE. You'll even get unlimited data until the outage is over.
Does AT&T Business Fiber provide security features?
Yes, all plans from AT&T Business Fiber include AT&T Internet Security Suite powered by McAfee. This service provides 24/7 anti-spyware and anti-virus protection.
Talk to a business expert
877.416.0221
AT&T business experts are available M - F,  7am - 7pm CT.
Request a consultation
For more information about AT&T Business Fiber, complete this form and an AT&T business expert will contact you directly.
Your feedback will help us to improve AT&T Business so you continue to have a great experience when visiting us!
This survey is conducted by an independent company ForeSee for AT&T.